NFL Power Rankings Week 9: The Top 3 Teams in Football
November 1, 2011
Hannah Foslien/Getty Images
With Week 8 of the NFL on the books, only one team remains undefeated—last year's Super Bowl champion.
Defense has started to catch up to the potent offenses in the league, as four teams last week were held to 10 points or less.
Without further adieu, here are the top three teams in football right now.
3. San Francisco 49ers (6-1)
The San Francisco 49ers boast the best scoring defense in the NFL. By only allowing 107 games in seven games, the Niners lead the league with 15.3 points against.
The 49ers have posted wins against the Philadelphia Eagles, Detroit Lions and Tampa Bay Buccaneers. Against the Bucs, the 49ers won 48-3—showing the entire league what they could do with a game.
San Francisco seems to be running away with the division, but until the Niners beat someone in the AFC better than the Cincinnati Bengals, they're not a top-two team.
2. Pittsburgh Steelers (6-2)
After their thrashing by the Baltimore Ravens in the opening game of the season, the Pittsburgh Steelers seemed to be reeling. Another loss to the Houston Texans in Week 4 dropped the black and yellow crew to 2-2 on the year.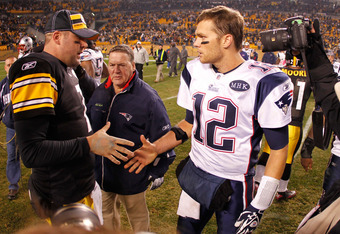 Gregory Shamus/Getty Images
Four straight wins have put the Steelers back at the top of the AFC North, but it was a win over the New England Patriots that showed the team's true grit. The Steelers proved they can play any team and remain among the league's elite when they finished as last year's runner-up.
Ben Roethlisberger is playing top-notch football, and wide receiver Mike Wallace has emerged (as many people thought he would) as the QB's favorite target.
1. Green Bay Packers (7-0)
You have to beat the best to be the best. At this point, no one has been able to upend Aaron Rodgers and the mighty Green Bay Packers.
The Packers are on a 13-game winning streak. That streak started last year when they ended the season on a six-game tear. The last time Green Bay finished with a loss, Matt Flynn was the quarterback and the opponents were the Patriots.
The Packers, the highest-scoring team in football, had a bye this week. In Week 9, they will travel to San Diego to face the struggling Chargers.