Notre Dame Football: Fighting Irish All-Time NFL Offensive Unit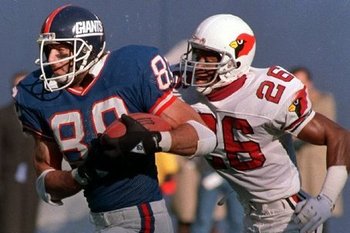 While Mark Bavaro may make the list of All-Time Tecmo Bowl athletes, does he make the list as Notre Dame's All-Time NFL offensive players?
Notre Dame's football team has produced more NFL football players than any other program in the country. Many of Notre Dame's greatest names went on to have fantastic professional careers, as well.
Throughout the history of football, Irish alums have given NFL fans plenty to cheer about, whether it was Steelers fans enjoying the play of Rocky Bleier, or Giants fans loving Mark Bavaro. From the Four Horsemen to Julius Jones, Notre Dame has done its best to support the NFL with its most talented players.
While plenty of Irish have made it to the NFL ranks, we've decided to sort through over 500 names to find the All-Time NFL offensive unit for Irish fans and NFL fans alike.
Earl "Curly" Lambeau, Head Coach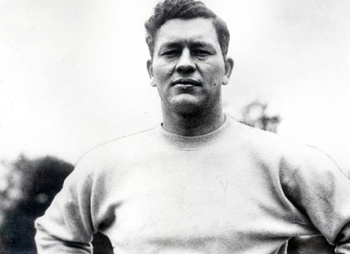 Photo Courtesy of poorwilliam.net
Beginning our list of All-Time Irish is one of the greatest names in the NFL. Curly Lambeau not only played at Notre Dame and in the NFL, be he founded one of the NFL's greatest franchises—the Green Bay Packers. Additionally, his name adorns one of the NFL's greatest stadiums in Lambeau Field. As if that wasn't enough, his name is attached to the "Lambeau Leap," as well.
While he wouldn't have made the list for an offensive position, head coach counts, right?
George Trafton, Center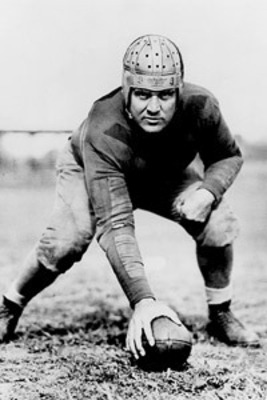 Photo courtesy of espn.go.com
Inducted into the Pro Football Hall of Fame in 1964, Trafton played for what is now called the Chicago Bears. He's credited as the first center to snap the ball with one hand. Like recent Irish player Tom Zbikowski, Trafton was also a boxer, if that's any indication of this nasty streak. One can think of Trafton as the Jeff Faine of his time, except with a better professional career.
Jack Cannon, Guard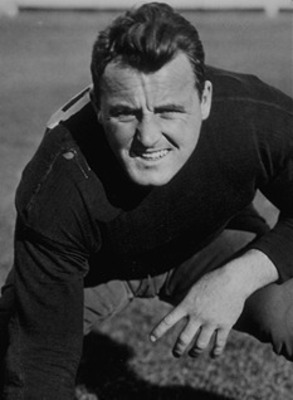 Cannon was one of the nastiest players to see the field and one of the last to play without a helmet. Jack Cannon enjoyed a mean streak on the field, but quickly lost interest in the game as soon as the final whistle blew. This frustrated Irish head coach Knute Rockne to no end, but it had no effect on Cannon's ability to play in college or the NFL.
Aaron Taylor, Guard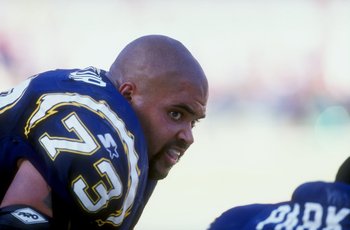 Tom Hauck/Getty Images
Many Irish fans may know Aaron Taylor as an on-air personality, but Taylor won the Lombardi Award in 1993 as a Green Bay Packer. Drafted in the first round by the Packers, Taylor played in two Super Bowls with the team, including one victory, despite being injury-plagued most of his career. He finished his NFL days as a San Diego Charger.
George Connor, Tackle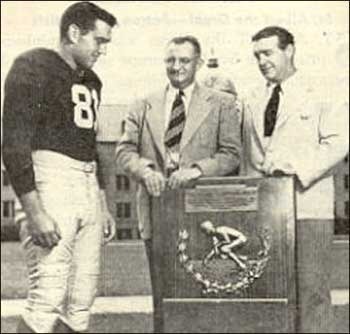 Photo Courtesy of irishlegends.com
A member of both the College Football Hall of Fame and NFL Hall of Fame, George Connor doubled as a tackle and linebacker in the NFL. Picked in the first round of the 1946 NFL draft, Connor played his entire career for the Chicago Bears and was selected to the 1940's All-Decade team.
Dave Huffman, Tackle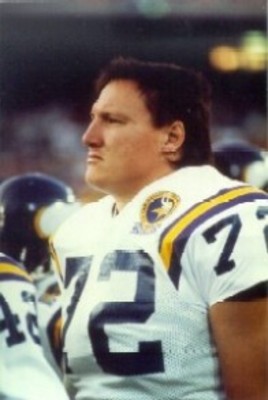 Photo courtesy of huffman5k.com
Huffman was a tackle for the Minnesota Vikings after being drafted in 1979. He also played for the Memphis Showboats, a team that also featured the late Reggie White. Famous for wearing his red elbow pads, Huffman wanted to make sure his mother could see him from the stands.
He died in 1998 in a car wreck on the way to see the final Notre Dame game of the season.
Leon Hart, Tight End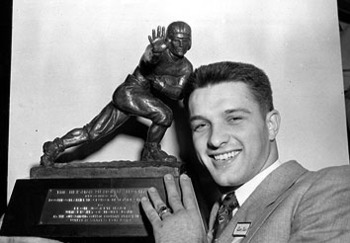 Photo courtesy of espn.go.com
All-everything player at Notre Dame, Leon Hart was also one of the Irish's distinguished Heisman trophy winners. It's difficult to place Hart's position, since he played three different positions for the Detroit Lions. His best position, however, was tight end, where he could unleash his nastiness as a blocker, if necessary, or could catch a pass against opposing defenses.
In fact, Hart's ability to block and catch with equal effectiveness makes him a precursor to Notre Dame's current list of pass catching and blocking tight ends who seem to enter the NFL every other year.
Jack Snow, Wide Receiver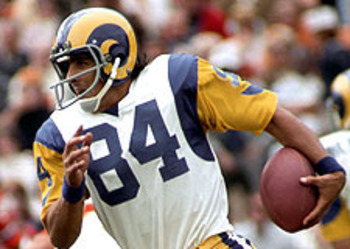 Photo Courtesy of snowmanfund.com
Selected by the Minnesota Vikings in the first round of the 1965 draft, Jack Snow was later traded to the Los Angeles Rams where he had a prolific career at receiver. His 6,012 yards receiving rank him 30th on the NFL's career receiving list. Snow was known for his ability to catch the "bomb," and averaged 26.3 yards per catch one year. He enjoyed ten seasons in the NFL.
Tim Brown, Wide Receiver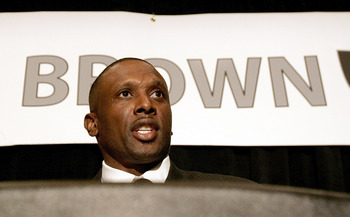 David Paul Morris/Getty Images
Tim Brown is Notre Dame's last Heisman Trophy winner, selected 8th in the 1988 NFL Draft. Spending most of his career with the NFL's Raiders, Brown was selected to the Pro-Bowl multiple times, as well as being selected to the 1990's All-Decade Team. Brown is, by far, Notre Dame's most successful NFL wide receiver.
Paul Hornung, Running Back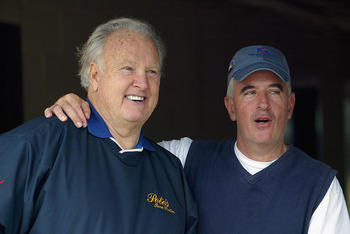 Jamie Squire/Getty Images
While Paul Hornung won a Heisman Trophy at Notre Dame for playing quarterback, he didn't find success in the NFL until he was moved to halfback. Hornung was the first overall selection in the 1957 Draft by the Green Bay Packers, where he then led the league in scoring for three seasons.
Despite all of his accolades, Hornung wasn't able to play in Super Bowl I due to a pinched nerve that kept him on the sidelines.
Jerome Bettis, Runningback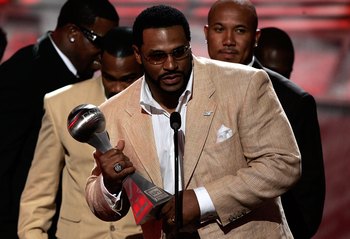 Kevin Winter/Getty Images
Is he a halfback or a fullback? Either way, Bettis was the envy of the NFL as a big back who ran with the agility of a halfback. A Pittsburgh Steeler for most of his career, he was selected Rookie of the Year in 1993 and followed that with multiple Pro-Bowl selections. Most known for his charisma, fans can see him regularly on television, these days, as a sports announcer.
Joe Montana, Quarterback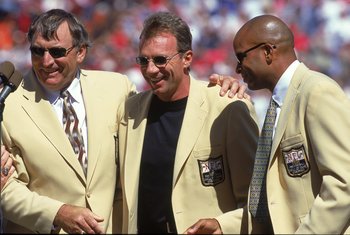 Tom Hauck/Getty Images
The "Comeback Kid," Joe Montana wasn't selected as highly in the NFL Draft as many of his counterparts on this list. He was selected in the third round by the San Francisco 49ers where he went on to have a magnificent career, winning four Super Bowls and being selected MVP in three of those games.
According to NFL.com, he is the No. 4 greatest NFL player of all-time. Despite the number of great Notre Dame quarterbacks, none of them hold a candle to Montana's success at the next level.
Keep Reading

Notre Dame Football: Like this team?