WWE: Who Is the Bigger Phenom? Undertaker or Sting?
November 1, 2011
Seldom do performers in the wrestling industry command the utmost respect of everyone in their presence. The few immortals who have stuck in fans' minds for all the right reasons. Decades of performing, changing with the times, multiple world championships and never growing old or stale as a character or a performer.
These are all traits of two of the biggest names in wrestling's storied history. The Undertaker and Sting are two of the most respected and over characters of all time. Every wrestling fan I know would love to see the two in a showdown at what will probably be Undertaker's last match at WrestleMania.
Both of these men have portrayed enigmatic and dark characters for many years. Both men (moreso Undertaker) have been described as "phenoms." Comparing the two, which man is the bigger phenom?
That's what we will explore in the seventh edition of my "A or B" series from a suggestion that really struck me from my first B/R fan Ryan Lauro.
The Undertaker began his WWE career in 1990 wrestling under the gimmick of a mortician named "Kane the Undertaker." He would wear a trenchcoat to conceal his black wrestling garb and wore grey gloves and boot covers. He was nothing that the WWE fans had ever seen at that time, seemingly being impervious to pain, and drawing his powers from a mysterious urn that his manager Paul Bearer (I see what you did there WWE!) used to carry around for him.
After losing a casket match to Yokozuna and taking some time off, The Undertaker came back as a new incarnation of his original mortician gimmick, dying his hair black and wearing purple instead of grey. It was during this period that two more gimmick matches based around Undertaker's persona came into being—the Hell in a Cell Match, and the Buried Alive match. This was also the period that we would first see The Undertaker drag a wrestler "to hell" when he came up through the ring and dragged Diesel into the depths.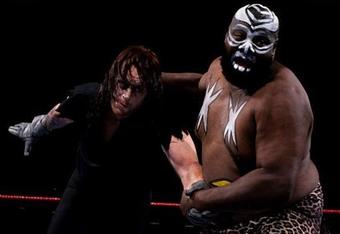 It was in 1999 that ultimately spawned the most frightening and phenomenal (pun intended) Undertaker persona to date. This was when he became the leader of the Ministry of Darkness. A cult-like group that would participate in ritualistic behavior such as "crucifying" other wrestlers on his symbol and performing "sacrifices" to bring out a wrestler's evil side to recruit them into his Ministry.
Shortly after this the "classic" Undertaker would take a hiatus for quite some time as Undertaker took on a more true-to-life character in his biker Big Evil persona.
In 2004, however, he would return as "The Deadman." A culmination of all three of his previous personas rolled into one being. As late as his last WrestleMania appearance, this is the persona that he has stayed with.
Over the course of Undertaker's 21-year WWE career, he is a seven time Heavyweight Champion (WWE and World Heavywight combined), seven-time tag team champion, Royal Rumble winner and has had numerous gimmick matches and pay-per-views named around his persona. Not to mention that whole WrestleMania undefeated streak thing.
Sting began his wrestling career with the National Wrestling Alliance branch that would break off to become World Championship Wrestling in 1987. He began his rise in the ranks in a "surfer" type gimmick, with a blonde flat-top haircut and colorful scorpion stinger facepaint with tights to match.
It wasn't until 1996 with the nWo invasion of WCW that Sting's character would take a darker more enigmatic turn. With all of the accusations of betrayal being hurled at Sting by even his closest friends due to the nWo hiring an imposter Sting, he left the WCW declaring himself a free agent.
Upon Sting's return, he came back as a character akin to Eric Draven from "The Crow." He wore all black, with a black trenchcoat and painted his face in a similar fashion to the aforementioned character. After attacking the nWo's fake Sting, and declining the nWo's offer to join for revenge on WCW he would not speak on mic at all for the following year.
He would begin to appear in the rafters at WCW events and carried a black baseball bat to protect himself and pointing to things with the bat would be his only form of communication. He would also use the bat to push wrestlers around and try to get them to hit him before he would feign a strike with the bat. He would then test the individual's loyalty by handing them the bat and turning around, offering them retaliation.
This basic "Crow" gimmick's characteristics would be used by Sting with little variation until his most recent run with Total Nonstop Action Wrestling. Over the course of the year, Sting has evolved his character to closely resemble the Batman villain The Joker, specifically Heath Ledger's incarnation of the character from the film "The Dark Knight."
Over the course of Sting's wrestling career dating from his start in the NWA, he is a 14-time heavyweight champion (NWA, WCW International, WCW Heavyweight, NWA/TNA Heavyweight, and TNA Heavyweight) two time United States Champion, a former Television Champion, and a four time tag team champion (WCW and TNA reigns combined). The most amazing thing about Sting is the fact that he achieved all his accomplishments in the wrestling world without the blessing of Vince McMahon or his major empire backing him. I don't believe that anyone has had as much success in the wrestling industry as Sting without Vince McMahon's help.
My final word may come as a surprise to some on this one, but I am going to go with The Undertaker as the bigger phenom. His character has evolved more over the years, and had a bigger impact on the WWE as a whole. That might make me sound prejudiced, but the WWE really is the top of the wrestling world. It's where all performers aspire to be, and for the casual fan, WWE is most likely THE wrestling world.
I'll be honest—when I first developed the idea in my head for the the article, I was going to pick Sting solely on the fact that he didn't have the Vince McMahon machine behind him. My brain can't fathom how much bigger a role Sting would have had in major wrestling storylines had he come to the WWE after the acquisition, and how many dream matches we could have seen with Sting in the WWE.
You can't sell the man's accomplishments short however. WWE even mentions Sting in their "Greatest Wrestlers of the '90s" DVD set, and includes many of Sting's matches in their compilations such as "The Rise and Fall of WCW" and "The Essential Starrcade Collection." Both of these DVD features include Sting on the cover. So McMahon does know what he missed, and I'm sure has tried multiple times to get The Stinger to lace up his boots in a WWE locker room.
However, from a purely character based standpoint, I'm going to have to say that The Undertaker is the bigger phenom. What do you guys think? I'd love to hear from you in the comments section!
Until next time, I'm Merlot Williams, and that's my opinion.
As always, I'd love to hear your guys' suggestions for my "A or B" Series! Hit me up in the comments or on my Writer's Page! I usually post these late Saturday night/early Sunday morning unless a sinus infection is being fought by NyQuil.