San Francisco 49ers: "Not Perfect, but Beautiful"
November 2, 2011
When describing the San Francisco 49ers' 20-10 victory over the Cleveland Browns, head coach Jim Harbaugh called it, "Not perfect, but beautiful."
I would say that was a fair summation.
That quote not only describes last Sunday's game, it describes this 49ers team in general.
The San Francisco 49ers are now 6-1 and off to their best start since 1998. They have a four-game lead in the NFC West and can clinch the division, as well as a playoff berth (mathematically), before Thanksgiving. They have the second best record in the NFL, behind only the Super Bowl champion Packers at 7-0. 
Not perfect?
The 49ers do have the one loss in overtime against the Dallas Cowboys in Week 2.
Despite huge improvements, quarterback Alex Smith has yet to truly capitalize in the passing game. The 49ers are ranked 31st in passing yards and this has got to be a big concern for Harbaugh moving forward.
Defensively, the 49ers are solid throughout. Aside from a blown play or two from the defensive backs, I am confident the 49ers defense can hold their own against any team in the NFL.
The 49ers, like all of us, are not perfect. They will need to continue working on the passing game if they expect to make a deep run in the playoffs. This is especially important in the event that they meet a team like the Packers, who average 32.9 points per game.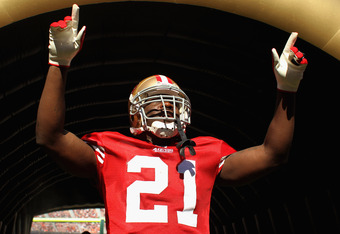 Ezra Shaw/Getty Images
The good news is, they have plenty of bad teams to spar with in the upcoming weeks as their schedule only gets easier from here.
But Beautiful
As a lifelong 49ers fan, it feels great to be back here again. I'm glad my sons get to watch a 49ers team win.
It was beautiful to see my boys watch as Frank Gore broke Roger Craig's record, considering Craig was the 49ers running back I used to pretend to be when I was their age.
I don't want to go too far down emotional boulevard. After all, this is football. However, Harbaugh was right; football is beautiful when you are winning. As is life.
Winning brings that "great thrill of victory," as Harbaugh always describes it. When you can share that thrill—that feeling—with your children, there is nothing more beautiful.
I am grateful to Jim Harbaugh and the entire 49ers organization for finally bringing that beautiful feeling back to San Francisco.
This article was originally published in the Benicia Herald.
Thank you for reading. Please join me on Twitter   @ryanthebroker