How WWE's Big Show Has Ruined Mark Henry's Monster Run
November 2, 2011
Gallo Images/Getty Images
Mark Henry is enjoying the biggest push of his career and is the current World Heavyweight champion, but the Big Show is ruining his run of dominance. Before his most recent feud with the World's Largest Athlete, Henry was running through the entire Smackdown roster, destroying everyone in his path. This included two pay-per-views wins against top draw Randy Orton and a victory against Sheamus at SummerSlam. 
However, when Big Show returned from an injury caused by Henry earlier in the year, Henry's run took a turn for the worse. Inexplicably, the World's Strongest Man was made to look weak in comparison to the Big Show. In fact, he lost three straight matches leading up to their epic showdown at Vengeance and he wasn't even given a clean victory in the pay-per-view match.
While the ending to that match was very cool, Big Show ruining Henry's run is a mistake on WWE's part for multiple reasons. The first is that Henry was bringing in tons of fans as a monster heel that couldn't be beaten. His dominance made people tune in to see who in the world could possibly beat him, thus generating some of Smackdown's highest ratings in quite some time.
The WWE really missed the mark here, as they could have used this surge in ratings to bring a newer talent into the title picture. They could have easily given someone like Sheamus or another young guy a chance to shine in the spotlight against a proven performer like Mark Henry.
However, they decided to put him in a program with an old, washed up superstar like the Big Show. It's not that Show can't put together a decent program, but putting these two behemoths together usually makes for pretty boring wrestling that the casual fan doesn't like to see. Big Show needs to be in the midcard, where he can job for younger superstars to help make them look good and improve the company's future.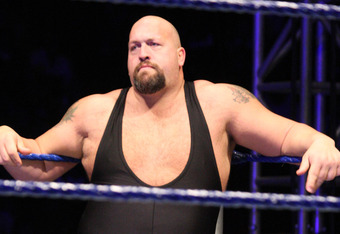 Gallo Images/Getty Images
The second reason Mark Henry should be feuding with someone else is that he needs a more athletic partner to capitalize on his potential as a performer. His matches against Randy Orton were much better than his current program because Orton has the ability to quicken the pace of the match and excite fans. Big Show lacks both of those abilities late in his career and Henry needs a more athletic opponent to help him put together a great match.
Finally, the WWE is wasting a huge opportunity to do something with Mark Henry. True, he's been a great champion and I don't want him to lose the belt anytime soon, but if he's going to lose the belt, it shouldn't be to Big Show.
Big Show is 39 years old and long past the days where he could be a legitimate champion. This feud needs to be squashed soon and Henry needs to move into a program with a younger guy. Sheamus is the one who most immediately comes to mind, but other guys could be put in as well.
Sheamus would provide Henry with a young, athletic guy who could put together a great match with the monster that is Henry. He has enough size to believably matchup with Henry, while still possessing the athleticism to give the fans the match they deserve.
The WWE brass is really missing the boat with the current program they have the World's Strongest Man in. The Big Show is bringing down Mark Henry's hype meter and a squash match is needed to re-establish Henry as a dominant heel. After that, the WWE has many different ways they could go, but none of those angles should involve the aging superstar that is the Big Show.