Seattle Mariners: 15 Biggest Fan Favorites in Franchise History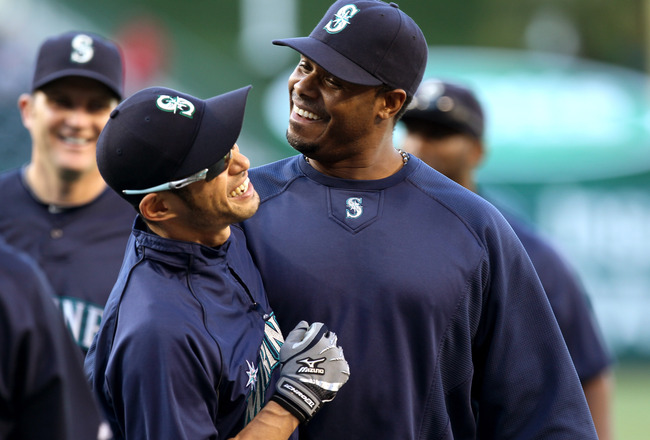 Stephen Dunn/Getty Images
The Mariners aren't the oldest team in baseball nor do they have the most championships, but they have given us 34 years of riveting personalities and fond memories.
Since 1977, Seattle has seen some of the greatest players of all time, as well as some of the worst (remember Jeff Weaver's ERA after his first six starts in 2007?). In almost all of those cases, however, the fans love the players; luckily, we haven't had any Ty Cobbs or Pete Roses.
Here are 15 players that stand out as fan favorites in the Seattle Mariners community.
15. John Olerud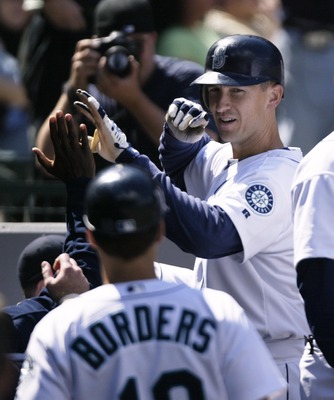 Otto Greule Jr/Getty Images
Yeah, the guy who wore his batting helmet out to play first base.
John Olerud wasn't around in Seattle for too long, but while he was there, he won the favor of the fans. He was reliable at the plate and excellent on the field.
Olerud also played a key part in the magical 2001 season that rewarded the Mariners' growing fanbase. It was pretty sad to see him go off to play for the New York Yankees and the Boston Red Sox to finish up his career.
14. Bret Boone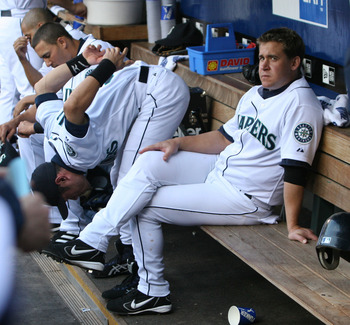 Otto Greule Jr/Getty Images
Another member of the famous 116-win season, Bret Boone had a big bat. He slugged his way into the hearts of Mariners fans, hitting 37 home runs, 37 doubles and 141 RBI, good for a .578 slugging percentage and third place in the AL MVP race.
Boone had a couple more good seasons before his career began to taper off, eventually finishing off his major league career with the Minnesota Twins in 2005.
13. Raul Ibanez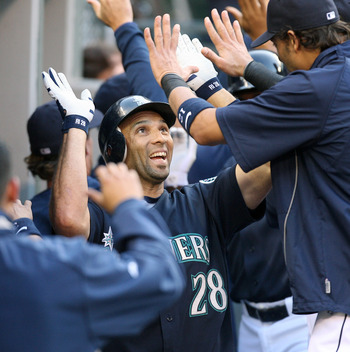 Otto Greule Jr/Getty Images
Raul Ibanez was a pleasure to have in Seattle during both his stints, and we'd love to have him back from the Philadelphia Phillies in 2012 for him to close out his career.
Ibanez puts up impressive numbers at the plate and can handle left field, both of which are areas where the Mariners are currently confounded.
Ibanez even earned himself a Mariners team commercial once.
12. Julio Cruz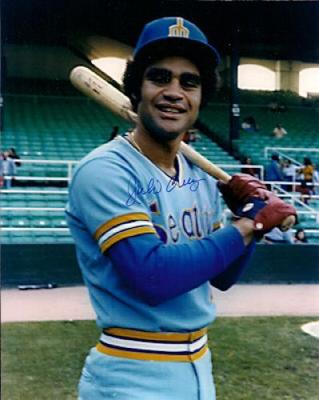 Julio Cruz was the fastest guy on the Mariners in their earliest days.
He wasn't the strongest hitter, earning just a .237 average in his six seasons with the M's, but he stole 290 bases, good for second on the Mariners all-time list behind Ichiro Suzuki.
Cruz was probably best known, however, for his nickname: "The Cruzer."
11. Lou Piniella
Danny Moloshok/Getty Images
"Sweet Lou" Piniella did good things for the Mariners while he was in control of the dugout from 1993 to 2002. He was manager during the 1995 ALCS run as well as during the 2001 magical season—perhaps the two most memorable seasons in Mariners history.
Piniella did have a hot temper, but a little personality is important for the vitality of any ball club. The players respected him, and the fans loved him.
10. Felix Hernandez
Otto Greule Jr/Getty Images
King Felix is one of the newer fan favorites in Seattle. He has been featured in some of the Mariners' funniest team commercials and has succeeded in winning the support of all the fans in Seattle.
No one wants to see him go (especially to the Yankees), and he doesn't want to leave, thanks to the friendly and embracing environment into which he's been accepted in.
As long as King Felix continues to hover near the top of the league in all the major pitching stat categories, he'll be praised and idolized in Seattle.
It would be awesome to see him spend his entire career in Seattle, and he'd certainly earn a spot in the Seattle Mariners Hall of Fame.
9. Jamie Moyer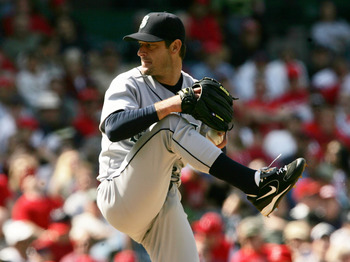 Stephen Dunn/Getty Images
The old circle-changer with the 82 mph fastball cracks the top 10. Moyer spent 11 of his 24 seasons with the Mariners, racking up 142 wins, a .625 winning percentage and a 3.97 ERA.
His unique style of pitching has gotten him through hundreds of high-pressure situations; half of his pitching strategy is the mental attack he exerts on the batter.
The advantage to his slower pitching style is reflected in his plans to pitch in 2012 when he'll be 49 years old. Jack Zduriencik, looking for a starter to complete the rotation?
8. Dan Wilson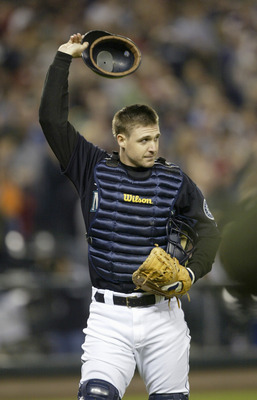 Otto Greule Jr/Getty Images
Dan Wilson was just a great guy and a great team player. He'll always be remembered as one of the highest-quality people ever to play with the Mariners, especially behind the plate.
Wilson's wicked defensive career can be highlighted by his 2001 season, during which he made a single error in 744 chances.
Also notable is Wilson's inside-the-park grand slam in 1998. How can you not love a guy who hits an inside-the-park grand slam?
7. Randy Johnson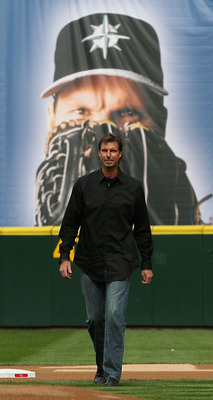 Otto Greule Jr/Getty Images
The Big Unit is undeniably one of the top pitchers ever to play baseball. He came to the Mariners in a trade with the Montreal Expo, and he didn't take long to heat up.
Johnson put together 130 wins, 2,162 strikeouts and a 3.42 ERA in 10 seasons with the Mariners. His tall, lanky, long-haired figure coupled with his nasty fastball remind me of Tim Lincecum.
Apart from the magnificent stats he accumulated throughout his career, he had a charismatic personality that won the support of thousands of fans.
6. Jay Buhner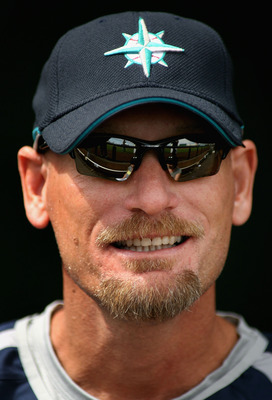 Christian Petersen/Getty Images
Here is the first of the four inductees to the Seattle Mariners Hall of Fame.
Jay Buhner was a great hitter who struck out a lot, but was clearly a fan favorite. He went out with a bang after the 2001 season, and his number (19) hasn't been used since then.
Buhner was one of the lucky players to experience both the 1995 and 2001 seasons with the Mariners.
5. Alvin Davis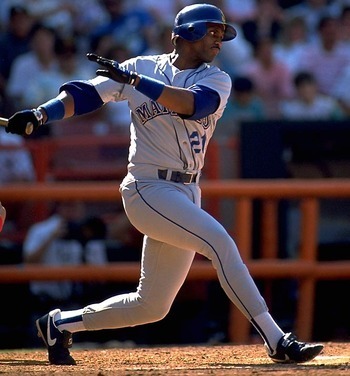 He's "Mr. Mariner."
He won AL Rookie of the Year award in 1984 with the Mariners and went on to contribute in Seattle for seven more years.
He wasn't exactly an All-Star caliber player in all seven of those years, but he became a familiar face at first base for Mariners fans and rooted himself in Mariners history.
4. Ichiro Suzuki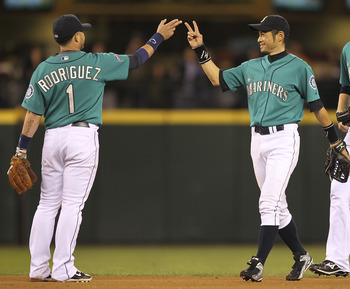 Otto Greule Jr/Getty Images
Ichiro Suzuki will be in the Seattle Mariners Hall of Fame one day. He will possibly also be in the MLB Hall of Fame.
He might also be a Hall of Famer in Japan.
Suzuki has become the face of the Mariners since 2001 when he came from Japan.
He's put up unparalleled stats and attracted thousands of fans from culturally diverse backgrounds, all around the country and the world.
He intends on finishing his career with the Mariners, and he'll surely go down as one of the best Mariners to have ever played the game.
3. Edgar Martinez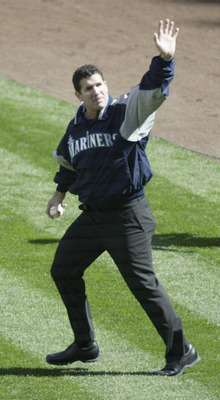 Otto Greule Jr/Getty Images
Eighteen seasons with the Mariners—that's what I call loyalty. Edgar tore it up as designated hitter for the Mariners.
In one seven-year span from 1995-2001, he maintained a brilliant 1.019 OPS. He was also one of only five players in the 20th century to have hit 50 doubles in back-to-back seasons (1995-96).
As with most of the special players in Mariners history, Martinez played a huge part in the 1995 ALDS: He had a .571 average, lots of RBI and lots of runs, but most importantly, "The Double."
2. Ken Griffey, Jr.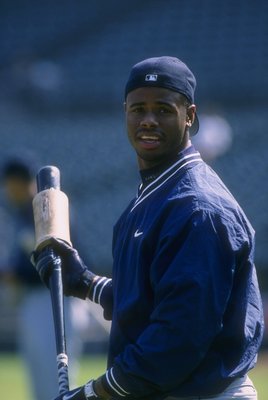 Otto Greule Jr/Getty Images
Ken Griffey, Jr. was also a huge part of the 1995 ALDS. He booked it from first base on "The Double" by Edgar Martinez to score the winning run in the bottom of the 11th inning to secure Game 5 of the series and propel the Mariners into the ALCS.
It's easy to list all of Griffey's accomplishment's as a Mariner, but we've all already seen them plenty of times.
We all also know that Griffey will forever be the No. 1 player in our hearts as Seattle Mariners fans.
So if Griffey's the penultimate ranking in this slideshow, who's the No. 1?
1. Dave Niehaus
Dave Niehaus was the voice of the Mariners from their first game in 1977 until last year when he died of a heart attack. There was no one in the Mariners organization more loved or admired than Niehaus.
He affected millions of fans and listeners throughout the course of his career, and he'll never be forgotten thanks to pop artist Macklemore's dedication based on Niehaus's catchphrase: "My Oh My."
Keep Reading

Seattle Mariners: Like this team?