Chargers vs. Chiefs Monday Night Football: Live Reaction, News and Analysis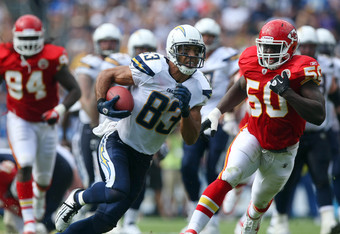 Donald Miralle/Getty Images
The San Diego Chargers and Kansas City Chiefs will face off in front of a national audience tonight on Monday Night Football. And the divisional implications leading up to the game are huge.
San Diego currently has a half-game lead over Kansas City in the AFC West. Just a few weeks ago, it looked as if the Chargers would run away with the division title and win it with ease, as the Chiefs starting out the season 0-3 and were losing their games by a large margin.
The teams last faced each other just a month ago, with the Chargers squeaking out a three-point win on their home turf, 20-17. That game marked the beginning of the Chiefs turning their season around, and they have won three straight games since.
But is Kansas City an actual contender in 2011? Or are they just beneficiaries of a weak schedule, beating the Vikings, Colts and Jason Campbell-less Raiders.
Regardless, this upcoming stretch will tell us all we need to know about the Chiefs. They face the division-leading Chargers tonight, which is the first of three consecutive home games at Arrowhead Stadium.
Keep it here for live reactions and updates to this marquee Monday Night Football matchup! Oh, and happy Halloween!
With just one minute remaining, the San Diego Chargers had the Kansas City Chiefs on their heels.
The score was tied at 20-20, the Chargers were in the red zone, and the Chiefs had no timeouts remaining. The game was setting up for a game-winning 35-yard (or so) field goal for K Nick Nowak.
All Philip Rivers had to do was snap the ball, hand it off and call a timeout to line up for the field goal.
Unfortunately, he choked, big time.
Rivers mis-handled the snap, reminiscent of this Tony Romo epic fail years ago, and fumbled the football. The Chiefs recovered, and the two teams would eventually head to overtime.
The Chargers' loss would be the Chiefs' gain, as San Diego began overtime with a three-and-out, and Kansas City would later march down the field and win on a Ryan Succop 30-yard field goal, 23-20.
The winning kick would help the Chiefs shatter a trend that was quite peculiar, with road teams dominating in overtime games.
Kansas City's win snapped a streak of nine straight losses by home teams in overtime games.
The Chiefs just find ways to win on Halloween. Last season, they beat the Bills on a 35-yard kick by Succop in overtime. And tonight's game featured a similar result.
But the Chiefs didn't win the game; Philip Rivers lost it with his three turnovers.
This article is
What is the duplicate article?
Why is this article offensive?
Where is this article plagiarized from?
Why is this article poorly edited?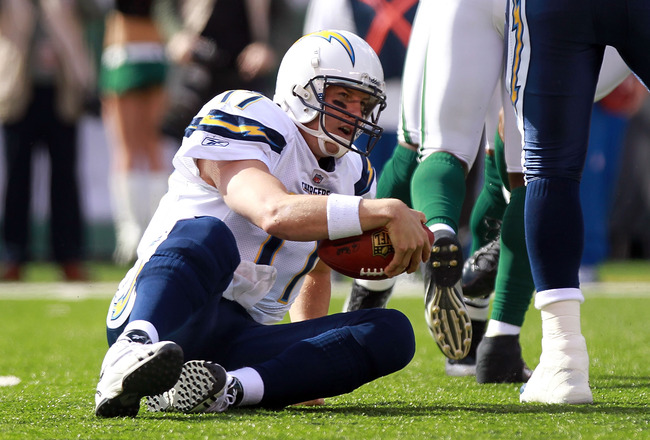 Philip Rivers continues to struggle with turnovers in 2011.
He's already tossed two interceptions in tonight's Monday Night Football game, although one of which wasn't his fault, as it was a tipped ball.
Here's something you may not know: Rivers leads the NFL with 13 giveaways (11 interceptions, two fumbles).
The Chargers are a team loaded with weapons on offense that can rack up yards at will. But they also seem to find ways to kill and halt drives, as well.
Tonight's game is no different.
San Diego has 189 yards to Kansas City's 129. Yet the scoreboard doesn't reflect that, as the Chiefs lead, 10-3.
So what is the issue with Rivers?
It appears his throwing motion has changed a bit, with his arm angle looking a bit more unconventional. And at times, Rivers has thrown off his back foot to get more power on his throws.
Rivers will need to revert to his fluid throwing motion, and also must resist tossing balls into coverage.
This article is
What is the duplicate article?
Why is this article offensive?
Where is this article plagiarized from?
Why is this article poorly edited?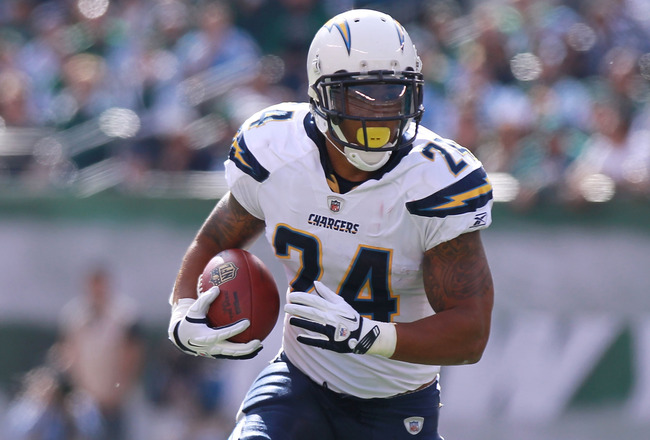 Take the path of least resistance. That is precisely the motto the San Diego Chargers need to heed when they take on the Kansas City Chiefs on Monday Night football.
On a foggy Halloween night, Phillip Rivers and company are about to take on a hungry Chiefs squad. Well, they don't need River to be great. They hardly need him to be any good.
The call of the day should be to get Ryan Mathews the ball early and often. Rivers has hardly been the statistical machine we expected to see this season. The Chargers are finally rolling and Rivers has been marked by turnovers and inconsistency.
The last thing they need is Rivers to force the issue as he tries to assert he is an elite quarterback on national TV.
The Chiefs are near dreadful in the pass rush having me confident they can control the tempo, clock and yardage if they give Mathews the ball.
The game is still very young but the beginnings of a tragic ending may have started. The Chargers opted to go vertical in their opening drive giving the Chiefs the ball immediately.
The Chargers are too good to start with a three and out. Simply put, they are over thinking the game here. It may be ugly and down right unwatchable, but you pound that ball on the ground all night and win by a safe margin.
As I watch the Chiefs flirt with an opening drive score, i can't help but fear the Chargers will instead be playing catch up all game. That is exactly what you don't want as the Chiefs will give you the game on the ground if you want.
Give Mathews the ball and reap the rewards. The easiest way to win on this Monday night is to take the path of least resistance.
This article is
What is the duplicate article?
Why is this article offensive?
Where is this article plagiarized from?
Why is this article poorly edited?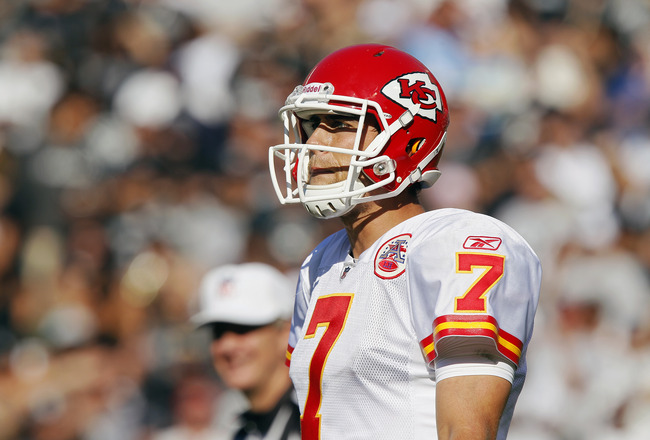 Tonight's Monday Night Football matchup between the Kansas City Chiefs and San Diego Chargers has just kicked off, but I figured I'd take a moment to offer some last-minute words of wisdom.
At stake in tonight's matchup is the lead in the AFC West, but the Chiefs are going to be playing for more than just a share of the division lead. Essentially, what they need to prove is that their three-game win streak isn't just a fluke.
There are certainly reasons to believe the Chiefs are overachieving at the moment. They got their first win against the Minnesota Vikings, who were winless at the time. They got their second win against the Indianapolis Colts, who are still winless. Their third and most recent victory came against an Oakland Raiders team that basically didn't have a starting quarterback. That reality manifested itself in six interceptions, two of which were returned for touchdowns.
Put simply, these were teams the Chiefs were supposed to beat. That they beat them is certainly surprising given how poorly the Chiefs started the season, but these three wins are not necessarily an indication that the Chiefs are here to stay in the AFC West.
If the Chiefs want to prove that, they need to beat the Chargers. That simple.
Nick Laham/Getty Images
The Chargers have their own issues, mind you. They have as much talent as any team in the league, but they've had to deal with injuries to key players and some early ineffectiveness from Philip Rivers. They're 4-2, but they too have much to prove.
That said, the Chargers do seem like the best team in the division when you look at them on paper. They merely have to put it all together in order to succeed, whereas the Chiefs pretty much need everything to go according to plan given their assorted weaknesses.
If the Chargers continue to struggle, it's going to be much easier for the Chiefs to stick around in the division. However, they're not going to be as lucky as they were in 2010, when they capitalized on a weak schedule and a weak AFC West. This year, they're going to have to earn whatever they get.
That starts tonight. We'll see just how good these Chiefs are.

This article is
What is the duplicate article?
Why is this article offensive?
Where is this article plagiarized from?
Why is this article poorly edited?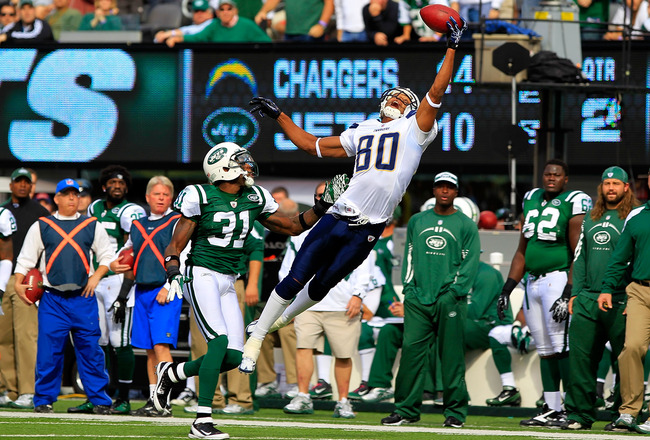 Fantasy football owners should be happy when looking at tonight's injury report. The only notable player that is inactive is RB Mike Tolbert (hand, hamstring).
However, WR Malcom Floyd was upgraded and will play tonight.
The official injury report is here, per ESPN's Bill Williamson:
SAN DIEGO: RB Mike Tolbert, LB Gerald Hayes, S Darell Stuckey, G Kris Dielman, LB Shaun Phillips, DL Ogemdi Nwagbuo, DL Luis Castillo

KANSAS CITY: QB Ricky Stanzi, CB Jalil Brown, OL Steve Maneri, WR Jerheme Urban, TE Anthony Becht, DL Brandon Bair, DL Jerrell Powe
Expect RB Ryan Mathews and WR Vincent Jackson to have a big game. Saying QB Philip Rivers is due to go off is an understatement, as he has underperformed all season, tossing many interceptions along the way. He has tossed just seven touchdowns to nine interceptions in 2011.
Maybe tonight will be the night for Rivers? It's as good a time as any, in this marquee divisional matchup.
For the Chiefs, look for a big game from QB Matt Cassel, RB Jackie Battle and WR Dwayne Bowe. Bowe's big-play potential could be huge against the Chargers' secondary, as their safeties struggle in defending against the deep ball.
This article is
What is the duplicate article?
Why is this article offensive?
Where is this article plagiarized from?
Why is this article poorly edited?