Roger Federer vs. Pete Sampras: Who Would Win If Both Were in Their Prime?
November 2, 2011
Clive Brunskill/Getty Images
Tennis has a huge number of candidates who could be considered the greatest of all time.
Bill Tilden, Jack Kramer, Roy Emerson, Pancho Gonzales, Rod Laver, Bjorn Borg, John McEnroe, Pete Sampras and Roger Federer are the ones who are most often mentioned.
Determining the GOAT seems to be an endless discussion and impossible to resolve, mainly due to the difficulty in comparing players from different eras.
The sport has evolved and changed tremendously, it wouldn't be accurate or fair to make assumptions on possible head-to-head battles between players whose careers took place decades apart from each other.
Perhaps the vast majority of the people reading this article are fortunate enough to have seen both Pete Sampras and Roger Federer play, although never against each other in their prime.
These two geniuses clashed only once, at the 2001 Wimbledon, when the Swiss prevailed in five sets in the round of 16. Federer was at the beginning of his career and would win his first major only two years later, while Sampras was in the later part of his career and would retire in the next year.
Since Sampras and Federer are the latest names in the GOAT discussion list, fans and experts always imagine what their match-up would have been like, had they played against each other when both were in their prime.
In order for this analysis to be fair, it would have to consider matches played on each of the three different surfaces of the Grand Slam events: clay, grass and hard.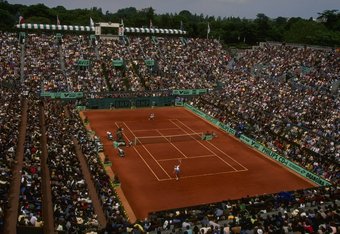 Gary M. Prior/Getty Images
The clay court match:
Roger Federer had much more success on clay than Pete Sampras.
The highlights of the American's clay court career were a title in Rome in 1994, and a semi-final appearance at the French Open in 1996. He won a total of three clay court titles.
Roger reached the final in Roland Garros five times and won one. He also won four times the Masters 1000 of Hamburg. Overall he won nine clay court titles.
Although clay is neither player's favorite surface, the Swiss obviously feels more comfortable on it.
In a clay court match between them we would see Federer playing mainly from the baseline, working the ball around and handling Sampras's pace.
The American would not be able to serve and volley all the time, as he liked to do, but would try to get to the net on every opportunity he had.
Federer probably would have had the edge on their clay encounters.
The grass court match:
Pete Sampras won seven Wimbledon titles, while Federer has won six. Overall, Federer has 11 grass titles and Sampras had 10.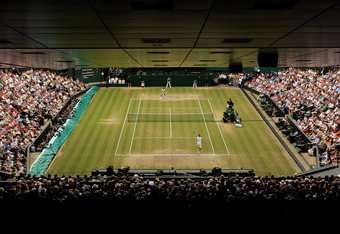 Pool/Getty Images
Grass is both players' favorite surface and they are very accomplished on it.
In this match we would probably see Sampras being very aggressive, serving and volleying on every point, both first and second serves, and taking the net on every chance he had.
Federer's tactic would probably be to keep the American on the baseline as much as possible, get a large percentage of 1st serves in and avoid Sampras to chip and charge on his second.
The aggressiveness of Sampras would eventually pay off and he would have come out ahead in their grass battles, especially if we assume that the matches would have been played on the grass of Sampras's era, which lead to faster games.
The hard court match:
Roger Federer has four Australian Open titles, while Sampras captured two down under. Each player won the US Open five times.
Overall the Swiss won 45 titles on this surface and Sampras won 36.
Hard courts would definitely have hosted the closest and toughest matches between these players.
Federer would play mainly from the baseline, although aggressively, with a few charges to the net, sometimes behind a first serve.
Sampras would be aggressive as usual, serve and volley most of the time, sometimes coming behind the second serve as the element of surprise.
It is easy to see the players evenly splitting their matches on hard courts, with intangibles determining the winner on every occasion and most of the encounters going the distance. 
As everyone might expect, Federer vs. Sampras would have featured great battles and it could have been perhaps the greatest rivalry of all time, had they belonged to the same generation.
So the big question is: who would have had the edge on hard courts, which would have been the key to determining who the best player was?
I certainly can't answer that one...can you?