Tennessee Titans: Chris Johnson May Not Be a Titan After All
October 31, 2011
Grant Halverson/Getty Images
Touted as one of the league's best running backs just two years ago, Chris Johnson's miserable 2011 season continues after another lackluster performance against the Indianapolis Colts. 
He finished the day with just 34 rushing yards on 14 carries.
For the last two seasons, eclipsing over 100 yards per game and recording numerous touchdowns was the norm each week for Johnson.
In eight games this year, Johnson has only one game where he has rushed for over 100 yards and he has celebrated in the end zone just once.
On the year, Johnson has rushed for a measly 300 yards—a far cry from his self-proclaimed nickname, "CJ2K."
It's difficult to believe Johnson will even reach 1000 yards at season's end. 
Experts have been saying for weeks that Johnson will get it together, because he had one of the hardest schedules for the first half of the season. They kept on saying not to bail on him, because his second half schedule is a walk in the park.
But after a dreadful performance against the Colts, who currently have one of the worst rushing defenses in the league, how can you trust anything anyone says about Chris Johnson this season?
Johnson is one of the most talented running backs in the league; everybody knows he can pummel every defense when he kicks it into second gear.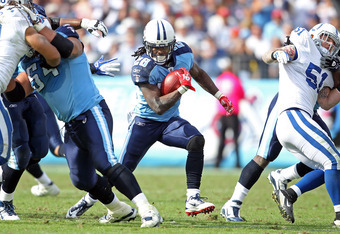 Andy Lyons/Getty Images
However, he's been stuck in first gear the entire season. 
He can not shake defenders, nor elude tacklers, and he clearly is not seeing the open lanes. In last week's contest against the Houston Texans, defenders were implying Johnson was afraid to take a hit and his speed and explosiveness is nonexistent.
It's hard to argue against the bold, yet true statements when Chris Johnson has averaged 2.8 yards a carry and has just 107 yards after contact on the year.
Has CJ2K morphed into "CJUnder1K"? Has his own personal lockout in the beginning of the year impacted or even diminished his skills?
After Shaun Alexander set a NFL record for most touchdowns scored by a running back in a single season back in 2005 with 27, he was rewarded by the Seahawks with a generous, but deserving, contract.
The next three seasons that followed, the most dynamic running back of the last decade disappeared into an abyss and was never the same player again.  Plagued by injuries and offensive woes, Alexander never eclipsed over 1000 in his last three seasons.
After the contract dispute was settled where Johnson received at least $30 million in guaranteed money, have all the riches and fame gone to Johnson's head?
It's hard to imagine such a player with great potential and caliber would settle for a such a small, personal gain and not strive for other career goals. Outsiders believe athletes only care about striking it rich, but with such uncertainties in life, it's understandable when an athlete has to take the largest offer on the table.
Frustration is mounting over Johnson's recent performances, and there have been whispers of a running back by committee forming in Tennessee.
Though the Titans sign his checks every week, both parties have to believe the expectations have not been up to par. 
Chris Johnson wants to get back to being CJ2K, and he wants to be known as the best running back in NFL history. He is tired of living in the shadows of Adrian Peterson.
However, it might just be Chris Johnson was just a one-year wonder and an impostor of a Titan.