Boxing: Lucian Bute, Michael Katsidis, Alfredo Angulo Headline Stacked Weekend
November 2, 2011
Warren Little/Getty Images
Boxing has been in a patience-testing funk over the last few months.
What looked like a promising July began with David Haye laying a gigantic egg in the biggest fight of his life against Wladimir Klitschko. Amir Khan's fight with Zab Judah fizzled into a one-sided clinic with an unsatisfying ending when Judah appeared to consciously stay on the ground while being counted out. Floyd Mayweather's clash in August against Victor Ortiz left another sour taste on the old palate.
Whether it was the incompetent refereeing of Joe Cortez, poor sportsmanship from Floyd, or the inexperience from Victor, there was something for everyone to be irked about on that fateful eve. And do I have to even mention the disastrous Bernard Hopkins-Chad Dawson fiasco?
Throw in the horrendous decision in Paul Williams' bout with Erislandy Lara, the persistent low blows that tainted Abner Mares' win over Joseph Agbeko, and the cancellation of Marcos Maidana vs. Robert Guerrero and it's been a painfully frustrating stretch. In recent months, the sweet science has taken a worse beating than "Archie" Solis at the hands of the Alvarez brothers.
But as can be said of every dark storm, there are brighter skies ahead and the upcoming weekend has some serious action potential and intriguing plotlines to get fired up about. It's been months since the last Fight of the Year candidate (unless I missed an obscure bout from Asia or South America, which is quite possible).
I'm going to go out on a limb here and say this weekend is practically guaranteed to deliver another bonafide contender. There are five bigger fights I'm keyed in on with plenty of other action going on all around the globe. And no, Sergio Mora's fight on Friday against Jose Flores will not be covered in this space. Regrettably, neither will Saturday's offering of Jose Canseco vs. Tarek Salahi.
In chronological order, the five fights this weekend most likely to have us feeling swell about our favorite combat sport come Monday:
November 4, Russia: James Toney vs. Dennis Lebedev, Cruiserweights
Toney, a future Hall of Famer whose career has been plagued by weight issues and steroid revelations, hasn't won a big fight in almost a decade. Lebedev is probably best known to American audiences as the guy who pounded Roy Jones into his latest concussion in May.
Is this another mismatch for the Russian against a faded American icon?
In short—no. Jones has been knocked out too many times to count since Antonio Tarver scored his second-round KO in their rematch in 2004. Toney has never been stopped and has fought plenty of big punchers since moving from middleweight all the way to a bloated heavyweight. Now, at age 43, he's slimming back down from 257 in his last fight in February to the cruiserweight division and its 200 lb. limit.
I'm thinking echoes of his war with Vassilly Jirov in 2003, right up to the part where the crafty Toney pulls off a sound decision win by outboxing and outfighting his more limited opponent. What's that you say? That fight was in the U.S. and this one's in Russia? Okay, Toney by split-decision.
I'm just not sold on Lebedev. Even if he wins, I probably won't give him enough credit. That's the risk when you fight guys in their forties perceived as "has-beens".
I like Toney to win this one on points, probably later changed to a No Contest when he fails a test for some banned substance that helped him lose the fifty pounds he was carrying 10 months ago.
November 5, United Kingdom: Ricky Burns vs. Michael Katsidis, Lightweights
The Scotsman Burns rose from the ashes of two domestic points losses several years ago to become one of the world's most highly regarded fighters in the Junior-Lightweight division—possibly the thinnest, weakest division in the entire sport.
He's moving up in weight and making his 135 lb. debut against one of the most sadistic, maniacal, true-action fighters in all of boxing. Katsidis is willing to take almost inhuman beatings in his quest for success. He typically comes up short against the best of the best, but he never fails on delivering the paying customers a night of bloody, gruesome entertainment.
Burns has everything to prove here as a win could vault him into being a legitimate contender in the division. Katsidis wants to bounce back from two violent losses; a punishing TKO at the hands of Juan Manuel Marquez last year and an even more vicious beating that went to the cards against Robert Guerrero in April.
Again looking for history to repeat itself (when Katsidis stomped then-undefeated Kevin Mitchell on British soil in three rounds last year), I'm predicting another TKO/stoppage win for the masochistic Aussie, Katsidis.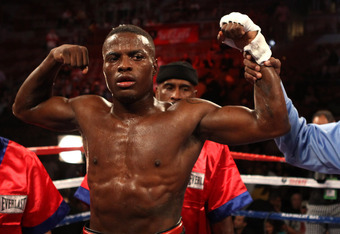 Scott Heavey/Getty Images
November 5, Mexico: Peter Quillin vs. Craig McEwan, Middleweights
Undefeated yet untested against anyone close to a world-class opponent, Quillin is a rising young contender in the middleweight division. McEwan, of Edinburgh, has faced someone with that type of ability, Andy Lee.
McEwan was knocked out in the final round of a fight he had been winning when they squared off in March. McEwan wasn't expected to even make it that much of a contest. He proved surprisingly crafty and quite an effective, slick southpaw boxer in spurts, befuddling and even schooling Lee early. Maybe some of that can be attributed to Lee's well documented inconsistencies, but McEwan was fighting a great fight until he ran out of steam and got decked late. 
Quillin and McEwan are in it for high stakes in this one. If McEwan wants to be anything other than an opponent in the future, he must win this fight. If Quillin really wants the likes of Sergio Martinez or even Lee anytime soon, he must pass this difficult test.
Quillin is obviously a physical specimen with natural gifts far beyond what McEwan boasts, yet I expect McEwan to be very tricky for Quillin to deal with. On the basis of his gutsy performance against Lee, and the notion that he can put his late-round woes behind him, I'm going with the Scotsman to eke out a splitty on neutral turf.
November 5, Mexico: Alfredo Angulo vs. James Kirkland, Junior-Middleweights
This fight is so brimming with psychotic probabilities that it's almost destined to be the letdown of the bunch. Angulo is a hard-nosed boxer/brawler with striking power. Kirkland claims 26 knockouts in 30 fights.
Both of these one-loss fighters pack explosive heat, but there's one very crucial difference. Angulo hasn't been knocked out—he was outboxed by Kermit Cintron in his lone loss. Kirkland wasn't just knocked out, he was humiliated by feather-fisted Nobuhiro Ishida in April. Ishida dropped Kirkland three times and the fight was stopped in the first round.
Reunited with tough-as-nails trainer Ann Wolfe, Kirkland rebounded with two quick bashings of middling journeymen. It pains me to say it as I'm a big Kirkland fan, but come Saturday he won't be in the ring with Dennis Sharpe or Alexis Hloros.
Alfredo Angulo is the real deal, and that shaky chin that was brutally exposed against Ishida can't possibly hold up to the thudding cracks "El Perro" will be unleashing. I favor Angulo by KO/TKO within four rounds.
November 5, Canada: Lucian Bute vs. Glen Johnson
CAN. NOT. WAIT. This is the fight of the weekend for me.
Bute is a Romanian-Canadian phenom, a vastly gifted athlete, a southpaw with striking power known for jaw-dropping body-punch knockouts.
Johnson, "The Road Warrior", is another rugged oldie in the mold of Toney and Hopkins; the median age of the trio is 44 and combined in over 200 fights they've been stopped once—Johnson as a young man by Hopkins of all people. In the words of Carl Froch, "it's like punching an oak tree".
So what do you get when you mix a dazzling young KO-specialist with a granite-chinned warrior? I don't know, but I'm sure as hell eager to find out. Must I pick? Bute's a heavy favorite, but what the heck, I'll take the old man in the shocking upset. Purely sentimental reasons—Johnson by late stoppage in by far my least confident selection.
If ever there was a weekend to get optimistic about some great fights unfolding, this is it. So of course, I'll probably see you all next Monday when we're talking about how Glen Johnson slipped and broke his ankle during warm-ups, Angulo's mustache scratched Kirkland's eye and the fight was a no-contest and Burns was dropped from a 'phantom punch' by Mick Katsidis.
And Salahi got a gift-decision against Canseco, or was it his twin brother?
UPDATE; There was indeed a legitimate Fight of the Year candidate that took place on October 24 in Tokyo. Here's the story, with video:
http://www.grantland.com/blog/the-triangle/post/_/id/8522/the-fight-of-the-year-courtesy-of-two-105-pound-men