Week 9 Fantasy Football Rankings: Ranking Each Position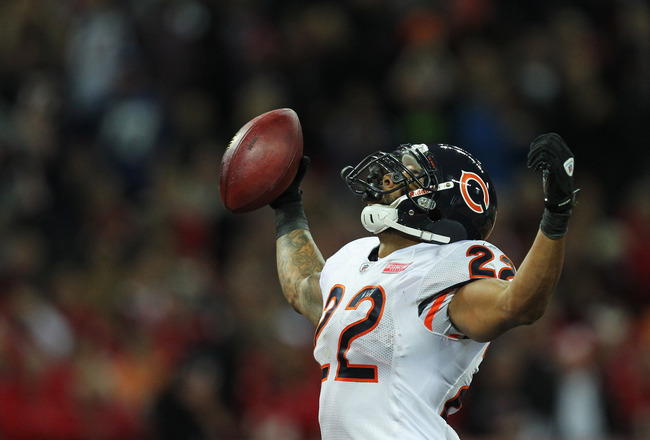 Streeter Lecka/Getty Images
We are officially halfway through the season, and so far it has been a wild one.
Who would have thought at the beginning of the season that Cam Newton would be in the running for Fantasy MVP?
Not me. That is for sure.
But Cam isn't the only player that has been of the shock and awe variety. Fred Jackson is having a career year, averaging just over 19 fantasy points an outing in standard league scoring, and Calvin Johnson is on pace to have 22 touchdowns.
Matchups are going to be the key this week, and I will provide you with everything you need to know.
Next Slide: QB Rankings >
Quarterbacks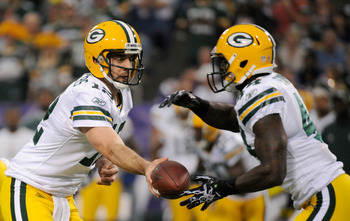 Hannah Foslien/Getty Images
Although San Diego has fared well against the pass, Rodgers has showed so much poise and accuracy in the pocket that it would be hard to bet against him in any matchup.
Projected Points: 24
2. Tom Brady
While it is looking as if Brady's early season heroics were mere apparitions, he should bounce back from a rough outing against the No. 1 ranked Pittsburgh passing defense.
Projected Points: 22
3. Michael Vick
The captain of the dream team was on fire Sunday night against the Dallas Cowboys with a Passer Rating of 129.9. He should keep the train rolling against Chicago.
Projected Points: 22
4. Drew Brees
Well that was shocking wasn't it? No one saw the St. Louis Rams winning Sunday and I mean no one. Brees threw an uncharacteristic two interceptions, and scored a season low 10 points. Look for him to bounce back hard against Tampa Bay.
Projected Points: 20
5. Eli Manning
Roethlisberger ravaged the Pats secondary for 350-plus Week 8 and it should be no different for Eli. Fresh off of arguably his best performance of the season the youngest Manning brother should thrive.
Projected Points: 19
6. Tony Romo
Everyone knows that the way to beat Seattle is through the air and with Jason Garrett being a former QB, he tends to throw the ball even when he shouldn't. That's good news this week.
Projected Points: 19
7. Matt Schaub
Schaub has been lurking on the boundary of the elite fantasy QBs all season and I see him breaking through against the Browns this week.
Projected Points: 19
8. Matt Ryan
Ryan was a lot of people's sleeper at the QB position going into the season, and so far he has just been okay. But with a road trip to Indianapolis this week, Ryan should have his best game of the season.
Projected Points: 19
9. Tim Tebow
He's terrible. I mean he is a laughably bad NFL QB, but we don't care about real life. Just as it looked as if Tebow was going to lay a goose egg this week, he racked up 12 points in the last five minutes. Also, you can bet that he finds the end zone on his feet very soon.
Projected Points: 18
10. Phillip Rivers
He has been nothing but a disappointment this season, and is failing to live up to his third-round draft status. Green Bay hasn't fared too well against the pass though so Rivers could turn it around this week.
He hasn't yet played his Week 8 game against the Chiefs.
Projected Points: 17
11. Josh Freeman
After the performance that A.J. Feeley had against the Saints, you have to like Freeman's chances this week.
Projected Points: 17
Big Ben has been a delightful surprise so far this season, and you will only find him this far down the list for one reason: The Ravens are in town.
Projected Points: 16
13. Mark Sanchez
Sanchez' numbers have been relatively solid all season long, and he is averaging just over 14 points per outing.
Projected Points: 16
14. Matt Cassel
Although he has had anything but a successful season, Cassel is set to take on a Miami Dolphins secondary that is ranked next to last in points given up to opposing QBs.
Projected Points: 15
15. Jay Cutler
If Cutler can manage to stay on his feet, the threat that Matt Forte poses in the backfield could force Philadelphia to load the box, thus creating more room for Cutler to throw. However, Philly's corners looked very good against Dez Bryant and Miles Austin.
Projected Points: 13
Next Slide: Running Backs >
Running Backs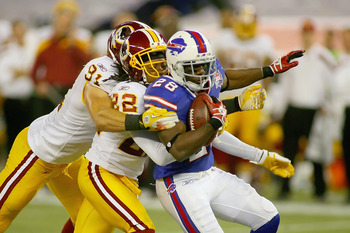 Rick Stewart/Getty Images
1. Arian Foster
Cleveland is ranked ninth in fantasy points given up to opposing running backs, but that stat seems to be quite skewed. So far this season the running backs they have faced are the following: Cedric Benson (who ravaged them), Joseph Addai, Daniel Thomas, Chris Johnson, Marshawn Lynch, Darren McFadden and Frank Gore. Gore and McFadden had big games, so there is no reason that Foster won't too.
Projected Points: 25
2. Fred Jackson
While this isn't Jackson's best matchup of the season, Buffalo's game plan should be to grind it out on the ground and leave those talented corners alone.
Projected Points: 21
3. Matt Forte
There may be no better dual threat running back in the NFL, and even against an improving Eagles run D Forte should have no problem.
Projected Points: 20
4. Darren McFadden
He may not be healthy enough to play, but if he is he will have no trouble with Denver.
Projected Points: 20
5. Michael Turner
Indianapolis did well subduing CJ2K this past week, but I don't think we can base too much on that. Turner is having a much better season, and I don't see him having much trouble.
Projected Points: 20
6. LeSean McCoy
McCoy ran like Barry Sanders reincarnated during the first half against Dallas. While the Bears are a little more solid against the run, I still see McCoy having his way.
Projected Points: 19
7. Steven Jackson
Fresh off of a league best 31 points in Week 8, Jackson will continue his hot play in Arizona.
Projected Points: 18
8. Beanie Wells
From what looked to be a season ending injury a few days ago to a probable status before the game which translated into 83 yards and a touchdown 60 minutes later, I learned that you can never count Beanie Wells out. The knee is the only reason I don't have Wells ranked higher.
Projected Points: 18
9. Frank Gore
It has been nice having Frank Gore for all eight games of the season so far, hasn't it? I still believe it is a pipe dream for us to believe that he will stay healthy all season, but for now he should continue his top tier play in Washington this week.
Projected Points: 17
10. Ray Rice
Rice is fresh off of a 29 point performance, and everyone that reads this is going to think I am nuts. But the Steelers' D is rejuvenated, and Rice will have to perform some magic in this one.
Projected Points: 17
11. LeGarrette Blount
Blount is questionable right now, but if he plays, he should put up one of his better performances as a starting tailback against a Saints D that was ravaged by Steven Jackson Week 8.
Projected Points: 17
12. DeMarco Murray
Felix Jones could very well be back this week, and it would be just like Jason Garrett to mess with what is working. Murray should at least get 50 percent of the workload, which would ideally mean 12 carries. If you go on his last two weeks performance alone that would give him near 110 yards for the game. Throw in a score with that and you're in business.
Projected Points: 16
13. Darren Sproles
Sproles has been a welcomed treat to all fantasy owners, and has far surpassed his average draft position of 160. Last week against St. Louis was a bit of a disappointment, but he will regain his stature against Tampa Bay.
Projected Points: 14
14. Shonn Greene
Greene has finally showed his fantasy owners a glimmer of hope with three double digit outings this season. Buffalo's D isn't as good as their stat line, so I see Greene having a decent day.
Projected Points: 13
15. Ryan Mathews
Green Bay has been very good against the run, but Mathews' involvement in the passing game makes him a good start for Week 9.
Projected Points: 13
Next Slide: WR Rankings >
Wide Receivers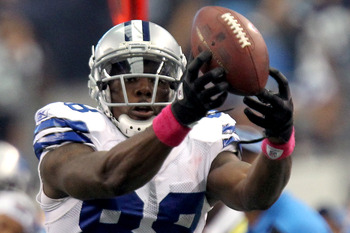 Ronald Martinez/Getty Images
1. Greg Jennings
No one has benefited more from the stellar play of Aaron Rodgers than Greg Jennings. He is ranked fourth amongst receivers with just over 13 points per game, and he has caught a touchdown pass in five of the first seven games. This Chargers secondary was ravaged by Plaxico Burress Week 7, so Jennings should have no problems
Projected Points: 18
2. Roddy White
The trip to Indianapolis should be just what White needs to get his season going. He has yet to have a big performance and I think we will see that this week.
Projected Points: 18
3. Dez Bryant
I really think that by the end of the season we will be looking at a top five fantasy receiver here. Bryant has yet to have a true breakout game, and we will see it this week at Seattle.
Projected Points: 17-23
4. Andre Johnson
Fantasy owners will be thrilled with the likely-return of AJ to their lineups this upcoming week, and it couldn't have come against a better opponent than the Cleveland Browns.
Projected Points: 17
5. Hakeem Nicks
Nicks has been outshined thus far by Victor Cruz, and there has been a lot of talk that last season was an anomaly. I don't think so, and I will be surprised if Nicks doesn't record one of his best performances of the season against New England.
Projected Points: 17
6. Wes Welker
Just like Brady, Welker's play has slowed since the early part of the season, but the Giants have an injury-laden secondary that WW will exploit this week.
Projected Points: 17
7. Dwayne Bowe
Bowe may be the most under-appreciated player in the NFL. Being in Kansas City will do that to you. Miami has allowed a big game to one receiver almost weekly this season. Don't expect anything different Week 9.
Projected Points: 16
8. Marques Colston
Colston remains the favorite receiver of Drew Brees, and he will have a monster game due to Brees' inevitable bounce back from Week 8.
Projected Points: 16
9. Mike Wallace
Although Wallace will likely have his hands full this weekend, he has the speed to breakaway from every defense in the NFL which makes him a top play week in, week out.
Projected Points: 15
10. Larry Fitzgerald
The blatant lack of talent surrounding Fitzgerald this season has led to double coverage so often that he is expecting it. I don't feel like the Rams have anyone in the secondary that can limit Fitzgerald from at least finding the end zone this week.
Projected Points: 14
11. A.J. Green
At this point in the season you can bet that A.J. is going to find the end zone at least once. Now the question is: When is he going to find it twice?
Projected Points: 14
12. Vincent Jackson
When you play Green Bay, most of the time you are playing keep up, which means that the game plan will shift to the pass. That can only mean good things for Jackson owners.
Projected Points: 14
13. Miles Austin
If you watched the Cowboys play the Eagles Sunday night, you saw that every time they panned the camera to the sidelines you found Miles Austin and Dez Bryant jawing away to the coaching staff about the all the problems that Asante Samuel and Nnamdi Asomugha were giving them. After that kind of headache you can bet that Austin will be on his game against Seattle.
Projected Points: 14
14. DeSean Jackson
Jackson's speed and shiftiness coupled with the threat of a punt return make him an excellent start in this particular matchup.
Projected Points: 13
15. Jordy Nelson
Nelson has been a touchdown machine this season, scoring in four of seven games. His deep play potential makes him a must start in Week 9.
Projected Points: 12
Next Slide: TE Rankings >
Tight Ends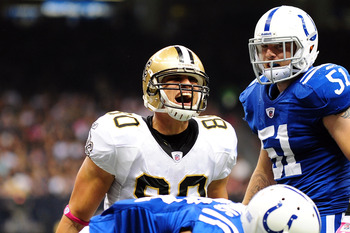 Stacy Revere/Getty Images
1. Jimmy Graham
Graham's freak of nature athletic ability coupled with the fact that he is one of Brees' top targets makes him the undeniable No. 1.
Projected Points: 16
2. Aaron Hernandez
Brady's favorite red-zone target is a must start every week that he is healthy. The fact that the Patriots throw on all three downs on the goal line mean good things for him.
Projected Points: 15
3. Jason Witten
Dallas will likely be passing even more than usual to avoid the slightly above average run defense of the Seattle Seahawks. Witten has been relegated to the second look in the red zone behind Dez Bryant, but he is still worthy of a start every week.
Projected Points: 13
4. Rob Gronkowski
The best thing that Old Gronk had going for him was Aaron Hernandez being injured. He was easily a top-10 performer every week regardless of the position. He is still considered a top tight end, but he lacks the upside of Aaron Hernandez.
Projected Points: 13
5. Jermichael Finley
It is starting to look as if his performance against the Bears was an aberration, but I'm not ready to give up on him just yet.
Projected Points: 12
6. Brent Celek
Celek has now scored in back to back games, and Vick showed how well he can utilize him when he is performing in high-gear.
Projected Points: 10
7. Owen Daniels
The emergence of Joel Dreessen has been a slap in the face to fantasy owners, but Daniels still remains the better tight end of the two.
Projected Points: 9
8. Scott Chandler
Chandler's two TD performance against the Redskins could very well end up being his top performance for the entire season, but he will get a heavy number of targets this week with Stevie Johnson and David Nelson taken out of the equation by the Jets' corners.
Projected Points: 8
9. Antonio Gates
Phillip Rivers has been awful this season, and his touchdowns are low. Add that to the fact that Gates has lost some speed, and that leaves a mediocre start at best.
10. Vernon Davis
Davis may once again be relegated to a blocker's role against the Washington D. Still though, he has big play ability, and one play may be all that is needed.
Projected Points: 8
Next Slide: Defense Rankings >
Defenses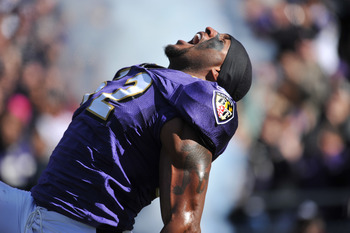 Larry French/Getty Images
1. Atlanta Falcons vs. Indianapolis Colts
Projected Points: 15
2. San Francisco 49ers vs. Washington Redskins
Projected Points: 15
3. Cincinnati Bengals vs. Tennessee Titans
Projected Points: 12
4. New York Jets vs. Buffalo Bills
Projected Points: 10
5. Dallas Cowboys vs. Seattle Seahawks
Projected Points: 9
6. Baltimore Ravens vs. Pittsburgh Steelers
Projected Points: 9
7. Buffalo Bills vs. New York Jets
Projected Points: 8
8. Green Bay Packers vs. San Diego Chargers
Projected Points: 8
9. Tennessee Titans vs. Cincinnati Bengals
Projected Points: 7
10. Pittsburgh Steelers vs. Baltimore Ravens
Projected Points: 5
Follow me on twitter @juruni4
Keep Reading