BJ Penn Was a Great Fighter but Could Have Been the Greatest of All Time
October 31, 2011
When talking about anybody who has achieved what BJ Penn has achieved, it seems a bit ridiculous to use phrases like "wasted potential" and "if only he was more motivated."
He's made more of his potential than most people could ever imagine making of their own, and nobody who isn't driven by a deep desire to be great ever wins a BJJ world championship, two UFC championships or sets the high water mark for lightweights in MMA history.
No, it's not that he wasn't motivated or didn't achieve greatness, it's that he wasn't as motivated as he could have been, and as a result, he never fulfilled the kind of legacy that his talent showed was clearly possible.
If Penn leaves the sport today, he'll leave as the greatest lightweight we've seen so far in the short history of MMA, and he'll certainly be remembered fondly.
When Penn was at his best, he was the kind of rare creature who could capture lighting in a bottle.
He could do anything you could ever imagine a fighter could do. He was fast, strong, flexible, brilliant and skilled in every discipline of MMA. More than that, he had that "it" factor—the kind of natural charm and charisma that could have made him the biggest star in the sport.
Bigger than Anderson Silva.
Perhaps even bigger than his arch-nemesis, Georges St-Pierre.
We'll never forget the way he beat Matt Hughes when Hughes was in his prime, and still considered a pound-for-pound great.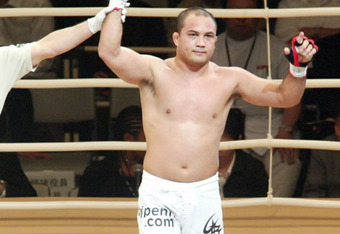 His victories over Gomi, Uno, Florian, Sherk and Sanchez were nothing short of masterful performances.
But as great as those victories were, there was always the feeling that there would be more if only he had better focus, and a better work ethic.
After first capturing the UFC welterweight title, Penn spent two years fighting aimlessly across Japan and Hawaii, fighting far above his natural fighting weight. He even fought a close fight with  then-heavyweight Lyoto Machida, who would eventually win a UFC Light Heavyweight title and establish himself as one of the elites in the sport.
When Penn finally returned to the UFC, he lost to Georges St-Pierre and Matt Hughes in two fights where he showed flashes of brilliance, but ultimately ran out of steam.
Soon after that though, he'd go down to his proper weight class and blow Joe Stevenson and Sean Sherk out of the water to establish himself as the best lightweight on the planet.
Yet that wasn't enough for Penn, as he hungered to reclaim the welterweight title he felt was rightfully his. Yet although he was fighting in what was at that time the most important fight of his career, Penn looked less than dedicated in training camp, and generally out of shape once the fight began. This time, he was soundly beaten.
Moving up to face St-Pierre resulted in Penn once again not fighting in his proper weight class for over a year.
After losing to St-Pierre, Penn teamed up with physical trainer Marv Marinovich in a partnership that resulted in some of the best performances in Penn's career. Yet somehow the relationship didn't last, and Penn looked sluggish and slow in two lost title fights to Frankie Edgar.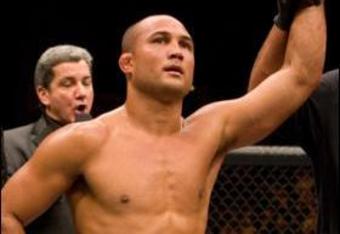 Seemingly without purpose again, Penn once again moved back up to welterweight.
Once again, Penn showed his brilliance in stopping Matt Hughes, and in the first few rounds against Jon Fitch, before the bigger and stronger Fitch was able to punish him in the third round of their fight.
This past weekend, Penn found himself doubly in trouble because not only was he facing a welterweight much bigger than himself, but he was also facing the kind of opponent who could make him pay severely for a lack of stamina.
Yet instead of getting his conditioning up to the point where he could compete hard for three full rounds, Penn looked downright flabby.
Still, Penn showed his talent by effectively boxing and grappling Nick Diaz during the first round.
The volume punching that had been so effective in Strikeforce had been stopped nearly dead in its tracks by Penn's attack as he fearlessly counter-punched and prevented Diaz from getting into a rhythm. Then Penn took Diaz down, and although he wasn't able to do much damage, he once again showed his class by transitioning very nicely from a back control attempt into side control.
During the first round, Penn proved who was the more talented fighter.
But then the round ended.
After that, Penn was pretty much gassed out. The moment when it looked like Penn would certainly lose was in the middle of the second round when Penn shot in for a takedown with absolutely no explosive power whatsoever. Diaz was able to punch freely because Penn was too tired to even raise his arms to defend himself, let alone throw crisp punches.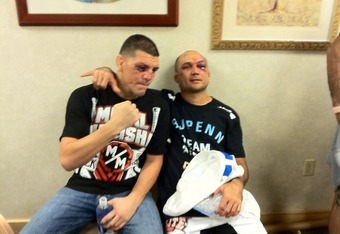 Exhausted and beaten up, Penn still managed to fight a competitive third round armed only with an iron jaw and God-given boxing talent.
As courageous as Penn's last-ditch effort was, it was too little, too late.
It didn't have to be this way.
It's impossible not to look back on Penn's career and imagine how great this man could have been if only he'd made a few better choices and focused more consistently on conditioning.
Imagine the kind of record Penn could have put up had he simply not been wandering off to Japan, to heavyweight, to fight a much larger and more dedicated St-Pierre.  Imagine if he'd just trained a little harder for the first Frankie Edgar fight, which many people still thought he deserved to win.
Penn would tell you otherwise.
Penn has insisted that despite popular belief, he trains very hard, but that some of his worst performances were in fact a result of over-training.
I call that borderline delusional.
If you simply take a look at Penn's physique in his best performances and in his worst ones, you'll see a vast difference.
Penn looked chiseled when he thrashed Joe Stevenson.
He looked lean and hungry in outclassing Florian and Sanchez.
In the rematch against Edgar, despite having every reason on the world to be in top form, Penn looked like he'd had one Hawaiian burger too many.
Against Nick Diaz and in the second fight against St-Pierre, Penn looked downright doughy.
Yet still, there Penn was, before the Edgar rematch talking about how he thought it was more important that he be mentally prepared and not over-trained.
As it stands now, Penn is still arguably the greatest lightweight in MMA history, but is that really going to last?
BJ Penn only had three successful title defenses.
Frankie Edgar already has two defenses and has beaten Penn twice. How many more wins would Edgar need to surpass Penn?
Even if Edgar doesn't pass Penn, somebody will, and it probably will be sooner than you think.
Penn could have had the title of "greatest ever" burned into the fabric of MMA lore. Instead, he'll always be remembered, but always with a "what if?"