BCS Rankings 2011: What Happens If LSU and Alabama BOTH Lose?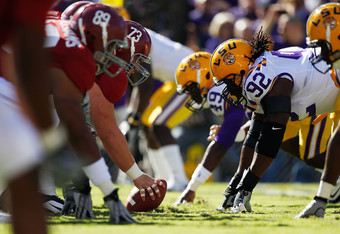 Chris Graythen/Getty Images
The winner of this week's LSU-Alabama game will wake up on Sunday to a No. 1 national ranking and a direct path to the national championship. However, that road has a few championship-blocking land mines still left.
Despite popular opinion, but this week's LSU-Bama game will not be the national championship game.
For the LSU Tigers, there awaits a dangerous Arkansas Razorback team that is looking to defeat the Tigers for the fourth time in five seasons. If they win that game, they still have the SEC championship game.
Alabama, on the other hand, will need to avoid a dangerous letdown game against Mississippi State the week after facing LSU. Then, there is the Iron Bowl which is more dangerous than Harry Updyke in a forest of trees. Then of course, there is the SEC championship game.
The largest percentage of fans and media believe that the SEC Championship will resemble the 2010 Auburn-South Carolina version. If they Gamecocks make it back to Atlanta that might be correct.
However, if it is Georgia, this becomes a dangerous game. The Georgia Bulldogs have been playing all season down two linebackers on defense. The second half of the Florida game is the first time they have had their whole defense together all season.
The result was Florida only managed 32 yards and one first down the whole second half.
UGA has been stagnant on offense this season. However, it has several play-makers that could bust a few big plays in a championship game and pull the upset.
Does a 1 loss SEC Team play for the championship?
This would not be the first time this has happened. In 2001, the Tennessee Volunteers went into the championship game against LSU ranked No. 2 in the nation. A win would ensure them a shot at the national championship.
LSU was ranked No. 21 in the nation at the time but defeated the Volunteers 31-20.
There are other examples in Championship history. Like 2005 when the No. 3 ranked LSU lost to heavy underdogs Georgia. In one game, with this much talent, anything can happen.
So what happens if two or possible three SEC teams have one loss. The answer is not as simple as black and white. What if Oklahoma State is the only undefeated BCS school remaining?
Does a one-loss SEC team get in over an undefeated Boise State team? That probably depends upon where the loss takes place. If the LSU-Alabama winner loses to Georgia in the SEC championship, do they get in over a Boise State team that beat the Bulldogs in the season opener?
In this case the Broncos will probably play in the BCS championship because the computers have been much kinder to them this season.
What if Arkansas wins a three-way tie breaker as discussed in this link? The SEC probably gets jumped by a one-loss Pac-12 school because of Arkansas' weak out of conference schedule.
Could a one-loss SEC team, that does not make it into the SEC championship, be selected for the BCS championship game? The simple answer is yes. However, the more logical answer is no.
For Alabama it is almost a certain no. Their out of conference schedule is too weak and they would only have two quality wins against Arkansas and Penn State—and that is with the hope that they win out. With more leagues having conference championships the odds lessened.
To summarize this article, Tide and Tiger fans, if you are going to make hotel reservations for New Orleans in January, make sure they have a cancellation clause.
This article is
What is the duplicate article?
Why is this article offensive?
Where is this article plagiarized from?
Why is this article poorly edited?

Alabama Crimson Tide Football: Like this team?