Big Ten Halloween Football Power Rankings: Is Nebraska the Class of the Big Ten?
October 31, 2011
Eric Francis/Getty Images
If there ever was a holiday that summed up this Big Ten football season it would be Halloween as each has been full of tricks and treats.
Want a treat? Congratulations to Joe Paterno as he became the football coach in Division I football with the most wins passing legendary Grambling Coach Eddie Robinson.
Want a trick? Two weeks ago Wisconsin entertained thoughts of a BCS Championship game, now the Badgers will need some luck to just get to the Big Ten Championship game. 
Kids, are you ready to smile?  Michigan's rebuilding effort appears already to be complete as they are 7-1 and if they beat Nebraska in the Big House in two weeks they will be playing in the Big Ten Championship game.
Are you ready for some horror? In their last 4 games, the Hoosiers have given up an average of 51 points.  
12.  Indiana (1-8) – Fans in Bloomington are ready for the horror story to be over.  The Northwestern Wildcats pummeled the Hoosiers 59-38 for the Hoosiers sixth straight loss.  If there is a bright spot for Indiana, sophomore running back Stephen Houston has gained 577 yards and six touchdowns on just 111 rushes this season. 
11. Minnesota (2-6) – In any other week in the Big Ten, the Gophers upset win over Iowa would have been the top story of the week.  Earlier in the week, Coach Jerry Kill inked a seven year contract which caused some Gopher fans to scratch their head in wonderment as Minnesota had lost to New Mexico State and North Dakota State this season.  Befitting a Hollywood movie, Minnesota played inspired football for their Coach Kill and properly executed an on-side kick in the fourth quarter to upset Iowa.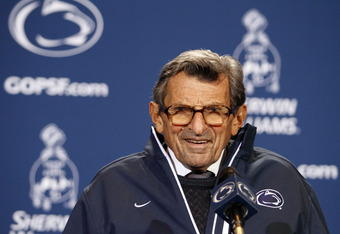 Justin K. Aller/Getty Images
10. Purdue (4-4) – The Boilermakers went to Ann Arbor hoping to make a statement against the Wolverines.  Unfortunately, the statement Purdue made in the Big House is that the Boilermakers aren't quite ready to join the upper echelon on the Big Ten Conference in losing to Michigan 36-14.
9. Northwestern (3-5) – Wildcat quarterback Dan Persa has been tremendous this season despite missing the first three games of the year.  Persa has passed for 1,251 yards, thrown for nine touchdowns and his lowest quarterback rating in his five games is 131.4.  Persa had another magnificent game this weekend as he passed for 261 yards and threw for three touchdowns against Indiana.   Northwestern likely needs an upset over Nebraska or Michigan State to become bowl eligible but with Persa under the center an upset over a ranked opponent is not out of the question.
8. Iowa (5-3) – How did the Hawkeyes manage to lose to Minnesota when running back Marcus Coker ran for 252 yards and scored two touchdowns?  The answer – Quarterback James Vandenberg was unable to consistently read corner blitzes and figure out when the Gophers dropped back into zone coverage.  Vandenberg look confused for most of the game expecting blitz and then throwing several passes into zone coverage.  In November, we will see if Iowa is a pretender as they end the season with three ranked opponents – Michigan State, Michigan and Nebraska. 
7. Illinois (6-3) – The Illini appeared to be headed to a magical season winning their first six games of the season. While never an offensive juggernaut, the Illini have been woefully anemic on offense in dropping their last three games.  Against Penn State this weekend, Illinois could only manage286 yards of total offense in losing 10-7.   A collapse of a Ron Zook Illinois team is not unusual and with Michigan and Wisconsin left on the schedule one has to wonder whether Illini fans will feel satisfied if the Illini limp into the bowl season with just seven wins after their amazing start. 
6. Michigan State (6-2) – Yes, Michigan State is ranked ahead of some of the teams on this power ranking list but did you see how they played against Nebraska?    The Nebraska defensive line was in Kirk Cousins face all day preventing him from having any good looks downfield.   Of course, even if Cousins had time it would not have mattered as his receivers were unable to create any separation. The Spartans win over Wisconsin two weeks ago now appears to have been a product of the Badgers miscues on special teams rather than Michigan State making a statement.
5. Michigan (7-1) - The Wolverines could make a case to be rated higher but they have played the weakest schedule of the teams in the top half of the Big Ten conference.   Denard Robinson was amazing in lead Michigan in its victory over Notre Dame but given the play of the Fighting Irish this season it is hard to proclaim that win as a signature victory.  Against Michigan State, the Wolverines did not look like a team that could contend for the Big Ten conference title as they lost to the Spartans for the fourth straight year.  Michigan's seven wins however can't be entirely discounted by one loss and given that the Wolverines play Iowa and Illinois next there is no reason to believe that they can't be 9-1 when they play Nebraska for the right to represent the Legends Division in the Big Ten Championship game.
4 Wisconsin (6-2) – If any football coach could be excused for exhibiting bad behavior at the end of a game, Wisconsin Coach Bret Bielema has to be on the short list as his Badgers have lost consecutive games in heartbreaking fashion.  The Badgers are clearly an offensive juggernaut as they are capable of putting up more than 40 points on anyone with Russell Wilson leading the parade.  Unfortunately, Wisconsin struggles to shut down opponents on defense; Wisconsin buried Nebraska but only after giving up two easy touchdowns and falling behind 14-7.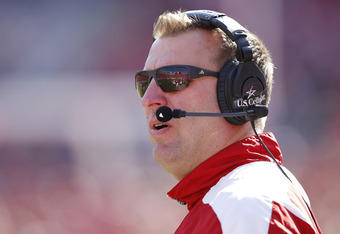 Joe Robbins/Getty Images
3. Ohio State (5-3) – Fans in Columbus have to wonder what would have happened had freshman quarterback sensation Braxton Miller had gotten an opportunity to start against Michigan State.  Miller is not putting up huge numbers but he seems to have an uncanny knack for making the big play as evidenced by his 40 yard touchdown pass against the Badgers in the last thirty seconds of the game.  Had Miller not twisted his ankle against Nebraska, the Buckeyes likely put away the Cornhuskers and alter the landscape of the Big Ten conference race.
2. Penn State (8-1) – The Nittany Lions have won this season with defense.  Penn State failed to score 17 points against Temple, Indiana, Iowa and Illinois but nonetheless won each game.  Penn State's early season 27-11 loss to Alabama looks like a great loss now given that the Tide has won five of its eight games by more than 30 points and won its other two games by 24 points and 28 points.  The Nittany Lions face the toughest part of their schedule in November as they finish the season with Nebraska, Ohio State and Wisconsin on consecutive weekends beginning November 12.
1. Nebraska (7-1) – The Cornhuskers looked dreadful against the Badgers in losing 48-17.  Nebraska was on the ropes the following weekend against Ohio State 27-6 before Braxton Miller left the game.  Nebraska subsequently scored four unanswered touchdowns and went on to win 34-27.  Since then, the Nebraska's defense has reawakened and shutdown Minnesota and Michigan State on consecutive weekends.  Taylor Martinez appears to be finally adjusting to Big Ten play; against Wisconsin and Ohio State, Martinez rushed several of his passing attempts.   Against Michigan State, Martinez appeared much more composed in the pocket and his footwork was much better than it had been all season.