Dear Denver Broncos Fans, Can We Please Move Past Tim Tebow Yet?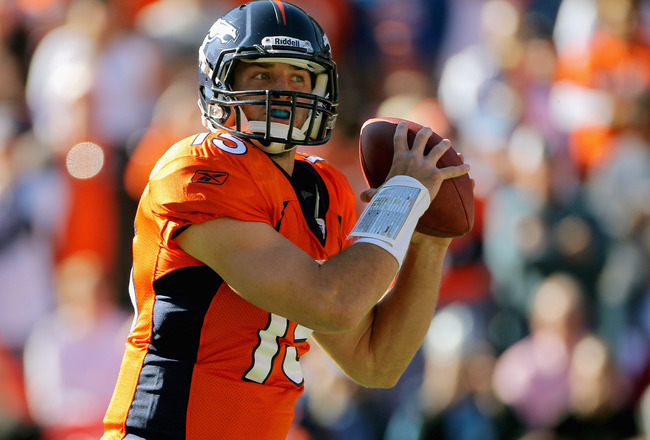 Doug Pensinger/Getty Images
Well Mr. Broncos Fan, you got what you wanted. Tim Tebow is your starting quarterback, at least for now.
Before I get too far ahead of myself, let me make one qualifying statement. What I have to say about Tim Tebow is strictly related to his ability as an NFL quarterback.
I'm not coming down on him as a person or attacking his character. His character is impeccable, and he has all of the intangibles in the world. However, this isn't about character or intangibles—it's about football and winning games. Those other things are gravy, but what good is gravy without meat and potatoes underneath.
It's the NFL, and the NFL is a business. Period.
I'll admit that I was originally pulling for the guy. But come on, this is ridiculous—or worse.
So let me try to pull your disillusioned heads out of the clouds and back down to the harsh reality that the front office and coaching staff had been saying all along—that Tim Tebow was, and is, the third-best quarterback on the roster.
That's why Kyle Orton was the starter and Brady Quinn was No. 2 on the depth chart. Speaking of Mr. Quinn, maybe he should get some playing time. Better yet, Elway could come down from his press-box and be more productive—literally.
Let's go all the way back to last season.
Tebow started the final three games in a lost 2010 for the Broncos. His numbers as a passer dropped significantly every week as defenses exposed the many holes in his game.
Doug Pensinger/Getty Images
His passer rating went from 100.5 in his first start to 89.4 in his second and 58.2 in his third. And he completed just 40 of 81 passes in those three starts. He had four passing touchdowns and three interceptions. Tebow was one of the most efficient passers in college football history, but that clearly hasn't translated at this level.
Everyone should have seen the warning signs back then, but that wasn't the case. There were billboards and chants and websites and radio talk-show callers and signs and petitions.
This season has been even worse. In over 120 minutes of football, Tebow has played extremely poorly in about 115 of those minutes.
Tebow's 91.7 passer rating against Miami is probably the most deceptive passer rating in the history of passer ratings. If you watched that game, you'd probably think it would be closer to 19.7.
He once again completed less than half of his passes, and this was against a pathetic Dolphins team that is playing for nothing more than Andrew Luck next year. The Dolphins might become the only franchise to have an undefeated season (1972) and winless season (2011). But I digress.
The Lions defense made Tim Tebow look like NFL busts Eric Crouch and Ryan Leaf.
Surprise! Tebow completed just 18 of 39 passes. Yes, that's less than half of them again. Am I the only one wondering why Tim Tebow with his elongated throwing motion and poor footwork on drop-backs threw the ball 39 times?
Scott Cunningham/Getty Images
Through two starts, Tebow has been sacked 13 times, and most of those are on him for "trying to make a play." It's more like running around like a chicken with its head cut off. Here's an idea—THROW THE BALL AWAY!
He does have three touchdowns and one pick, but one of those touchdowns was possibly the ugliest screen pass I've ever seen. He can thank Damaryius Thomas for that one.
He doesn't have a rushing touchdown as a starter this season, but he does have four fumbles (two lost).
If you look at Tebow's QBR (ESPN's new quarterback rating method),the numbers are even worse. Tebow had a total QBR of 16.4 against the Dolphins. For most of four quarters, it was much lower than that (7.8 through three quarters).
His QBR against the Lions was 3.4. Yuck.
All in all. It's been a complete failure of an experiment. The good thing is that neither Elway nor John Fox is responsible for wasting the first-round pick. That designation goes to Josh McDaniels.
"But," you say, "Tim Tebow is an inspiration who energizes the team and excites the fans!"
Great! Let him try out for the cheerleading squad.
"You forgot to mention how he can make plays with his legs!" you protest.
Yes, if looking completely lost, taking 13 sacks and racking up four fumbles is making plays with his legs, you win.
Clearly Tim Tebow can put butts in the seats and sell jerseys, but he does NOT give the Broncos the best chance to win.
Mr. Broncos Fan, has it been so long since you've seen good football that you've forgotten what it looks like? Does the prospect of one or two electrifying plays really outweigh all of the other stuff?
Let me answer that for you. Yes, it has been, and no, it doesn't.
How much more do we need to see before we can put this Tim Tebow experiment to rest—for good?
This article is
What is the duplicate article?
Why is this article offensive?
Where is this article plagiarized from?
Why is this article poorly edited?

Denver Broncos: Like this team?