New York Rangers 101: Grading Each Player from Game 9 vs. Ottawa
October 31, 2011
Chris Trotman/Getty Images
After every game of the 2011-12 season, each Rangers player will be assigned a letter grade based on his individual performance, impact on the game and outlook going forward.
In Game 9 of the regular season, the New York Rangers lost to the Ottawa Senators 5-4 in a shootout, evening their record at 3-3-3.
Let's take a look at the grades:
Grade: A
Ryan Callahan
Of the four "energy" players on this team (Callahan, Dubinsky, Prust, and Fedotenko), Callahan is the only one that showed up against Ottawa. He was a contributor in every facet of the game and came through with a power-play goal to get a sluggish Rangers team on the board in the second period. Crooked numbers (multiple shots, blocked shots, and hits) are coming at a rapid rate from the Captain of late, an indication of the effort he puts forth on a nightly basis.
Brad Richards
That is what I'm talking about! Last night Richards got back on everyone's good side in a big way with two goals and an assist as well as a masterful performance in the face-off circle (11 of 17). I mean seriously, he was pulling draws back to his point players in the offensive zone as if the opposing center wasn't even there.
You have to love the emotion he shows after goals, something that I didn't completely expect after listening to some of his apathetic interview style. I feel like I have been a little bit tough on Richards, and justifiably so, but for a few days he silenced my inner-critic and showed what is hopefully a sign of good things to come.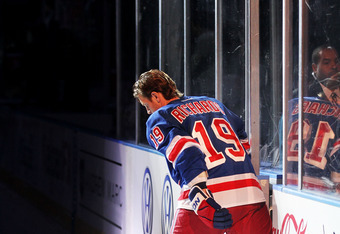 Nick Laham/Getty Images
Dan Girardi
I know he was a minus-two, but I have trouble giving Girardi anything other than an "A" (which also stands for his new assistant captaincy position). The rock-solid core of this team threw in a 33-minute game and is still blocking shots like he is a rookie with something to prove.
On a side-note, Girardi got smashed well after the horn ending the second-period. He subsequently tackled the Ottawa player but, in my opinion, would have been justified in doing a lot worse.
Grade: B
Michael Sauer
With only 20 minutes of ice time in an overtime game, it is clear that Sauer is going to be brought along slowly after coming back from injury. I think that the best from Sauer is yet to come, but a plus-two rating on a night when his team gave up four goals is pretty impressive. Sauer also did a great job jumping in to defend Anisimov after he got smashed into the wall early in the second period.
I didn't think Gaborik was as lively against Ottawa compared to what we have seen so far this season, however he still proved to be the sniper we have come to know over the past two seasons. His goal was an absolute dart and his two primary assists were a few of his most heads up plays of the season. Gaborik has been on his game all season – I would love to see him be able to get some of his line-mates get on track going forward.
Chris Trotman/Getty Images
Ryan McDonagh
I have had very little to say about McDonagh over the past few games, something that continues to be a sign of his growing stability on the defensive end. I could go on for a while about his all-around game, but for today I'll pick out his drastically improved one-on-one defensive ability. The kid is really steady in the open ice and has become adept at taking challenging forwards out of the play on an opposition rush.
Michael Del Zotto
This might not be the consensus opinion, but I actually thought Del Zotto was pretty solid against Ottawa. He was noticeably strong on the puck and out-worked opposing forwards to keep the puck in the offensive zone on multiple occasions. His defensive zone play wasn't his best, but that's okay when you have a defensive partner as steady as Mike Sauer. Del Zotto has been an asset on the power-play and rebounded really nicely from a terrible game against Toronto.
Wojtek Wolski
If you put a camera on Wolski and followed him throughout the course of an entire game, I think you would really be disappointed with what you'd see. He doesn't throw the body around, he doesn't always go all out, and he is definitely not responsible defensively. Regardless, points seem to follow this guy around. Regardless of the line on which he is playing or his peripheral impact on the game, he piles up points – and, as we all know, goals win games. So far this season, I like what I see.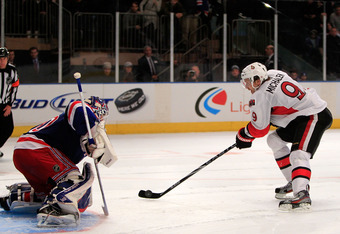 Chris Trotman/Getty Images
Grade: C
Steve Eminger
I know Chris Neil is a big guy, but Eminger has to have better body position in front of the net on the play that led to Ottawa's first goal. When he finally got a shift after an extended break in the second period, Eminger took a terribly lazy penalty chasing a player behind his own net. Eminger is not the strongest or most skilled player and must get back to relying on his hockey IQ and positioning to be successful.
Henrik Lundqvist
I don't put Lundqvist on the hook for this loss. Yes, with his team up 4-1 in the third period you would like to think that Lundqvist can wrap up a win, however I put most of the blame on the players in front of him. At the same time, Lundqvist did very little to really put his stamp on this game. He wasn't terrible, but he wasn't spectacular either – very average game for the King.
Brandon Dubinsky
It looks to me like Dubinsky's offensive game is starting to come around, but he still has nothing tangible to show for it. I'm worried that the "what does a guy have to do to get a goal" mentality is going to start to creep into Dubinsky's head – he is a very emotional player and can very easily mentally push himself into a prolonged slump. I love Dubinsky's creativity but he needs to start playing a more North-South type of game and try to grab those garbage goals around the net.
Derek Stepan
Sooner or later Stepan is going to have to fit in somewhere, right? Based on what I've seen over the past few games, I would throw Stepan on a line with Gaborik, without Richards. Stepan wants to be a distributor – I say give him two snipers like Gaborik and Wolski and let him go to work. As I've been saying – it's time for him to bring his game to the next level.
Grade: D
Erik Christensen
On a night when it looked like Christensen was putting forth some effort and hustle, it was plainly evident that he is not an NHL caliber player. Does he even know how to throw a body check? I've had enough with the turnovers, enough with the soft play, and enough with Christensen on this team.
Artem Anisimov
Had Anisimov not fallen victim to a five-minute boarding penalty that led to two power-play goals for the Rangers I might not have noticed him at all last night. It's a shame to see that Anisimov has become a consistent total non-factor offensively. Hopefully he can get a few lucky bounces over the next few games because I don't see this turning around anytime soon.
Ruslan Fedotenko/Brandon Prust
Paging our grinders! Where are you? These two were completely invisible tonight outside of one really solid cycle shift at the end of the second period. At the end of that particular shift, the CBC announcers commented that the Rangers "fourth-line" was doing a really nice job. I guess these guys didn't realize that Kris Newbury and Erik Christensen were on this team.    
Grade: F
Brian Boyle
We all know that John Tortorella's fourth-line bias will always prevent him from consistently rolling four lines, but Boyle's poor play to start the season is making it very difficult for him to even roll three. A few more performances like last night (offensive zone penalty, poor face-off) and Boyle could find himself on permanent fourth-line duty.
Tim Erixon
Oh boy, Timmy. This string of poor performances from Erixon is becoming somewhat alarming as the kid is definitely struggling to keep up with some of the faster and tougher opposition players. The lack of physical presence and positioning by Erixon and his defensive partner, Steve Eminger, were the main culprit on Ottawa's first goal mid-way through the first period.
I am not sure what the right move is going forward—sending Erixon down to Connecticut is sure to worsen an already shaky confidence. On the other hand, however, games in which one of your defensemen only plays seven minutes is something this team cannot afford.
Kris Newbury
Crickets…