St. Louis Rams: There Is Help for the Rams on the Waiver Wire
October 31, 2011
Jim Rogash/Getty Images
The Rams secondary has been decimated by injuries this season.  Starters Ron Bartell and Jerome Murphy, along with nickel back Bradley Fletcher and dime back Justin King, have all suffered injuries this season. 
Bartell, Murphy and Fletcher are all out for the season.  All together, the Rams have lost seven defensive backs since the start of training camp.
In the Rams' Week 8 game against the Saints, their defensive secondary had by far their best performance of the season.  Would the Rams still be open to adding a solid veteran if the chance came along?
We may soon find out, as the New England Patriots have released corner back Leigh Bodden.
Bodden was moved from outside corner to more of a slot coverage role with the Pats this season, and according to reports, he didn't embrace that role.  Bodden is a very good player.  He is probably good enough to step right in and start for the Rams.
The Rams might also take a look at running back Tashard Choice, who was just released by the Dallas Cowboys.   
I always liked Choice and thought he was that second or third back that was just biding his time before he got a shot somewhere else.  With Jerious Norwood not able to stay healthy, and Cadillac Williams slowing down, maybe Choice would be worth a look.
Choice averaged over five yards per carry during his first two seasons in the league, and he is a very capable pass catcher.  The knock on Choice is that he isn't a good special teams player, and that might hurt his chances with the Rams.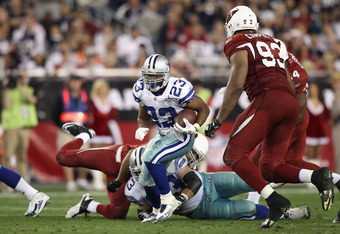 Christian Petersen/Getty Images
If Choice doesn't get a call from the Rams, expect the Detroit Lions to have him on speed dial.
The other noteworthy cut this week that I guarantee the Rams will take a look at is Bears ex-safety Chris Harris, who was also cut this week.  Harris was good enough to be the Bears' opening day starting safety last season.  He would probably not start for the Rams, but he has to be an upgrade over Craig Dahl, who gets a lot of time as a backup with the Rams.
With one or two more moves, the Rams could be a completely different team.  Brandon Lloyd has been a great addition.  Steven Jackson is finally healthy.  Greg Salas has matured into a very reliable target.  Mark Clayton should be healthy and ready to play next week. 
Also, expect Sam Bradford to make his return to the lineup.
The Rams might be firing on all cylinders at just the right time, as their schedule softens up.  One or two waiver wire pickups might be the final push that puts this team over the hump.