Tom Brady vs. Aaron Rodgers: Which QB Gives His Team the Best Chance to Win?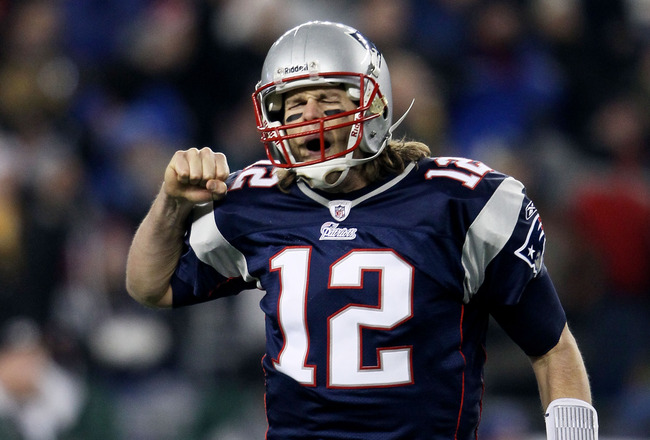 Elsa/Getty Images
Tom Brady and Aaron Rodgers are the two best quarterbacks in the NFL, and I doubt there are many people who would disagree with that.
The question is: which of these two superstars gives their team the best chance to win?
Since being drafted by the New England Patriots in the sixth round of the 2000 NFL Draft, Brady has won three Super Bowls, two Super Bowl MVPs and two NFL MVPs. He's even broken a few passing records to boot.
However, the last time Brady won a Super Bowl, Rodgers wasn't even in the league.
Now that he is in the league, Rodgers is tearing it up. In 2010 he won his first Super Bowl, as well as his first Super Bowl MVP. He's currently riding a personal 17-game winning streak dating back to last season including the playoffs, and there is no end in sight.
Let's take a look at the different aspects of each quarterback's game and decide which of the two give their team the best chance of winning.
Deep Play Ability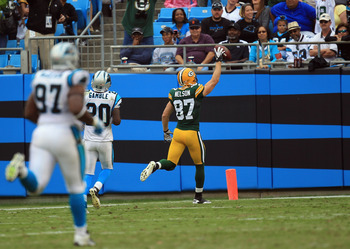 Streeter Lecka/Getty Images
Tom Brady
There is no doubt that Brady has a cannon strapped to his right arm. Unfortunately, he has rarely had the type of receivers required for long ball launching. This season is no exception. His best deep threat is either Matthew Slater—a special teams ace with one career reception—or Taylor Price—a talented youngster with just three career receptions.
Sure, Brady has guys like Wes Welker, Deion Branch, Rob Gronkowski and Aaron Hernandez, but none of those players are serious deep play threats.
When Brady did have a big-play guy, consider Randy Moss in 2007, he broke nearly every offensive record in the book. That year, Brady was able to show off his arm nearly every game. Check out his first touchdown to Moss and you'll see what I mean.
Regardless, Brady works with what he's got.
Despite Welker's size, he has become a solid downfield threat this season. Still, his ability to finish long plays needs work.
Aaron Rodgers
Rodgers has as good of a deep ball as anyone in the NFL right now. With his ability to keep plays alive and keep his eyes downfield, Rodgers has become a pro at the "scrambling deep ball."
Wide receivers like Jordy Nelson and Greg Jennings have phenomenal breakaway speed, and Rodgers makes sure to utilize their long-ball skills at least two or three times a contest. And when he does, the throw is always right on the money.
While other aspects of his game have evolved over the last four years, Rodgers' throwing power has been there all along.
Verdict
Rodgers wins round one by a hair. He and Brady are practically interchangeable in this regard, but it is Rodgers' ability to keep plays alive with his legs that gives him the slight edge.
Short Play Accuracy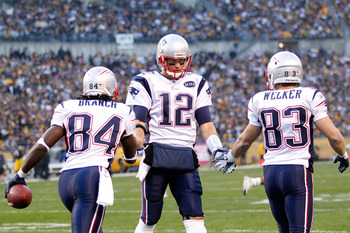 Gregory Shamus/Getty Images
Tom Brady
One of the most prolific passers in NFL history, Brady has practically made a living on his trademark short-pass accuracy.
With small receivers like Wes Welker and Deion Branch, Brady's accuracy is essential. Oftentimes Brady will complete passes to Welker by putting the ball only where the scrappy wideout can get it. It is on these short throws, with defenders draped all over the diminutive wideout, that Brady's pinpoint accuracy is most evident.
Every single game there are five throws to players who are covered as well as they could possibly be covered, and Brady threads the needle. Whether it's underneath, along the sidelines or in the flat, there is no player in the NFL who uses the short part of the field as well as Brady.
Brady's accuracy was put on full display last season when he threw 358 passes without an interception, the longest such streak in NFL history.
Aaron Rodgers
If Brady is the best in the NFL, then Rodgers is a very close second. Brady may hold the record for most consecutive attempts without an interception, but Rodgers isn't doing too bad for himself either. Rodgers holds a remarkable accuracy record: he has the best career TD-INT ratio of any quarterback in NFL history (105:37).
Rodgers' 71.5 percent completion percentage this season is off the charts as well. And with a remarkable TD-INT ratio of 20:3, Rodgers may break even more records by the time the 2011 season comes to a close.
There is no denying Rodgers' accuracy and consistency, but he has not yet reached Brady's level of mastery in the short game.
Verdict
Brady, but not by much. I would imagine that Rodgers will be on Brady's level sometime in the next two seasons.
Ability to Run the Ball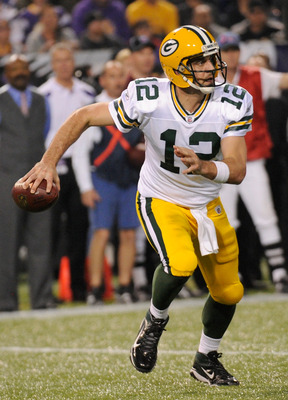 Hannah Foslien/Getty Images
Tom Brady
To put it gently, since Brady injured his knee in 2008, his running tendencies have declined.
Before the injury, Brady would take off (albeit with an almost comic lack of explosion) every once in a while to keep a defense honest. From 2005-2007, Brady averaged about six yards per rush.
Nowadays, however, things have changed.
Brady almost never runs past the line of scrimmage, unless it is a set quarterback sneak play. In some instances, Brady has thrown into double coverage down field rather than run into the wide open space in front of him.
As for Brady's ability to throw on the run—it is something that he has improved immensely over the years, but something he still prefers not to do. I wouldn't call it a weakness, but it is certainly not a strength.
Aaron Rodgers
One of the main reasons Rodgers is so unstoppable, is the fact that he can explode downfield. Since 2008, Rodgers has the most rushing touchdowns for a quarterback: 15.
However, it isn't only the rushing that makes him dangerous.
Rodgers is the best thrower in the NFL on the run. Michael Vick may be a better runner than Rodgers, but his accuracy takes a huge hit whenever he's evading defenders.
Not Rodgers.
Rodgers routinely makes plays down the field whether he is running to his left or his right. His ability to make throws like this and this are what truly make him an all-purpose weapon on a football field.
Verdict
Rodgers wins in a landslide. This is sort of unfair for Brady, because he couldn't be a running quarterback even if he tried. Then again, that's what makes Rodgers so one-of-a-kind.
Pocket Presence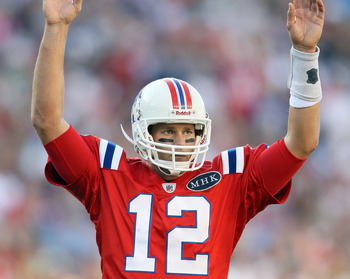 Elsa/Getty Images
Tom Brady
With the absence of Peyton Manning this season, I think it is fair to say that Brady is the undisputed king of pocket presence in the NFL.
As noted in the previous slide, Brady is one of the least mobile quarterbacks in the league.
Brady's lack of mobility, however, does not keep him from gliding around the pocket like an Olympic skater. Watching him sliding left and right to avoid defenders is a sight to behold—sometimes it even seems like he has eyes in the back of his head as he barely escapes from an oncoming pass rusher.
The key to Brady's success?
He always keeps his eyes downfield, no matter how many guys are falling near his legs or running towards him.
Aaron Rodgers
Rodgers is terrific with his legs, which is one of the reasons why his pocket presence isn't yet at Brady's level. Instead of staying in the pocket, where the entire field is his oyster, Rodgers at times will choose to run out of the pocket, thereby limiting his throwing potential.
Think about how much more damage he could do if he threw from the middle of the field instead of on the run towards the sidelines.
His offensive line has been anything but sturdy over the last couple of seasons, and that is one of the reasons he prefers to run outside of the pocket. However, until he learns to trust his instincts, and until he develops that almost otherworldly mental clock that quarterbacks like Brady and Manning have, he will never be as good of a pocket passer as they are.
Verdict
Brady is the best, but maybe after a couple more years of seasoning, Rodgers will be in the same boat as Brady is now. After all, Rodgers has only been a starting quarterback for four seasons.
Ability to Make Teammates Better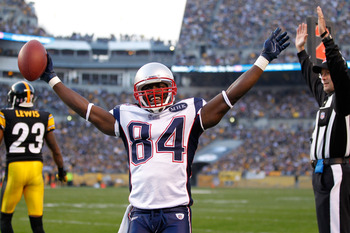 Gregory Shamus/Getty Images
Tom Brady
Watching Deion Branch struggle all of those years as a Seattle Seahawk, only to watch him come back as a productive player for Brady and the New England Patriots surprised no one.
Why?
Because people know how much of a difference maker Brady is. He turned David Patten into a useful piece in the early 2000s; he made David Givens rich; hell, he even turned Reche Caldwell into a decent receiver for a year.
Brady just has that uniqueness, that special quality that allows him to succeed no matter how talented his teammates are.
Now, I'm not saying that Wes Welker and Rob Gronkowski aren't talented. They are. In fact, they are both superb football players. But like any great quarterback, Brady makes them that much better. If you think Welker is in the league leaders on any other team in the NFL, you are out of your mind.
Brady thrives where others would fail by setting up his teammates for success.
In Seattle, Matt Hasselbeck couldn't get anything out of Branch. In New England, he's a star and a former Super Bowl MVP. Go figure.
Aaron Rodgers
Rodgers runs the Green Bay Packers. He, like Brady, is the heart and soul of his team. However, there are few people who would argue that Greg Jennings and Jermichael Finley are not at the top of the most talented lists for their respective positions.
I'm not suggesting that Rodgers doesn't make them better. He does. It's just that they would be valuable targets on any team in the NFL because of their athleticism and skill-set.
With players like Jordy Nelson and James Jones, though, it is clear that Rodgers inflates their value.
Case in point: Jones, who had 50 catches for 679 yards and five touchdowns last season was a free agent this past offseason. Not one team made an offer (at least an offer that was reported). Instead, Jones came back to the Pack, and is once again making spectacular plays.
The fact that not one team called for his services makes me believe that NFL executives thought he was a result of a great quarterback, and that he would fail in an environment where his quarterback wasn't Rodgers.
Verdict
Brady, and maybe this is unfair to Rodgers, because I am penalizing him for having talented offensive players.
I just can't imagine Brady not succeeding in Rodgers' position, whereas I am unsure whether Rodgers would succeed in Brady's position. Brady has proven his worth in nearly every type of offense, while Rodgers has only proven his worth in possibly the most talent-loaded offense in the NFL (even without a legitimate starting running back).
Statistically Speaking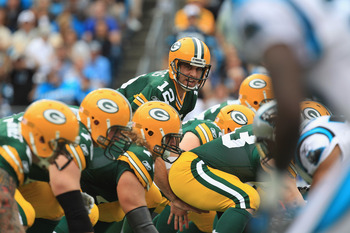 Streeter Lecka/Getty Images
Tom Brady
Brady, despite the hottest start in NFL history, is not having the type of season (numbers-wise) that people expected coming into the year.
Brady threw as many picks as last season (four) in just one game against the Buffalo Bills, and on the season as a whole, his eight interceptions, double last season's numbers, and we still have nine weeks left.
Aside from the interception numbers, Brady has been nearly unstoppable. His quarterback rating is over 100, his completion percentage is the highest it's been since 2007 and he is still on pace to break Dan Marino's yardage record despite throwing for only 198 yards last week.
As long as the offensive line holds up (Brady is on pace to be sacked more than he has in any season since 2003), Brady's statistics should be magnificent.
Aaron Rodgers
Brady's numbers, however good, will not surpass Rodgers' numbers.
Brady is behind Rodgers using every conceivable measuring stick. Rodgers hasn't had a game with a quarterback rating below 110, and he too is on pace to break Marino's legendary yardage record.
Oh yeah, and the 46:7 TD-INT pace isn't too shabby.
Verdict
Rodgers is crushing the competition this season so far. It should be noted that Rodgers has yet to face any top defenses, while Brady has already faced three (San Diego Chargers, New York Jets, Dallas Cowboys).
Clutchness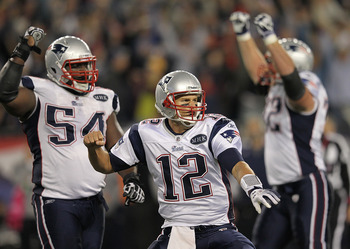 Jim Rogash/Getty Images
Tom Brady
The King of Cool, it doesn't get much more clutch than Tom Brady. It is tough to measure "clutchness," but I think most would agree that Brady has to be in any discussions regarding guys who play their best while under pressure.
Brady has had numerous come-from-behind victories throughout his career, including a stellar win over the Dallas Cowboys in Week 6.
Brady has certainly proven that he can be trusted with the game on the line, and his preparation and knowledge of the offensive system are invaluable to a team rushing down the field with no timeouts and a minute on the clock.
There is no one I would rather have with the game in the balance than Brady.
Aaron Rodgers
One of the best players on the planet, it's surprising how little people talk about Rodgers' end-of-game magic.
He's led many fourth quarter drives over the last couple of seasons, although an inordinate amount of them have ended in overtime losses. Rodgers has done it before, and there is no reason to think that he will not continue to be a presence in the fourth quarter of tight games.
It hasn't all been roses for Rodgers, whose fumble in overtime led to a playoff loss to the eventual NFC champion Arizona Cardinals in 2009. Of course, it was Rodgers' dazzling fourth quarter that brought that game to overtime in the first place.
Needless to say, Rodgers is a pretty damn clutch quarterback, even if no one is talking about it yet.
Verdict
Brady gets the victory here, because he is the "clutchest" quarterback in the NFL until proven otherwise. Brady rarely makes killer mistakes down the stretch, and he may be the best quarterback since Joe Montana at orchestrating come-from-behind victories.
Verdict: Tom Brady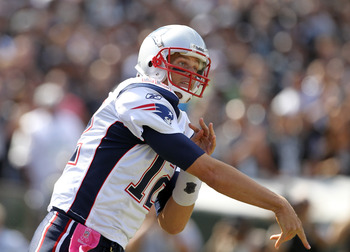 Ezra Shaw/Getty Images
Tom Brady narrowly edges Aaron Rodgers, 4-3, and is the NFL's best at giving his team a chance to win.
While I would definitely say that Brady is the more "clutch" quarterback, an NFL game is four quarters for a reason. Rodgers has been straight up dominant this season, and has helped the Green Bay Packers finish off opponents before the fourth quarter even begins. It's not his fault he doesn't wait.
Rodgers and the Packers' ability to score on any play from scrimmage is something that Brady and the New England Patriots can only dream of. No matter how good Wes Welker is, he will never be a home run threat like Greg Jennings or Jordy Nelson.
This is not to take anything away from Rodgers—he's got a great arm, he's accurate, he's mobile and he is constantly improving.
A scary thought for the other 31 NFL teams.
Brady might give his team a slightly better chance at winning right now, but Rodgers' meteoric rise suggests that he will surpass Brady rather quickly.
By the time this season is over, it is entirely possible that Rodgers will be universally recognized as the greatest player in the NFL.
Until then, the mantle belongs to Brady.
Keep Reading

New England Patriots: Like this team?