Notre Dame Football and the FieldTurf Debate: A Scientific Analysis
October 31, 2011
Jonathan Daniel/Getty Images
Over the past year there have been many questions surrounding Notre Dame football aside from the product on the field.
Will they install a jumbotron?
How do we feel about the change of the storied tradition of the painting of the Irish helmets?
How do we feel about throwback uniforms and other changes to the traditional garb?
Will Crazy Train by Ozzy supplant Tim McCarthy's safety announcement as the new third-fourth quarter tradition?
But the one I want to cover involves the playing surface.
Notre Dame has a grass field and there has been debate among fans (and the coaches and administration) about changing to FieldTurf or a hybrid system.  This has upset the traditionalists who love the way the grass looks and the unique old-school feel of the game-day environment as a whole.
Some would be more apt to change their opinion if such a field cut down on injuries, was faster (though honestly it would make the other team faster as well), or if it saved money.
As a sports medicine physician, I wanted to investigate this further and put that out to you fellow Notre Dame fans.
If you want to get to the gist without the meat, please scroll down to the conclusion below.
Safety
Several studies have been done to date comparing third and fourth generation turf and natural grass.
A new study was just published by Williams et al 2011 in the Journal of Sports Medicine reviewing all these studies to date with respect to injury risk.
To this date 20 studies have analyzed injury risk.  Reviewing the results of these studies they came to the following conclusions:
1. There is not a statistical difference in injury rates between grass and FieldTurf (or FieldTurf-similar fields).  On the whole there may be a slight decrease in injury rates with FieldTurf, but the benefit is trivial.
2. There IS an increased risk of ankle injuries in a majority of studies.
3. FieldTurf is likely better for muscle injuries.
4. Data on chronic injuries does not exist at this time.
Only two of the 20 studies have dealt with American football (most others were soccer and rugby).
To complicate matters, those two studies performed by Meyers 2010 and Meyers and Barnhill 2004 were done in association with the company in question, FieldTurf.  On review the studies were well done and published in the orthopedic American Journal of Sports Medicine, a reputable journal.  But I always think it's important to know about those potential biases.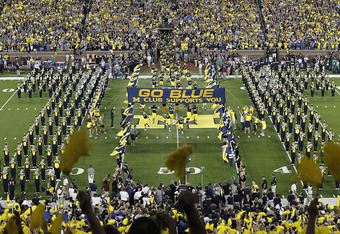 Leon Halip/Getty Images
Meyers and Barnhill 2004
In the 2004 study, eight collegiate football teams were followed over five competitive seasons.  For every 10 games, 15.2 injuries occurred on natural grass versus 13.9 on FieldTurf (results not statistically significant however).  Other results:
Worse/more common on FieldTurf: same day return injuries, noncontact injuries, skin injuries (abrasions), muscle trauma
Worse/more common on grass: ligament injuries, injuries with more than three weeks lost time, injuries causing one to two days of lost time, head and nerve injuries
Meyers 2010
In the 2010 study of 24 collegiate football teams over a three-year period (230 games on FieldTurf, 235 games on grass), the injury rate for grass was 5.1 injuries per team game and 4.5 for FieldTurf.
There were slightly less minor injuries and severe injuries on FieldTurf.  There were no differences in head, shoulder, or knee injuries between the two groups.
Speed
I could only find one study to date analyzing speed and agility on grass versus FieldTurf–done by Gains et al.
This study took 24 freshman college football players and timed them in the 40 yard dash as well as an agility drill.  They did so on FieldTurf then a week later did so on natural grass.
The study showed there were no differences in 40 yard dash times in a straight line (difference of only 0.01 seconds between the groups).
However there appeared to be a difference between the two groups on change of direction agility drills (difference of 0.19 seconds), favoring FieldTurf.
As noted above, it's important to note that obviously both teams would be faster on this surface.
More studies with more participants are needed in this area.
Cost
Long-term cost, decreased maintenance requirements, and a healthier field at the end of games and seasons seem to be where FieldTurf and similar turf surfaces come out ahead.
Cost needs to be individualized to each installation.  But according to a cost analysis by FieldTurf (http://www.fieldturf.com/football-turf/cost-analysis/), a school would save roughly $47,500 a year in maintenance costs. 
It appears it would take several years to offset the installation and materials costs based on their data.
Conclusions
If FieldTurf portends an injury benefit, it is likely small based on the current evidence available.  Furthermore, most studies support an increased risk of ankle injuries.  As in many cases, more independent research comparing the two surfaces specifically in collegiate football would be beneficial.
FieldTurf appears to provide a speed benefit to athletes in cutting sports but not in straight line speed.
Over time FieldTurf and similar surfaces surely are cheaper to maintain but are more expensive to install.  Cost analyses need to be individualized.
These surfaces also hold up better through the course of a game and a season which are other potential benefits.
I was unable to find any research regarding the hybrid-type fields (that combine grass with synthetic fibers).  To my knowledge no studies have been done on injury rates, speed, or cost effectiveness of these fields compared to grass or FieldTurf. This seems to be a medium ground that may appease (almost) everyone involved.
References:
FieldTurf vs Grass cost-analysis: http://www.fieldturf.com/football-turf/cost-analysis/
Gains GL, Swedenhjelm AN, Mayhew JL, Bird HM, Houser JJ.  Comparison of speed and agility performance of college football players on field turf and natural grass.  Journal of Strength and Conditioning Research 2010; 24(10): 2613-7.
Meyers MC.  Incidence, mechanisms, and severity of game-related college football injuries on FieldTurf versus natural grass: a 3-year prospective study.  American Journal of Sports Medicine 2010; 38 (4): 687-97
Meyers MC, Barnhill BS.  Incidence, causes, and severity of high school football injuries of FieldTurf versus natural grass: a 5-year prospective study.  American Journal of Sports Medicine 2004; 32 (7): 1626-38.
Williams S, Hume PA, Kara S.  A Review of Football Injuries on Third and Fourth Generation Artificial Turfs Compared with Natural Turf.  Sports Medicine 2011; 41 (11): 903-923.