Cowboys vs. Eagles Sunday Night Football: Live Reaction, News and Analysis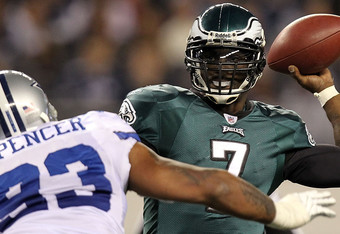 Ronald Martinez/Getty Images
Week 8 brings a Sunday Night Football matchup featuring two NFC East rivals as the Dallas Cowboys take on the Philadelphia Eagles (NBC 8:30 Eastern).
The Eagles look to claw their way back into the playoff picture. Philadelphia brings an 0-2 home record into the game, while currently sitting at the bottom of the NFC East with a 2-4 record. Michael Vick looks to build on his solid, if not great Week 6 performance against the Redskins when he threw for 237 yards while rushing for 54 yards during the Eagles' 20-13 win.
The Dallas Cowboys are 3-3 after their Week 7 blowout win over the St. Louis Rams. Tony Romo will try and keep his team on pace with the division leading New York Giants, who improved to 5-2 after their 20-17 win over the Miami Dolphins.
For the second week in a row, Dallas will be starting DeMarco Murray in place of injured Felix Jones. If Jones was healthy for Sunday night's game, it would not have been a given that he'd be on the field for the Cowboys' first series. Murray, a rookie out of Oklahoma, had a monster game against St. Louis in Week 7, rushing for 253 yards with a touchdown.
NBC sports executives should be happy with tonight's matchup after last week's mismatch in New Orleans. The Saints demolished the Indianapolis Colts 62-7. The Colts were slated for last Sunday night's game, but were playing without Peyton Manning, who is likely out for the season. NBC can't begin their flex schedule until later in the season.
Keep it here for live reaction to the game and its leading stories, as Michael Vick and the Eagles host Tony Romo and the Cowboys on Sunday Night Football.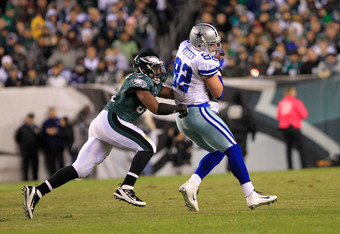 During Sunday night's loss to the Philadelphia Eagles, Tony Romo and the Dallas Cowboys' passing game was notably absent in Week 8. While the Eagles brought with them the tenth ranked pass defense in the league, several Dallas stars were eerily quiet the day before Halloween.
The Cowboys are probably more worried about yielding 495 yards of total offense to the Eagles during Sunday's defeat, but with the Cowboys trailing the whole game, the passing game couldn't get in gear at all.
Dallas wide receivers Miles Austin and Dez Bryant only managed three catches apiece, while tight end Jason Witten managed only four catches for 28 yards.
The lack of offensive rhythm should be troubling, mainly because Dallas started their drives after Philadelphia kickoffs. Despite the Cowboys' poor showing on defense, the offense didn't find themselves pinned near their own end zone at all during the game.
The Cowboys should retain possession more through the running game, which will keep the defense off the field and open up the passing game again. DeMarco Murray appears to be the real deal at running back for the Cowboys in his rookie season. When Felix Jones comes back healthy, the Cowboys should be even more potent. A balanced offense will be key to the Cowboys getting back on track through the air.
If the Cowboys defense continues to perform as they did in their Week 8 loss to the Eagles, Romo and the Cowboys' passing game will have to step it up if they want to have any chance at a playoff berth.
They'll need more plays like this 70-yard touchdown to WR Laurent Robinson.
This article is
What is the duplicate article?
Why is this article offensive?
Where is this article plagiarized from?
Why is this article poorly edited?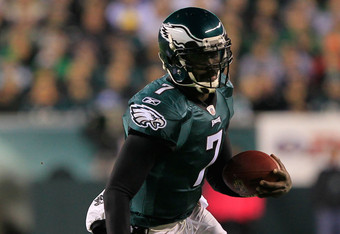 When the 2010 NFL season began, very few, if any fantasy owners drafted Eagles quarterback Michael Vick. According to fantasyfootballcalculator.com, Vick wasn't even drafted in their 2010 drafts. Vick was truly a waiver wire wonder last year.
His 3,000 passing yards and 21 touchdowns through the air in 12 games, along with his rushing abilities, won many fantasy leagues for owners who were quick enough to draft Vick after Kevin Kolb went down with injury for the Eagles.
The question for fantasy owners of Vick in 2011, and for the Eagles, who signed Vick to a huge contract in the offseason, is whether his brilliant return to the NFL was Vick at the end of his prime, or a preview of productive years to come.
Much of Vick's success could be chalked up to opposing coaches' lack of game footage of Vick under Eagles head coach Andy Reid's system. Now that coaches around the NFL have a year of game film to study, Vick will be challenged more every week.
For fantasy football purposes, Michael Vick's 2010 season made him a hot commodity in 2011 drafts. Vick will always be drafted above his actual value, but with his comeback season adding to his legend, he may never live up to that brilliant performance.
This article is
What is the duplicate article?
Why is this article offensive?
Where is this article plagiarized from?
Why is this article poorly edited?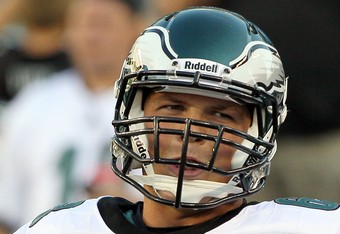 Romo's fumble from Week 1
The Eagles' potent running game was bolstered in the offseason with their first round pick of Baylor offensive guard Danny Watkins. Watkins was chosen by the Eagles with the 23rd overall pick, and he is being looked upon to shore up an Eagles offensive line that struggled in 2010.
The Eagles allowed the third most quarterback hits in 2010. While some of that can be attributed to Michael Vick's scrambling tendencies, it's something that Eagles head coach Andy Reid is looking to improve in order to ensure their prized quarterback's health.
Watkins, who was actually drafted in the Canadian Football League in 2010, begins his NFL career at age 26. His age and maturity makes him an NFL-ready lineman who has made an immediate impact on the strong side of the Eagles' line.
With Michael Vick and LeSean McCoy running behind Watkins, he has to have obvious athletic gifts to keep up with the action.
Watkins and the Eagles will hope to build on the 5.4 yards per carry average that the Eagles led the league with in 2010.
Through Week 7, the Eagles are ranked third in the NFL in offensive line efficiency.
After his first few games with the Eagles, Watkins looks like he may be a mainstay in the high powered Eagles offense for years to come.
This article is
What is the duplicate article?
Why is this article offensive?
Where is this article plagiarized from?
Why is this article poorly edited?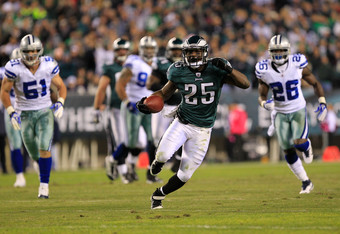 Jim McIsaac/Getty Images
With his rushing and pass catching abilities, Brian Westbrook was somewhat of a fantasy football legend. His productive career with the Eagles always seemed to be shrouded in a cloud of injury concerns, but Westbrook always delivered on Sundays, even without practicing during the week.
After LeSean McCoy supplanted Westbrook in 2009 as the Eagles' starting running back, he has steadily built a a strong fantasy career. His total yards average of 1,308 the first two years of his career has made McCoy a top ten running back in every fantasy draft, regardless of format.
McCoy is on pace to equal or top his 1,672 total yards from 2010. His eight touchdowns in 2011 through six games has McCoy on a pace that would top Westbrook's best year of 2008, when he scored 14 times.
While Andy Reid's offense is geared towards a dual threat back like McCoy, whether he stays healthy remains to be seen at this point in his career. McCoy has been durable to this point, and with a few more seasons like the one that he is enjoying in 2011, he should be on any fantasy owner's top-three list of running backs for years to come.
For those fantasy owners who play in a points-per-reception league, McCoy should be considered as a number one overall draft pick. While his receiving numbers are a bit down in 2011, McCoy will always be a threat through the air.
This article is
What is the duplicate article?
Why is this article offensive?
Where is this article plagiarized from?
Why is this article poorly edited?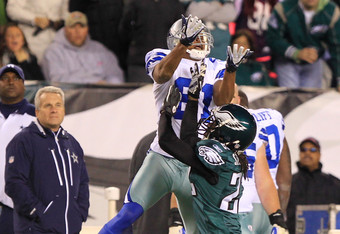 Unless the Dallas Cowboys can make some kind of comeback against the Philadelphia Eagles Sunday night, the Cowboys' 2011 is destined to be another failure on the heels of Dallas' 6-10 record in 2010.
The Eagles 24-0 halftime lead over the Cowboys Sunday night has conjured up the 2008 Eagles' 44-6 victory over the Cowboys. In that game, Tony Romo was ineffective with only 183 passing yards and one interception. Terrell Owens was even worse with one catch for seven yards.
The Eagles shored up their defense with some big offseason signings in 2011. They signed cornerback Nnamdi Asomugha, Cullen Jenkins, and Jason Babin.
Dallas tried unsuccessfully to snag Asomugha in the shortened free agency period of 2011, and only signed existing Cowboys before Week 1. For a team that finished 6-10, that might not be good enough this year, but with Jerry Jones at the helm, money may be spent if the Cowboys don't get results in 2011.
The NFC East is always competitive, and 2011 looks to be no different, but with Dallas' lack of playoff success over the last decade, will their team be able to keep up with Andy Reid and his Eagles?
Reid always seems to field a playoff-worthy team, and 2011 is no different, especially with the big free agent signings. If Dallas lets their early division lead on Philadelphia slip after Week 8, will it continue to slide for the next couple of seasons?
Historically speaking, Dallas can still boast more Super Bowl wins with five to Philadelphia's 0.
This article is
What is the duplicate article?
Why is this article offensive?
Where is this article plagiarized from?
Why is this article poorly edited?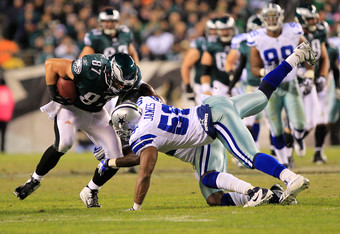 The Philadelphia Eagles, who have struggled after six games in 2011, should find themselves on top of the NFC East division by the end of Week 11. Of course, this being the NFL, the complete opposite could occur.
The Eagles came into Week 8's battle the Cowboys with a 2-4 record, but after taking a 24-0 first half lead over Dallas, the Eagles should be able to put together a winning streak.
Assuming the Eagles hold onto their lead over Dallas Sunday night, they will go into their Week 9 Monday Night Football contest against the Bears with a 3-4 record.
The Bears will be coming off of a Week 8 bye, and are still struggling to find an identity on offense. Philadelphia's improved play on defense could cause some problems for Chicago.
The Eagles have another game at home in Week 10, against the struggling Arizona Cardinals. After dispatching the Cardinals, the Eagles should be in a great position when they meet the Giants at the new Meadowlands in Week 11.
New York, who are in first place at 5-2 in Week 8, have a much more difficult road than the Eagles, leading up to their Week 11 battle. The Giants have to travel to New England and San Francisco after their Week 8 win over Miami.
It should be a battle for first place when the Eagles face off with the Giants, but as fans, bookmakers, and gamblers have learned in the NFL, nothing ever goes according to plan.
This article is
What is the duplicate article?
Why is this article offensive?
Where is this article plagiarized from?
Why is this article poorly edited?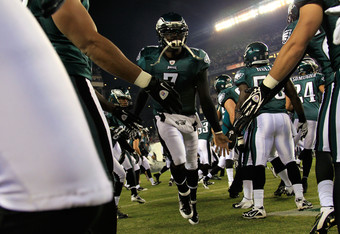 With former Philadelphia Eagles quarterback Donovan McNabb in the twilight of his career, one has to wonder if current Eagles quarterback Michael Vick has enough time to achieve what McNabb never did: a Super Bowl victory.
Michael Vick, who infamously lost a few seasons while he served time in prison, found new life in 2010 with a breakout year for the Eagles. Vick, who has always been a double threat with his arm and running ability, in only 12 games last year, posted over 3,000 yards passing, 21 touchdowns with only six interceptions.
Through Week 7 in 2011, Vick has struggled somewhat, fighting off nagging injuries while already throwing 8 interceptions. Vick's performance against Buffalo in Week 5 was especially poor when he was picked off four times in the Eagles' 31-24 loss.
During his time in Philadelphia, McNabb led the Eagles to five NFC championship games and one Super Bowl appearance. His toughness and stamina were questioned after Super Bowl XXXIX, most notably by Eagles wide receiver Terrell Owens.
Whether the constant criticism of McNabb during his time in Philadelphia was warranted, he still will most be remembered for not being able to win the Super Bowl, even with Philadelphia teams that were strong on both sides of the ball.
Michael Vick's honeymoon in Philadelphia may be ending soon. Leading the Eagles back to an NFC Championship will be a great start for Vick's continued quest to rewrite his personal legacy. Vick has won big playoff games before, but is his window for a championship closing soon, or will he have a few shots at glory?
This article is
What is the duplicate article?
Why is this article offensive?
Where is this article plagiarized from?
Why is this article poorly edited?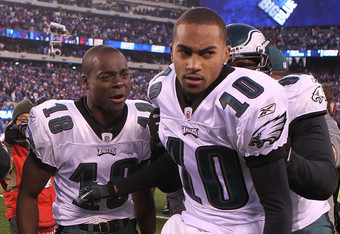 In his third year out of Missouri, Philadelphia Eagles wide receiver Jeremy Maclin is looking to break out for the Eagles. The third year for wide receivers in the NFL is generally the year when it all clicks. So far in 2011, that appears to be the case for Maclin.
Maclin, who caught a 12-yard touchdown pass in the first quarter of the Sunday Night Football Week 8 matchup against the Cowboys, came into Week 8 with 489 yards and 3 touchdowns. Maclin is coming off of a fine 2010 season, when he had 964 receiving yards, along with 10 touchdowns.
In 2011, Maclin seems to be taking over as quarterback Michal Vick's new favorite target. Through Philadelphia's first six games, Maclin has been thrown to 51 times to DeSean Jackson's 44 targets.
The Eagles' leading wide receiver of last year, DeSean Jackson continues to be Philadelphia's big play specialist. Jackson is on pace for another 1,000 yard season in 2011, and his presence alone has opened up space for Maclin.
Between the two young receivers, Maclin and Jackson have 945 yards through six games, along with five touchdowns.
Now that Michael Vick has established himself as an improved pocket passer, along with his continued elite scrambling ability, with two healthy stud receivers in Maclin and Jackson, Philadelphia's offense should continue to perform at a high level.
If both wide receivers finish with more than 1,000 yards and double-digit touchdowns, are Jeremy Maclin and DeSean Jackson in the conversation of best wide receiver duos in the league? With both being still relatively young can Maclin and Jackson become one of the best receiving duos in league history?
This article is
What is the duplicate article?
Why is this article offensive?
Where is this article plagiarized from?
Why is this article poorly edited?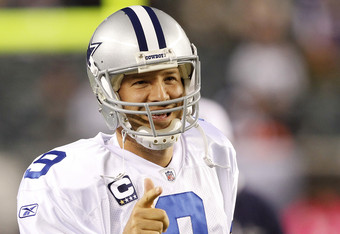 Dallas Cowboys quarterback Tony Romo seems to always bare the brunt of NFL pundits' blame when things go wrong for the Cowboys.
Romo overcame a late fumble against the Jets in Week 1, and led the Cowboys to a comeback victory over the 49'ers in Week 2, despite a serious rib injury. That win seemed to put Romo back in favor of Dallas fans, as well as the media.
Whether it's fair or not, Tony Romo is constantly more scrutinized than almost all other NFL quarterbacks. His quick rise to fame on the football field after his first couple of years, as well as frequent stories in tabloids in recent years has made second guessing Romo and his abilities its own industry.
Romo's career numbers are solid, but his failures in big games has made him a frequent target of fans' scorn. After a dismal 2010, the Cowboys seem to be on the right track in 2011. Their defense ranked seventh in the NFL after seven weeks, and their offense sits at fifth overall.
Romo's critics are probably of no relevance to him. With a seemingly balanced team in 2011, and a possible new stud running back in DeMarco Murray, the Cowboys and Tony Romo may have their window of opportunity for a return to the playoffs. What Romo does with that opportunity will be the most asked question in Dallas come January.
This article is
What is the duplicate article?
Why is this article offensive?
Where is this article plagiarized from?
Why is this article poorly edited?

Philadelphia Eagles: Like this team?