Atlanta Braves: Why They Should Keep Quiet This Offseason
November 1, 2011
Kevin C. Cox/Getty Images
After a stunning collapse, the Atlanta Braves may attempt to make changes this offseason.
There are a few that are necessary and may be helpful; however, any large moves are not advisable.
The Braves' main goal for the offseason is finding a shortstop.
The top options on the MLB free agent market are Jimmy Rollins and Jose Reyes, both of whom are prone to injury and very expensive.
The Braves' chances of signing either player are very slim.
And even if the Braves were to sign a player like Rollins or Reyes, a long-term deal would have to be ruled out, in order to make room for Tyler Pastornicky in the upcoming seasons.
The next best option is to either re-sign Gonzalez or decide that Pastornicky, their top hitting prospect, is prepared to take on the starting shortstop role.
Both Gonzalez and Pastornicky could be assets to the Braves next year, and signing an expensive shortstop should not be necessary.
A potential trade option is for an outfielder; namely, Matt Kemp or Carlos Quentin.
Both of these players will be expensive to trade for, and will take one or two of the Braves' "Big Three" prospects, as well as Jair Jurrjens and perhaps a few other talented prospects.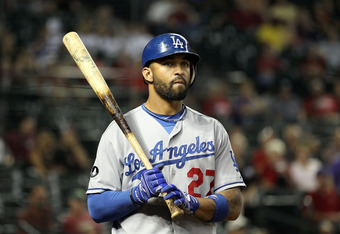 Christian Petersen/Getty Images
Also, with the trade of Derek Lowe to the Cleveland Indians, the Braves will need to decide who among their top pitching prospects could take the final spot in the starting rotation.
If one or two of them is traded away, the pitcher with the best potential may not end up on the Braves' pitching staff next season.
Another downside of such a trade would be giving Jason Heyward and Martin Prado less playing time and less time to develop their potential, if they're not part of the original trade.
Another offseason strategy for the Braves would be to improve their bullpen.
While a few small upgrades to the bullpen are always welcome, any large deal in that area is unnecessary.
Although the Braves had issues with the depth of their bullpen last season, and ended up giving far too many innings to a few of their relievers, they should not have trouble with that during this season.
By the 2012 season, Kris Medlen and Peter Moylan should return in full health to the bullpen. Also, the rookie Arodys Vizcaino will contribute there.
For the next season, with the team they have prepared, the Braves should be well off.
A large deal for the Braves is unlikely to occur this offseason, and is not necessary to the Braves' success.