BCS Rankings 2011: Power Ranking the Best of the 11 One-Loss Teams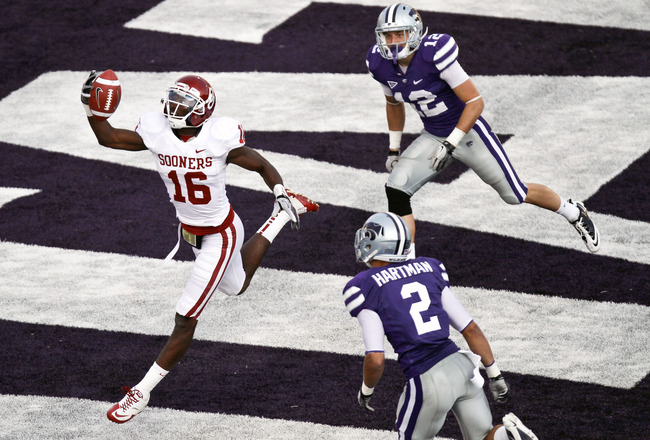 Ed Zurga/Getty Images
At this point in the season, articles begin to be published that state how controversial the BCS rankings will be because of the multiple undefeated teams remaining. There is no doubting that the championship system is flawed, but by the end of the season there is usually few, if any, BCS schools that remain undefeated.
Because of this, we are left to question who is the two best one-loss teams. The general consensus is that it is better to lose earlier in the season than later.
As a result, in this article, I will power rank the nations one-loss teams.
No. 11: Cincinnati Bearcats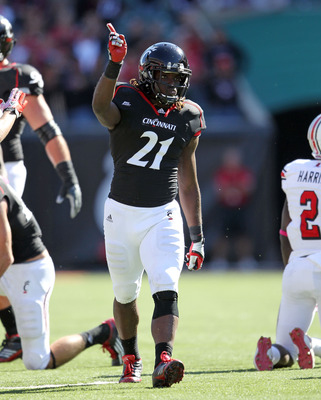 Andy Lyons/Getty Images
In my opinion, Cincinnati is the most difficult team to rank out of the once-beaten teams. They have not faced a ranked team all season. They have beaten some decent teams but no good or great teams.
What does standout in their favor, despite a less than impressive schedule, is their balance of offence and defense. They are currently ranked 10th in the nation in scoring offense and 19th in the nation in scoring defense.
Their one loss on the season was at the hands of Tennessee. However, it should be noted that the game was prior to the Volunteers losing Justin Hunter and Tyler Bray. The game was also played in an electric Neyland Stadium during Week 2.
Bearcat running back Isaiah Pead showed his skill against Tennessee, rushing for 155 yards on 14 carries. Compare that to Heisman candidate Trent Richardson, who rushed for 77 yards on 17 carries for the Crimson Tide of Alabama.
While the Bearcats are talented, they lack the depth and speed to compete with the elite one-loss teams.
No. 10: Kansas State Wildcats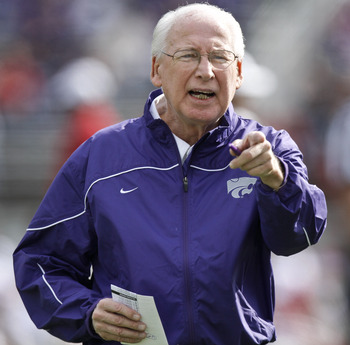 Ed Zurga/Getty Images
Kansas State is a much improved football team. For those who question how much impact a coaching staff has, look at the improvement of this Wildcats team since Coach Bill Snyder returned to the sidelines.
Kansas State is a good football team. However, the Wildcats are not a top 25 team. They were exposed yesterday in their loss to the Oklahoma Sooners. Coach Snyder kept them in the game in the first half, but depth caught up with them in the second half when they were outscored 35-0.
I fully expect the Wildcats to continue to get better in the upcoming years. However, Kansas State will need to improve the overall talent on campus before they can be competitive for a full 60 minutes against elite teams.
Despite the loss of their former star running back Daniel Thomas, the Wildcats are 20th in the nation in rushing. But their lack of passing game will be exposed this week against Oklahoma State as they fall from the ranks of the once-beaten.
No. 9: South Carolina Gamecocks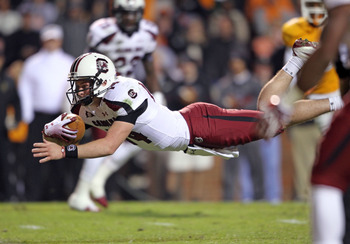 Andy Lyons/Getty Images
Coming into the season, the South Carolina Gamecocks were supposed to compete for the SEC championship because of their star running back Marcus Lattimore and fifth year senior quarterback Stephen Garcia.
However, eight games into the season, neither are on the field any longer. Garcia failed to continue his progression from the season before, and his off-field battles finally caught up with him.
Lattimore, on the other hand, was as good as the hype, but a leg injury has cut his season short.
The Gamecocks have Arkansas, Florida, Citadel, and Clemson remaining on the schedule. Do they have enough left in the tank to finish strong? If they can split those games, they will be fortunate.
South Carolina's offense is anemic without Lattimore. However, their defense is ranked in the top 10 nationally and are 14th in defensive scoring. If their defense can continue to play at this pace, they have a shot to finish strong.
They will, however, need to find ways to get Alshon Jeffery more involved in the offense. This ranking is low, but it is only because of injuries.
No. 8: Penn State Nittany Lions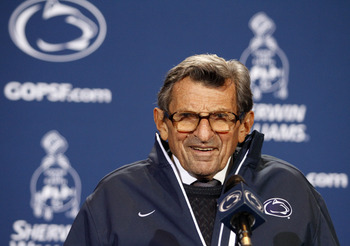 Justin K. Aller/Getty Images
I must admit, I am somewhat amazed that I am writing about Penn State in an article about one-loss teams. The Nittany Lions have been able to escape one close game after another against mediocre talent.
Six of their last seven games have been decided by a total of 38 points (6.3 PPG).
Their offense has been horrific. They are currently 91st in the nation in passing and 56th in the nation in rushing. Those two numbers combined have led them to being 101st in the nation in scoring offense.
They have, however, been dominant on the defensive side of the ball. They are currently fourth in the nation in scoring defense and show no signs of slowing down in the future.
With Nebraska, Wisconsin and Ohio State remaining on the schedule, they will need to find more offense if they want to remain among the once-beaten.
No. 7: Arkansas Razorbacks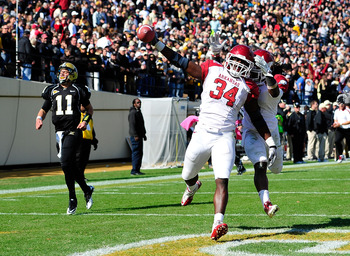 Grant Halverson/Getty Images
Heading into the summer, Arkansas was my preseason favorite to make it to the SEC championship. However, that quickly changed when Knile Davis was injured in practice before the season started.
I believed this team was going to be solid because they had something that no other team in the SEC had—an offensive balance of passing and rushing.
The defense did not improve as much as I thought. However, the Razorbacks have been able to win seven of their first eight games without any real running game threat. This speaks volumes of their passing game, because teams have not had to focus much on stopping the run.
The Razorbacks are ninth in the nation in passing but 83rd in rushing.
Against great defensive teams, like Alabama, the Razorbacks will be exposed. However, the Razorbacks should finish the regular season with a 10-2 record, at worse. In this scenario, their only remaining loss would be against LSU.
However, with their recent success (three wins in the last four meetings) against LSU, they should not be counted out of this game, either.
No. 6: Virginia Tech Hokies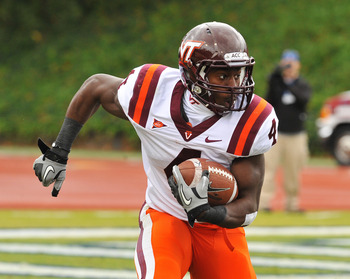 Al Messerschmidt/Getty Images
Every year it seems to be the same thing with Virginia Tech. They play in a mid-tier conference with superior talent. Every season they find a way to lose one or two games that they should have won.
This season appears to be par for the course. They are currently 7-1 but have only played one ranked team. That team was Clemson, and it was their only loss of the season.
For the most part, they have finished off inferior teams without much of a struggle. However, last week they managed to escape an inferior Duke team—but only by a score of 14-10.
As always, they have a strong defense that ranks eighth in the nation in scoring. Their running game has been impressive because of stud running back David Wilson. In my opinion, Wilson might be the nation's best kept secret.
Virginia Tech has remaining games against Georgia Tech, North Carolina and Virginia. All of those games should be wins for the Hokies, and they will once again be BCS bowl bound.
No. 5: Clemson Tigers
Kevin C. Cox/Getty Images
A great offense will win you ball games, but you need to have at least a serviceable defense to be elite. Clemson has an elite offense but an atrocious defense.
The Tigers are producing 470 yards per game and are 17th in the nation in scoring at 38.0 points per game.
Sophomore quarterback Tajh Boyd and freshman wide receiver Sammy Watkins might be the best quarterback-receiver combination in college football over the next few seasons. However, if their defense does not improve, they will never be more than a very good team.
Currently the Tigers are 58th in the nation in scoring defense. They have surrendered 114 points in the last three games. You cannot consistently win ball games giving up 38 points per game, as they did in their recent streak.
This dynamic offense will keep them inside the Top 25, but this defense will keep them outside the top 10.
No. 4: Michigan Wolverines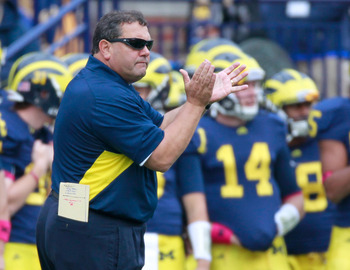 Gregory Shamus/Getty Images
After firing Rich Rodriguez, the Wolverines were supposed to go after a big name coach. They, at least at some level, flirted with LSU head football coach Les Miles. However, the Michigan administration surprised many people by hiring Brady Hoke, who has a career record of 47-50.
Hoke supporters pointed to the fact that he was at schools with a low ceiling. There was a large wave of fans and critics who believed they made a drastic mistake. Seven games into the season, it appears Michigan made a solid hire.
The Wolverines are currently 7-1. Outside of their one loss to Michigan State on the road, they have only had one opponent finish within 17 points of them. The Wolverines are fairly balanced on offense with 209.9 yards passing per game and 253.3 yards rushing per game.
Most impressively, they are sixth in the nation in defensive scoring.
There were many questions on how Denard Robinson would be able to adjust to a new style of offense. Robinson has passed with flying colors. Despite missing the first game of the season, he has over 2,100 offensive yards and 21 total touchdowns.
There are still unbelievers in this football team, but with every passing week, the crowd gets smaller and smaller.
No. 3: Nebraska Cornhuskers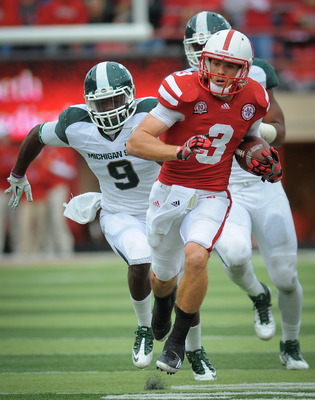 Eric Francis/Getty Images
Nebraska's first season in the Big 10 has been successful thus far. Outside of a humiliating loss to Wisconsin, the Cornhuskers have been rock solid.
Despite their strong record, their resume had been shallow until this past week, when they dominated nationally ranked Michigan State 24-3.
The Cornhuskers have not been the defensive giants this season that they had been in the two prior seasons under Bo Pelini. They currently are 33rd in the nation in scoring. While that doesn't make them a bottom feeder defensively, they will need to improve those numbers.
Once again, their passing game is non-existent. They rank 106th in the nation in passing yards. However, their rushing game is ninth in the nation, and they are 22nd in the nation in scoring.
If the defense can improve, the Cornhuskers could be Rose Bowl bound.
No. 2: Oklahoma Sooners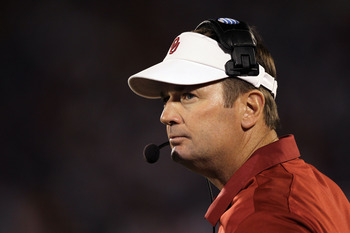 Jamie Squire/Getty Images
The Oklahoma Sooners came into the season with high expectations. They were ranked as the preseason No. 1 by almost every major publication. Led by star quarterback Landry Jones, the Sooners were supposed to be the team that dethrones the SEC.
However, we are now 10 weeks into the season and the Sooners have only looked the part twice—once against Texas and this past week against Kansas State. Both the Wildcats and the Longhorns were highly ranked at the time.
From the outside it appears that the Sooners lack motivation against teams that they are highly favored against. This leads me to believe that their on-field leadership has not been up to par.
The Sooners no longer control their own destiny. However, if they start playing motivated football from here-on-out, they could sneak their way back into the BCS national championship picture.
The Sooners are matching the preseason hype on the offensive side of the ball. They are currently second in the nation in passing yards per game and fifth in points per game.
It is the defensive side of the ball that has been disappointing. They currently rank 20th in defensive points allowed per game. However, they have the talent to be in the top 10.
There are still a lot of games to play—can the Sooners stay motivated?
No. 1: Oregon Ducks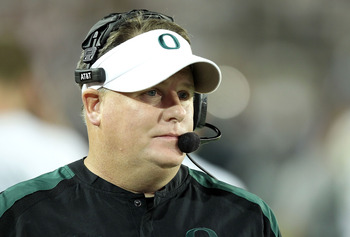 Christian Petersen/Getty Images
Oregon is unlikely to receive much attention for the BCS national championship, even if only one undefeated team remains, largely because of how soundly they were defeated against LSU.
This does not mean that Oregon is not a solid football program. It only means that the Tigers were more prepared on that day. In my opinion, the Ducks are the top one-loss team in the nation.
While an argument could be made that the Sooners are more talented, they have not played as well as Oregon. In the seven games that followed their loss to LSU, the Ducks have scored over 40 points in each ball game. Moreover, they have scored over 50 points twice and over 60 points once.
Their defense has not been horrific, either. While no one is going to mistake the Ducks defense for either Alabama's or LSU's, they currently rank 27th in the nation.
Perhaps the most impressive argument that the Ducks can make as the best one-loss team in the nation is how they have been able to overcome injuries. They have had their star quarterback and running back go down with injuries at various times but have not missed a beat.
The Duck are better than critics want to believe.
Keep Reading