Tony Romo vs Michael Vick: Which NFL QB Do We Love to Hate More?
October 30, 2011
Wesley Hitt/Getty Images
Are there any other QBs that seem to be hated more by NFL fans than Vick and Romo?
Both are similar QBs in terms of media hype and playoff success (or lack thereof). Both are QBs that become scapegoats when their teams make critical mistakes.
But which QB do people love to hate more? 
Why do we hate Tony Romo?
Oh, where to begin? Romo seems to get the most media attention for doing absolutely nothing.
He leads the Dallas Cowboys, which means he gets more media attention as head of "America's team". As such, he's seen by many as a very overrated QB who can't close out games without making mistakes.
And since he's usually on national television, these mistakes are seen by almost everyone and get repeated on ESPN for even more people to see.
Also, he's the Cowboys QB. And everyone hates the Cowboys.
Cowboys fans hate him because he is a constant "tease" QB. He'll lead you to victory one week, only to throw an interception the next. He was finally able to step up and lead the Cowboys to a playoff victory in 2009, but had trouble winning the next week thanks to O-line woes.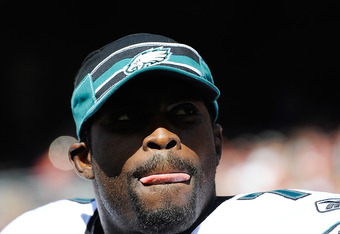 Patrick McDermott/Getty Images
Why do we hate Mike Vick?
Hate for Mike Vick comes down to two main reasons: No. 1: You're still upset about his dogfighting episode. And No. 2: You hate the media hype about his "redemption".
All in all, he's a good QB who has been able to lead the Falcons deep in the playoffs before, so you know he can do it. And he's proven to be very good if he has some semblance of a team around him.
So why would people hate him for those reasons?
Well, if you're a dog lover, you understand why people are still unwilling to forgive Vick. As a dog owner, I can't imagine doing the things he did. But he did his time and gets to live with what he did. Though some people don't feel the same way I do.
It's much easier to hate the media hype that he "has been redeemed." Everyone already knew this when he went to prison and was let back into the NFL. Do we need to hear about it every time he completes a pass or runs the ball? The media gets ridiculous with it and it becomes annoying as hell.
But who do fans hate more? To me, it's Tony Romo without a doubt.
The media hype around him has been around forever and he's a Cowboys QB. Some may hate Vick more, but c'mon, Tony Romo is the go-to QB for people to hate on.