Cincinnati Bengals vs. Seattle Seahawks: Live Score, Highlights and Analysis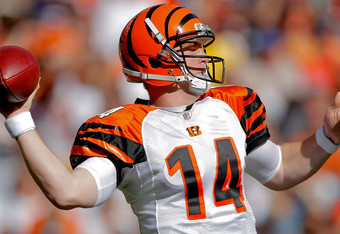 Justin Edmonds/Getty Images
The Cincinnati Bengals invade Centurylink Field Sunday afternoon to take on the Seattle Seahawks in a Week 8 matchup.
A surprising 4-2 start for the Bengals have fans thinking playoffs and a chance to leave Seattle with a 5-2 record. On the other side of things, the Seahawks look to build some momentum, advance to 3-4 and hope to challenge the San Francisco 49ers for the NFC West title.
Bengals running back Cedric Benson will finally serve his one-game suspension stemming from his offseason violation of the league's conduct policy. The loss of Benson will put more pressure on rookie quarterback Andy Dalton to perform in Seattle's noisy stadium.
The quarterback situation in Seattle is still cloudy as Tarvaris Jackson attempts to return from a pectoral injury. The Seahawks are holding out hope that he will be able to play after returning to limited participation in practice Thursday and Friday. If Jackson is unable to go, Charlie Whitehurst will again get the start.
The Bengals are coming off their bye week and had two weeks of rest and preparation for the game, while the Seahawks are coming off an ugly 6-3 road loss to the Cleveland Browns.
Usual Seattle weather could make the game sloppy—the temperature is expected to be in the 50s with constant rain throughout the afternoon.
FINAL Score: 34-12 Bengals
Final. The Bengals beat the Seahawks 34-12. The Bengals go to 5-2, while the Seahawks fall to 2-5.
Touchdown Bengals. Interception returned for a touchdown for the Bengals and they are going to get a huge win to advance to 5-2 on the season.
Whitehurst throws incomplete on fourth down and this game is basically over. Carroll will have to decide whether or not to use his three timeouts here.
Tarvaris Jackson injured his lower leg on that incompletion. That would be awful for the Seahawks moving forward if Jackon misses more time.
Two-minute warning in Seattle as the Seahawks are attempting to make the box score look a little more balanced.
Touchdown Bengals. After Carlos Dunlap came up with a big sack on third down, the Seahawks were forced to punt. Tate returned the punt for a touchdown and this game is all but over.
Field Goal Bengals. The Seahawks force a stop on 3rd-and-10 to force a field goal attempt. The kick is good. It is an eight point game here in Seattle. Tarvaris Jackson moved the ball well last possession and will be asked to do the same. Big drive upcoming.
Touchdown Seahawks. Marshawn Lynch caps off a beautiful drive for the Hawks. Jackson made some great throws to Baldwin and Rice to move down the field quickly. The two-point conversion attempt fell incomplete so the score is 17-12, but we have a ballgame at C-Link.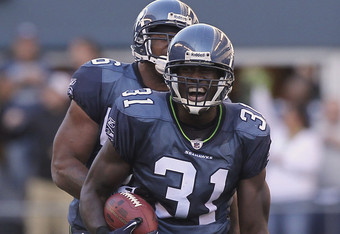 The Seahawks come up with another big interception of Dalton from Kam Chancellor. The defense is coming up with big plays, but once again, the offense needs to get into the end zone. It has been long enough. They have a chance here, will they take advantage?
Scott picks up 13 for another Bengals first down. He has played well filling in for the suspended Cedric Benson.
"It has been 21 days since the #Seahawks scored a touchdown"
-Danny O'Neil of Seattle Times
Field Goal for Seattle. Amazing effort by Rice in the back of the end zone, but the pass is ruled incomplete. The Seahawks needed a touchdown, but had to settle for a field goal. It is better than nothing, but they will need more big plays on defense to slow down Dalton and get the ball back in Jackson's hand.
Great play from Obomanu and Jackson to collaborate for a 55-yard completion. The Seahawks need a touchdown here though. They cannot settle for a field goal if they intend to win this game.
Interception for the Seahawks as Dalton went for a big strike to his fellow rookie A.J. Green. Richard Sherman made a great play on the ball to stop what looked to be another scoring drive for the Bengals. Instead of getting a backbreaking score, the Bengals now need a defensive stop to keep the Seahawks from returning to this game.
Wow. Beautiful throw by Dalton to Donald Lee down the field on a big third down. The rookie quarterback looks great today making some really nice throws without his starting tight end Gresham.
A big play by the Bengals defense on 3rd-and-1 forces a Seahawks punt. They have looked much better with Jackson at QB, but have absolutely nothing to show for it. Unless they put some points on the game, this game doesn't look for the Seahawks.
The Bengals need to get their offense going again and put this one away. They can't afford to let the Seahawks hang around.
Chris Clemons gets to Dalton on third down to force a Bengals punt. The Seahawks defense looks decent, but needs the offense to pick it up in order to have a chance in this game.
Another penalty on the Seahawks turns a 3rd-and-10 into a 3rd-and-15. The Seahawks are forced to punt. Not a good start for the Seahawks. Points on this upcoming Bengals drive could put the game out of reach.
The Seahawks are looking to get back in this game and build on that two-minute drive at the end of the half. Going to somewhat of a slow hurry-up
For the Bengals to win, they need to maintain their level of play on offense and defense while avoiding penalties. Dalton is playing great football and managing the game extremely well. They just need to avoid lapses both offensively and defensively.
For the Seahawks to win, they need to get some stops on defense and let Jackson air it out. They looked much better with Jackson in the game, but still failed to get points. The end of the first half was extremely ugly and the decision by Carroll has to be questioned.
Some halftime stats:
Passing
Dalton 13/18 125 yards 2 TD
Whitehurst 4/6 52 yards
Jackson 6/11 88 yards
Rushing
Scott 10 carries 33 yards
Lynch 8 carries 2 yards
Receiving
Green 4 receptions 63 yards 1 TD
Obomanu 2 receptions 45 yards
Huge play for the Bengals defense as they come up with a stop. Lynch gained the two yards needed for a first down, but failed to get the extra yard needed for a touchdown. Time ran out on the Seahawks and the Bengals will take a 17-3 lead into halftime.
Big decisions. Seahawks going for it on 4th-and-2.
The Bengals use a timeout to stop the clock as the Seahawks are driving behind the decent play of Jackson. Some big plays have the Hawks down to the Bengals 11-yard line with 52 seconds remaining.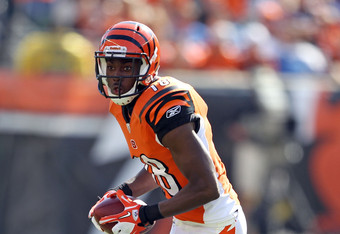 Touchdown Bengals. Dalton finds his rookie A.J. Green deep for a 43-yard touchdown. Green's double move beat Earl Thomas and Dalton heaved one up for his playmaker to go get. That is a huge play and gives the Bengals a two-score lead.
This article is
What is the duplicate article?
Why is this article offensive?
Where is this article plagiarized from?
Why is this article poorly edited?

Cincinnati Bengals: Like this team?