Liverpool Player Ratings vs. West Bromwich Albion: Reds Return to Winning Ways
October 29, 2011
Dean Mouhtaropoulos/Getty Images
The last time Liverpool visited West Bromwich Albion, Roy Hodgson's men scored two penalties to secure a 2-1 win over Kenny Dalglish's side.  This time, an improved Liverpool squad prevailed 2-0 on the strength of a Charlie Adam penalty and Andy Carroll's second Premier League goal of the season.
Both teams entered the contest unbeaten in their last four games, but Liverpool were in search of much better results than the dropped points against Manchester United and Norwich City, where they opened the scoring both times but failed to maintain their leads.
The Reds were without Steven Gerrard, who was sidelined by an ankle infection, and Jamie Carragher who was nursing a calf strain.  Liverpool, though, still had Andy Carroll, who got the start up front alongside Luis Suárez, and the pair was influential in the victory over an overwhelmed West Brom side.
Liverpool began the assault as early as the second minute when José Enrique found Suárez on the West Brom back post, but the Uruguayan, who would have been in free on goal, could not control the long diagonal pass.
Continued pressure by Liverpool saw Suárez brought down inside the West Brom area by Jerome Thomas, who attempted to shield the Liverpool No. 7 off the ball.  Referee Lee Mason at first allowed play to continue, but assistant Gary Beswick waved his flag for an offense and the penalty was given.
Hodgson and his players were furious, stating that:
"It was a situation where our defender is entitled to screen the ball to clear it and should have been allowed to do so, but a penalty was awarded and that meant that a difficult task became that much more difficult,"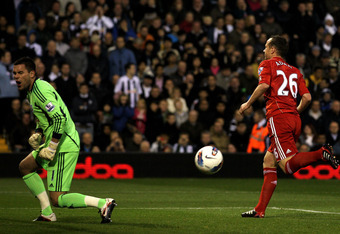 Dean Mouhtaropoulos/Getty Images
Replays showed that it was a soft foul, but a foul nonetheless and absolutely the correct decision to give the penalty, harsh as it was on Thomas.  Charlie Adam stepped up to the spot and converted the kick, 1-0 Liverpool after nine minutes.
Liverpool had another penalty shout denied when Carroll steered a header towards goal in the 23rd minute, only to be denied by the hand of Steven Reid.  While it wasn't clear that the handball was intentional, as contemplated by the rules, the defender would have had little argument had it been given.
Carroll would eventually find vindication with his second goal in as many recent starts, with his brilliant, if somewhat unconvincing, goal in first half stoppage time to round out the scoring. 
Lucas Leiva picked up a stray ball from defender Jonas Olsson in midfield and immediately found Suárez on the right, who then one-timed a pass with the outside of his right foot to spring Carroll through the heart of the West Brom defense.
Carroll seemed to have played the ball a touch too heavy, but was still able to recover and slip an unorthodox left-footed poke under advancing WBA goalkeeper, Ben Foster.  The two-goal margin was all that Liverpool needed on a comfortable visit to The Hawthorns.
The Reds had the run of play throughout the game, and the statistics bore that out. The team enjoyed 58 percent of possession, had 18 shots (four on target) and finished with 10 corners to WBA's three.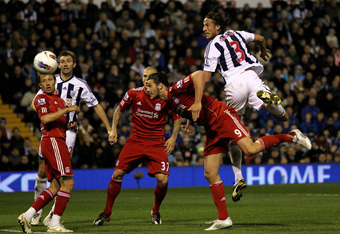 Dean Mouhtaropoulos/Getty Images
Not that Liverpool were necessarily clicking.  The team linked passes together nicely, only to see the final product fizzle due to either poor passing, or poor execution at the end of the pass.  In the end, however, Pepe Reina was hardly tested, and the defense recorded its third shutout of the season.
As always, player ratings are presented by position (back-to-front) below, along the following guidelines:
10: Exceptional—superlative performances only.
9: Excellent—outstanding performance.
8: Impressive—very influential game.
7: Very good—eye-catching game.
6: Average—good game, but nothing overly impressive.
5: Below Average—decent performance, but with some faults.
4: Poor—many faults, performance stands out for all the wrong reasons.
Additionally, any performance which affects the outcome of the game will increase or decrease a player's rating by half a point (.5)
Reina—Had very little to do today, but when he was called upon he proved himself ready for the challenge.   Grade 6.5
Glen Johnson—Once more started ahead of the brilliant Martin Kelly, underscoring the confidence which Dalglish must have in him.  He did not disappoint and had several threatening forays going forward, while helping negate even the slightest spark of a threat from the West Brom forwards. Grade 7
Martin Skrtel—Continues the turn-around to his early season troubles with what was potentially his best game of the season.  Combined well with Daniel Agger to keep Somen Tchoyi in check throughout the game.  Arguably should have had an assist when he turned Adam's 36th minute corner back across goal for Suárez who screwed the shot over the goal. Grade 7
Daniel Agger—Had a very solid game in central defense today, and worked tirelessly to support play wherever was necessary in his final third.  Combined well with Skrtel to clear the frequent speculative passes sent towards Tchoyi, and even found time to join the attack going forward. Grade 7
Enrique—Started the game brightly, and while not quite up to his usual stellar standards, he continued to be an offensive asset along the Liverpool left side, while being a defensive anchor at the back. 
Suárez should have done better with his diagonal pass in the second minute, and he was denied his first goal for Liverpool by a brilliant fingertip save by Foster in the 63rd minute. Not enough can be said of the collective work of the Liverpool defense today, but the fact that WBA's main threat, Peter Odemwingie, was relegated to the role of a spectator is largely due to the superb effort of Enrique. Grade 8 
Jordan Henderson—Had a welcomed solid performance for Liverpool.  Should have done better with Suárez's lay off to him just on the other side of halftime, scuffing a shot just wide of goal.  A couple of minutes later he showed his hustle and versatility by battling WBA's Thomas in defense, shutting down the threat on the end line and winning the ball in the process. 
For all of the criticism heaped on him by supporters, it would do his critics well to continue to support him, as it would only add to Liverpool being that much more of a formidable side. Grade 7
Lucas—Exhibited no rust from his suspension against Norwich.  He hardly put a foot wrong today and his quickness of thought, vision and the execution of the pass to Suárez was critical in providing Carroll just that extra half a step to get past the West Brom defense. Won't get an assist on the play, but his part was no less instrumental than the Suárez pass. Grade 8
Adam—Had a very nice game, still not quite the player perhaps that Liverpool expected when Dalglish pursued him so doggedly earlier in the year, but definitely improving.  Has thankfully curbed his impulse for the spectacular (and speculative) passes in favor of the simple. 
Former Indiana University basketball coach, Bob Knight, once said "there's no greater motivator than the distance between ass and bench", and it looks as though a couple of stints as a substitute has started to motivate Adam's play in the right direction.  Grade 7.5
Stewart Downing—Continued his struggles for a fourth straight game, as he generally seems to lack purpose to his play.  Today's performance was not terrible, far from it, but one would have expected that, a quarter of the way through the season, he would have by now found a way to better integrate himself into the Liverpool attack.  Play around him seems to be improving, so hopefully it's just a matter of time before he regains his form from the start of the season. Grade 6
Suárez (Craig Bellamy 81st)—Had several opportunities go begging but continued to create opportunities for others.  His pressure on the WBA defense lead to Adam's penalty and later his pass created Carroll's goal.  Enough can't be said about his performance, however, and not even his two assists tell the full story.  He continues to be somewhat of an enigma with his finishing, but his effort never wanes, and one suspects that it is just a matter of time before he adds to his team-leading seven Premier League goals. Grade 8.5
Carroll—The big man will forever look subpar next to the dynamic Suárez, but looking at his performance on its own merit, it seems clear that he is finally starting to figure things out.  His touch isn't the greatest, and no one will ever confuse him for Cristiano Ronaldo with his dribbling, but he's beginning to understand what he does well, which is to hold up play and to lay passes off to his teammates.
Did very well to recover and secure the three points for Liverpool with his goal, and helped out everywhere that he was needed, including in defense.  Still needs to improve on his heading of crosses into the box, seems to simply rely on trying to out-jump his marker, when a little movement before and after the pass might make all the difference.  Grade 8
Substitutes
Bellamy—Did not make much of an impression after replacing Suárez in the 81st minute. Grade N/A
Not used: Alexander Doni, John Flanagan, Jay Spearing, Maxi Rodriguez, Dirk Kuyt, Sebastian Coates.