NFL Predictions Week 9: 5 Bold Predictions for Eagles vs. Bears Matchup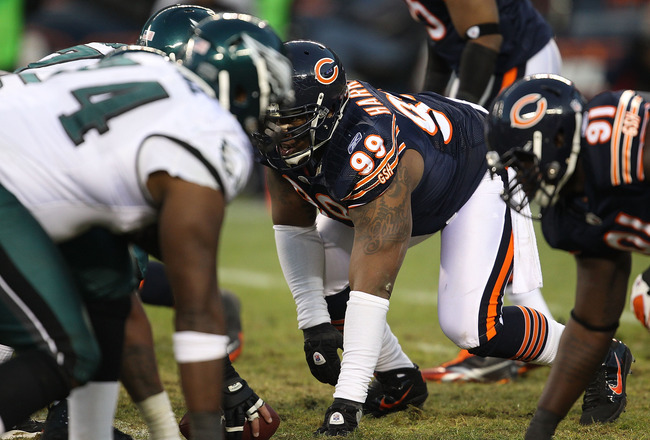 Jonathan Daniel/Getty Images
Andy Reid bumped his record to 13-0 after a bye week following an impressive 34-7 win over the Dallas Cowboys in Week 8's Sunday night matchup.
In the process, the Eagles improved to 3-4 on the season and now sit one game behind the Chicago Bears for the final playoff spot in the NFC.
Beating Dallas has everyone believing the Eagles are back and that they can make a run at the NFC East crown.
However, a loss against the Bears on Monday Night Football will cause those same people to think the win was nothing more than a fluke and the Eagles are better served as cellar-dwellers with Washington.
There's nothing bold in saying the Eagles will beat the Bears at home in prime time, but how they do it might surprise.
Cutler Sacked Half Dozen Times and Throws at Least 2 Picks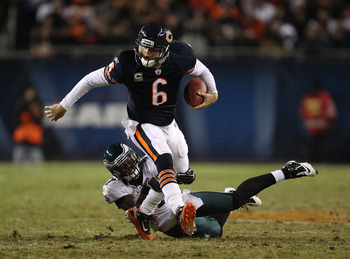 Jonathan Daniel/Getty Images
Jay Cutler has been sacked a league-leading 21 times this year in seven games—an average of three sacks per game.
To call for the average to double is pretty bold. Right now the Eagles seem capable of pulling off the task. The wide-nine technique is going through some adjustments to better handle the run, while also allowing Philly defensive ends Jason Babin and Trent Cole to get after the quarterback.
Chicago's offensive line has been inconsistent and Cutler has a tendency to hold onto the ball too long at times; that's a deadly combination against an aggressive pass-rushing team.
And if the Eagles aren't able to bring Cutler down, he will feel enough pressure to throw at least two picks against one of the better defensive secondaries in the NFL.
Last year Cutler threw four touchdowns and didn't turn the ball over against the Eagles. It's not going to happen a second time.
Philadelphia Doesn't Turn the Ball over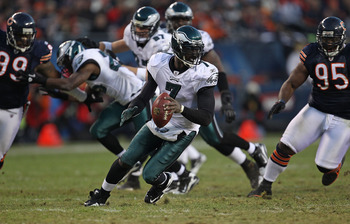 Jonathan Daniel/Getty Images
If Chicago is turning the ball over, the Eagles cannot afford to allow them back into the game by returning the favor.
It would take an impressive effort for the Eagles to avoid turning the ball over in back-to-back weeks, considering Dallas and Chicago have forced a little over two turnovers a game.
Judging from last week's game, the Eagles seem to have the perfect recipe for holding onto the ball. They are running the ball effectively, protecting Vick in the pocket, and Vick is limiting his recklessness when breaking out of the pocket.
It would be quite a turnaround for a team that turned the ball over 17 times in their first five games.
Matt Forte Has 150 Total Yards of Offense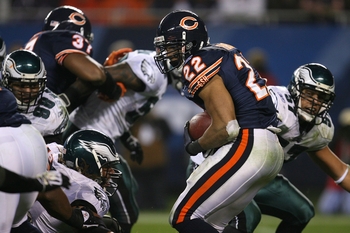 Jonathan Daniel/Getty Images
Not everything is going to go bad for the Bears next week—Bears running back Matt Forte will find ways to exploit the Eagles' wide-nine defense.
Yes, it was acknowledged how the defense has been adjusted a little bit, but it doesn't mean it is foolproof. There are times the defense can get a little too aggressive and give up big plays.
Matt Forte is the perfect player to exploit its over-aggressive nature. He can set up his blocks well on screens, run physically between the tackles, and use his speed to turn the corner.
Forte's effort alone will keep the game closer than it should be. Still, in the end, Jay Cutler's turnovers will eventually be too much to overcome for Chicago, as the Eagles win by at least 10 points.
LeSean McCoy Limited to Less Than 80 Total Yards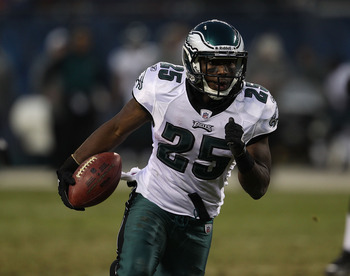 Jonathan Daniel/Getty Images
This is the other reason Chicago hangs around.
LeSean McCoy gashed the Dallas defense Sunday night. Some of it was due to the offensive line playing well and the rest of it was compliments of a defense that over-pursued and couldn't tackle.
McCoy was able to cut back on several occasions and pick up big chunks of yardage, breaking through harmless arm tackles in the process.
This time around the Eagles will go up against a much more disciplined defense led by middle linebacker Brian Urlacher. It's hard to envision Urlacher getting caught out of position on a consistent basis and allowing McCoy to run wild.
Defenses would be wise to try and limit McCoy and force Vick to beat them from the pocket. It's not an easy plan to implement, but I think it's one Chicago will put at the top of their list.
Nnamdi Asomugha Scores a Touchdown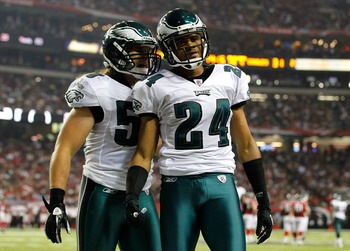 Kevin C. Cox/Getty Images
This may not seem too bold, but it's actually one of the boldest predictions one could make.
In 129 games played, Nnamdi Asomugha has one touchdown. The man who is regarded as one of the best cornerbacks in the game is not a playmaker like fellow CB Asante Samuel. He simply shuts down the opposition's top target.
It causes quarterbacks to avoid his side of the field, thus Aomugha's chances for a pick-six. But with so many quality cornerbacks roaming around in the Eagles secondary, and Cutler's lack of brains, Asomugha has a legit shot to double his touchdown total.
Keep Reading

Philadelphia Eagles: Like this team?