Stanford vs. USC: Live Scores, Highlights and Analysis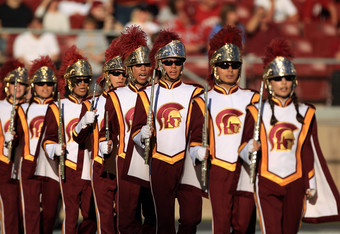 Ezra Shaw/Getty Images
Tonight's game for the No. 6 Stanford Cardinal versus the USC Trojans will be Stanford's toughest test this year. It's the first time this Cardinal team, led by quarterback Andrew Luck, will have to travel outside of their home stadium in Palo Alto, California to play a tough game.
Last week, each team had huge victories, as Stanford cruised to victory over No. 25 Washington at home, while USC crushed their long-time rivals Notre Dame in South Bend.
The game tonight is between two of the best programs going now in the state of California. But the real underlying story is going to go down between both quarterbacks.
Coming into this game, all of the hype surrounds Stanford's Andrew Luck. But USC's Matt Barkley may be just as good as the anointed No. 1 draft pick of the 2012 NFL draft.
If USC is to pull off the major upset tonight, it will be because Barkley out-plays Luck, having the more impressive game. A better game from Barkley may not just give USC the win, but for Barkley personally, it may mean he leapfrogs over Luck as the savior of NFL teams in the upcoming draft.
However, for Luck, he has another chance like last week to shine on a national stage on prime-time television.
Playing on the West Coast makes it hard for a majority of viewers to see how good Luck is.
But for those who tune into this game either on ABC starting at 8:00 p.m. or follow here on the live blog, you will see why Andrew Luck is heralded as the best college player today.
And when you have two of the best quarterbacks in college football you will get an answer, like we just saw from Andrew Luck and Stanford.
Luck with a nice pass into the end zone where only his tall receiver was able to catch it.
Luck lobs a pass 11 yards into the end zone where Levine Toilolo is able to jump up and snatch it down with an amazing one handed catch.
The extra point barley gets in for Stanford as we head to a third overtime.
Stanford 48 - USC 48 3rd OT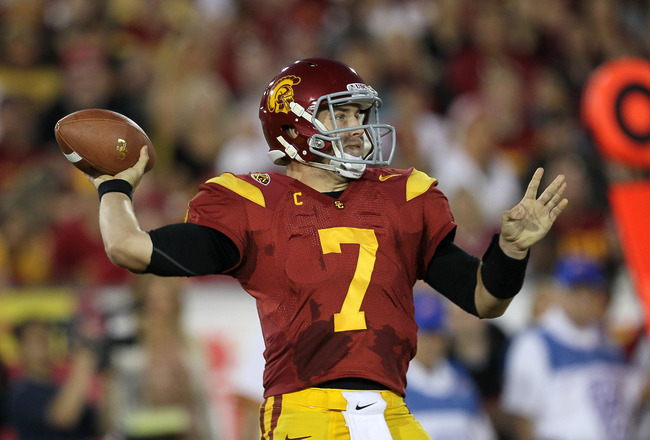 Grit, effort, determination; three things that would describe the effort from USC tight end Randall Telford to take a short pass, then juke past one Stanford defender, then carry another into the end zone, as he stretches out barley putting the ball over the goal line for the USC touchdown.
Now, it's up to Andrew Luck and Stanford to answer.
Also Lane Kiffin did not pull anything wild on the extra point. So he's 0 for 2 in that department.
USC 48 - Stanford 41 2nd OT Stanford with possession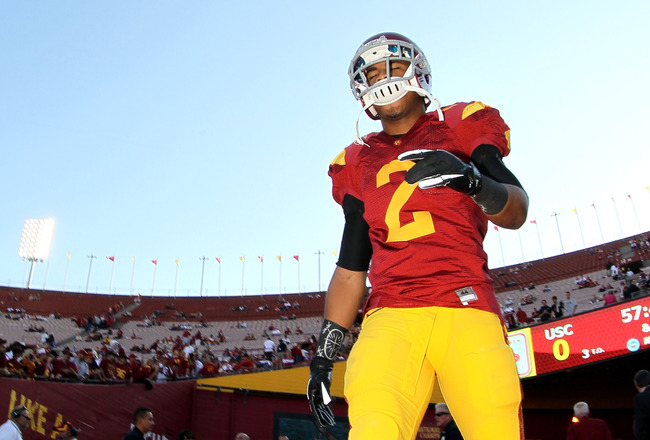 Robert Woods TOUCHDOWN for USC!
After a beautiful pass from QB Matt Barkley, he found Woods perfectly for a nice touchdown pass.
Kiffin doesn't pull the fake extra point and settles for a normal point after attempt.
This ties the game up at 41, as we head into our second overtime.
Stanford 41 - USC 41 2nd OT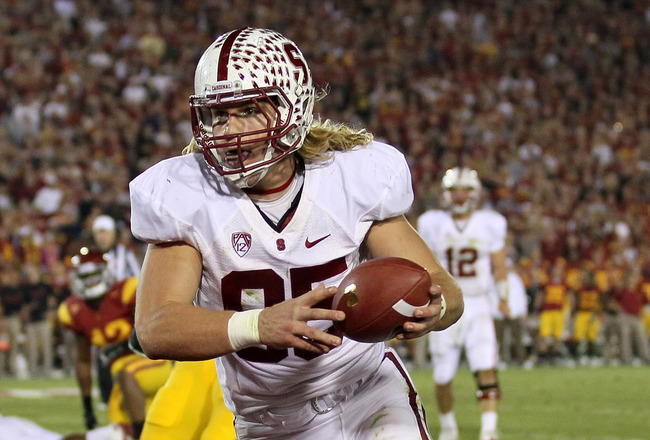 And TOUCHDOWN Stanford to open the overtime portion of our Saturday Night extravaganza.
Stanford took the ball and marched their way down the shortened field to put the Cardinal's up 7.
USC now has the chance to score here to tie the game up to send it into a second overtime.
But knowing USC's head coach Lane Kiffin, he will try a fake extra point after they score a touchdown.
Either way USC is up with a chance to tie.
Stanford 41 - USC 34 OT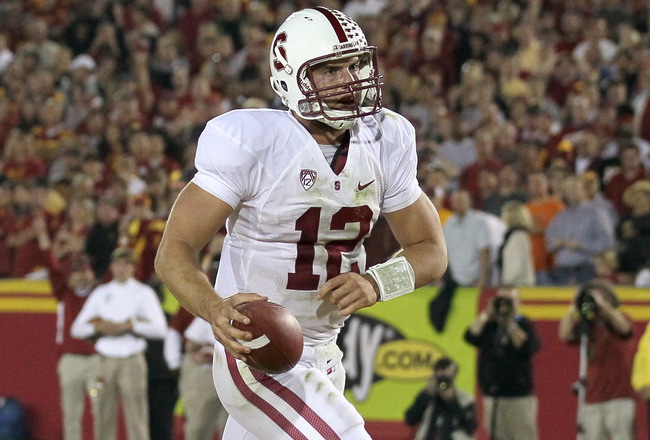 Official call is in, knee down in bounds, clock hits all zeros.
We are heading to overtime.
Put on that extra pot of coffee folks, put those Halloween parties on hold, because this game is far from being over.
But in the mean time enjoy some Search and Destroy from Iggy and the Stooges
Stanford 34 - USC 34 OVERTIME!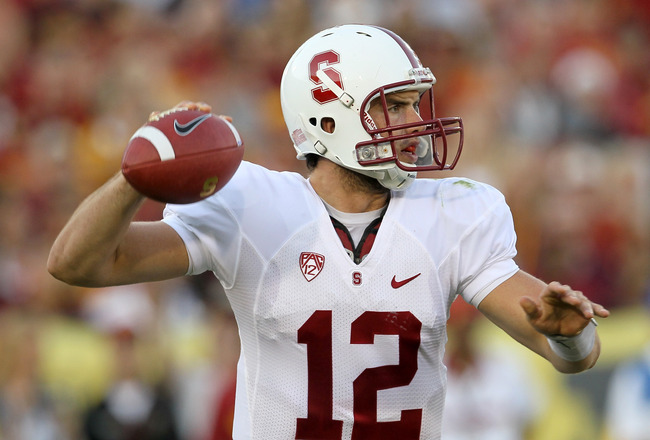 Robert Woods takes a screen pass, rushes right, then left, then takes off for the sideline like a kid being chased for his Halloween candy by a bunch of bullies.
He races and dives out of bounds.
The ref says that the game clock has ticked to 0:00.
But did it? Or didn't it?
The play is under review, but there maybe :01 second left on the clock for a last second field goal to win the game.
Stanford 34- USC 34 :00 left in 4th quarter?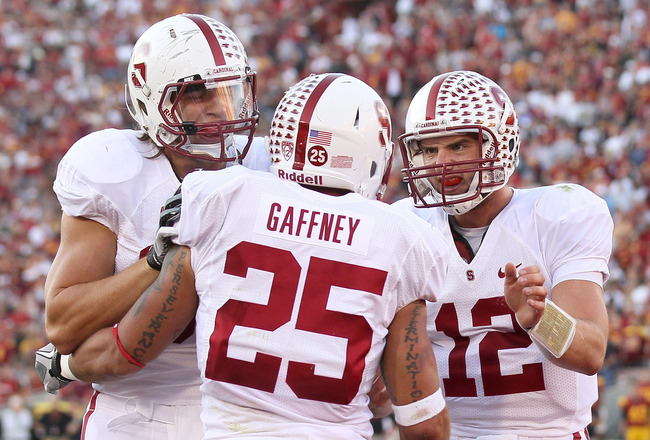 BOOM TOUCHDOWN STANFORD!
Also known as, Andrew Luck = Answer
Also known as, Price is right horn for USC.
On a huge scoring drive for Stanford and Andrew Luck, he drives the Cardinal's on a long 10 play 76 yard touchdown drive.
However, this touchdown drive almost does not happen, if there isn't a personal foul penalty on USC, as USC safety T.J. McDowell crushes a helpless Stanford reciever, resulting in a 15 yard penalty.
But, Stanford with the score and we're tied up
Stanford 34- USC 34 :33 seconds left in 4th Quarter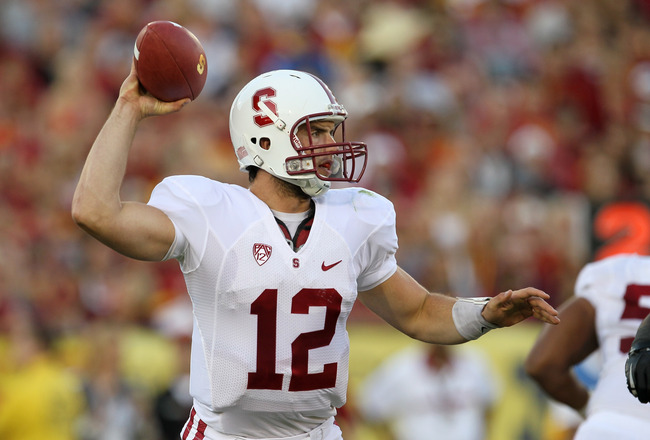 Price is right horn for Andrew Luck and this Stanford offense.
On a overturned converted third down run by Stanford, Luck's first pass on a 3rd and 3, USC's Nickell Robey picks off the Stanford quarterback and runs it back for a 33 yard touchdown.
What a huge play by the USC safety, as his gamble may have just won the game for the Trojans.
Luck and Stanford will get a chance for an epic drive to tie this game up.
But for now Stanford is really on the ropes, as they may see their championship dreams go up in smoke.
USC 34 - Stanford 27 3:03 remaining in the 4th Quarter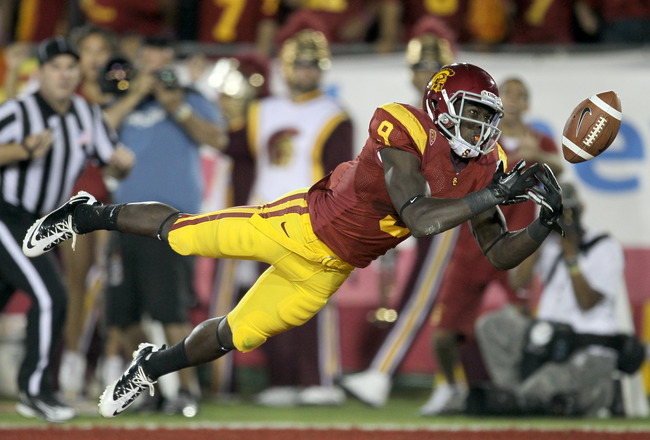 Stanford, counter punch as the defense answers big and holds the USC offense from doing anything on offense.
It forces a punt as, USC's Matt Barkley was unable to convert on a long 3rd and 8.
The USC punt forces the Stanford offense to start well inside of their own side of the field.
Stanford 27 - USC 27 3:18 remaining in the 4th Quarter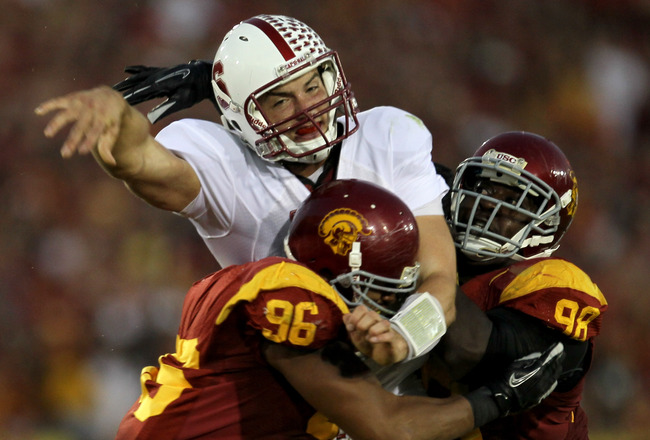 So on 3rd and 9 if you're Stanford you let your best player on the field make a play right?
Apparently no you don't. As the Cardinal's had Andrew Luck spread out wide, and let their running back Tyler Gaffney take the direct snap and get drilled by an USC line backer, well short of the first down.
Stanford was able to get the field goal, but barley.
Now with the game tied it's anyones ball game.
Stanford 27 - USC 27 5:08 remaning in the 4th Quarter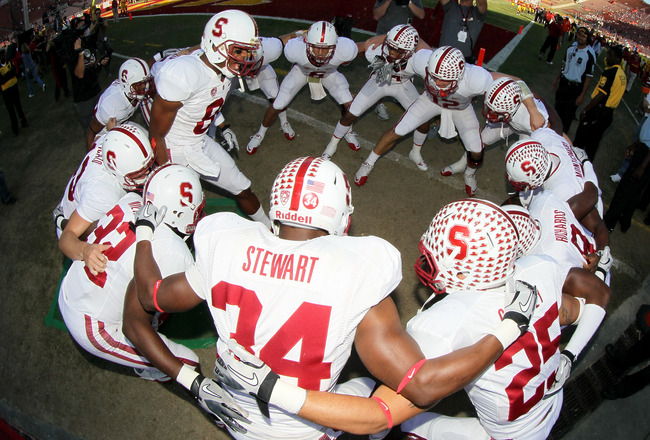 Well, it appears the defenses of Stanford and USC have reappeared.
After the offensive explosion of the third quarter, this whole fourth quarter has been all about the defenses.
USC couldn't muster anything on offense, as they were forced to punt, but a great return for Stanford puts them in great field position to retake this lead.
USC 27 - Stanford 24 7:17 left in 4th Quarter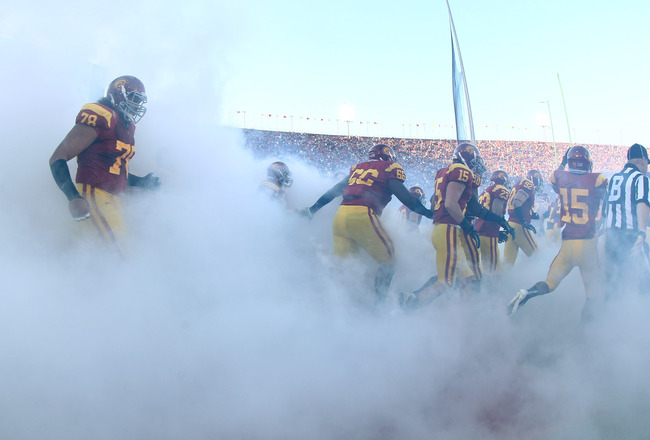 Even with the great field position, Stanford does not have an answer for USC's last score.
Andrew Luck was pressured by the USC defense and was able to make a few throws while on the run.
But, it was a punt in the end for Stanford. However, on the punt, it pinned USC down to the 2-yard line.
USC 27 - Stanford 24 7:47 left in the 4th Quarter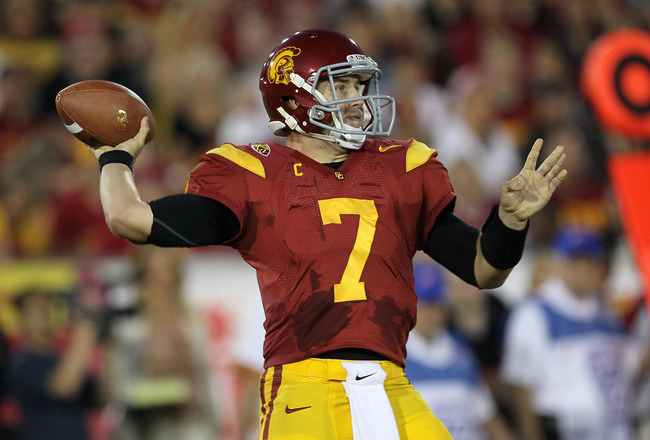 Sea saws go up and then they go down, that is exactly what this game is like.
Stanford answers USC's surge of points by going up 24-20. Now USC comes back swinging with their own counter punch, as Matt Barkley finally get's on the scoreboard by connecting with Marquise Lee with a nice 27 yard pass for a score.
However, after the play as Lee was running into the end zone, he was flagged for taunting, which will shorten the USC kick off.
Andrew Luck is ready to answer, but will USC be able to keep him from scoring?
USC 27 - Stanford 24 13:04 left in 4th Quarter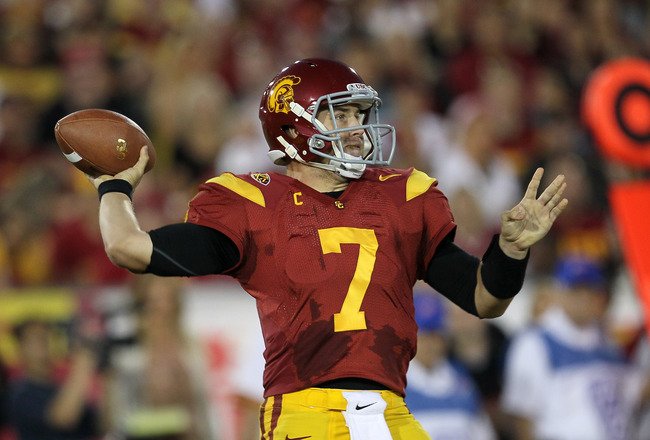 Here we go USC and Stanford fans who have been following along. The Fourth Quarter is about to go down.
Will USC be able to stop Stanford's Andrew Luck?
Will Stanford be able to stop the USC rushing game led by Curtis McNeal?
There's 15minuets to find out if USC can have their biggest win of the season.
Or it's 15 minuets till Stanford proves why Andrew Luck is the best player in college football.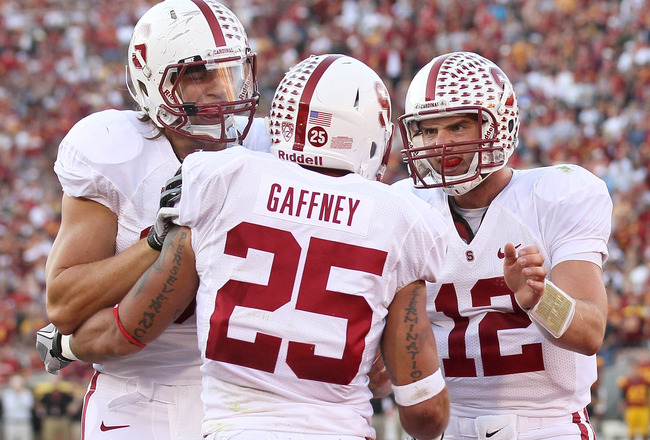 And there's the touchdown from Andrew Luck.
It should have been in the last post, but well, we thought that he would have taken a bit longer.
Luck rushes up the middle for a two yard touchdown run, as fans in Miami start to pen more songs about the future No. 1 Draft pick, that will hopefully go to their team.
Stanford has come roaring back in this game to retake the lead. How will Matt Barkley answer, as Andrew Luck has set the bar high in the second half.
Stanford 24 - USC 20 1:19 left in the 3rd Quarter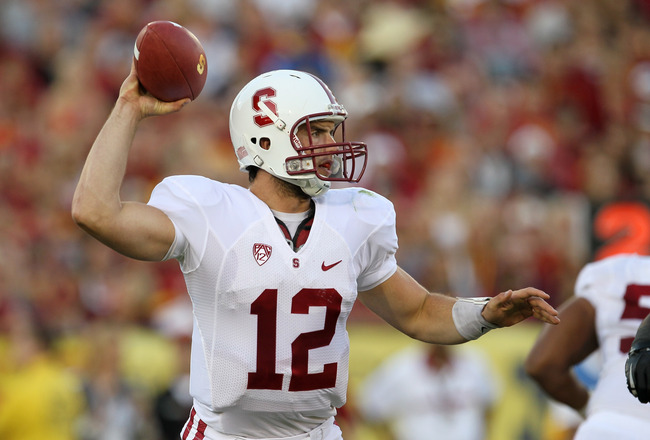 Andrew Luck = Answer, but Matt Barkley and USC not so much answer.
Stanford's defense forces a three-and-out as they only allow seven yards for the USC offense after Stanford's offense brings this team back into the game.
The defensive stop was crucial to this first series, as they were torched on the ground.
USC 20 - Stanford 17 5:00 left in the 3rd Quarter.
UPDATE!
Andrew Luck is really good at football as he connected on a double reverse BOMB to Kyle Montgomery.
DOUBLE UPDATE!
On a third and five Luck rushes for three yards and just misses on a first down. Stanford goes for it on fourth down and converts a HUGE fourth down.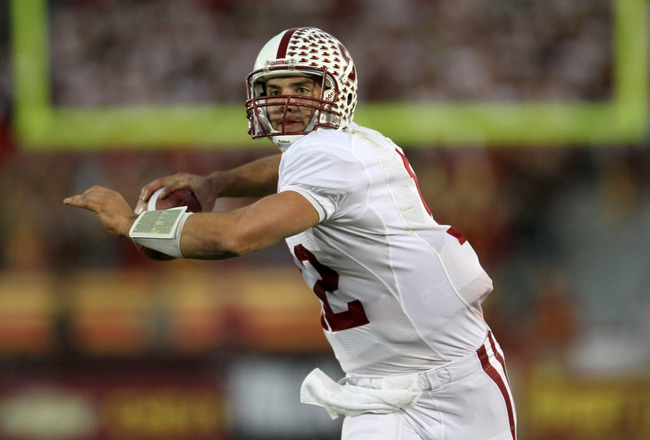 Andrew Luck = Answer!
And just like that Andrew Luck drives his Stanford team down the field on a huge scoring drive to cut this USC lead to three and quiet this Trojan crowd.
The score was a play action play that saw Luck find his tight end Ryan Hewitt for a 5 yard touchdown pass.
The drive was a masterful 9 play 75 yards touchdown drive for 3:56 min
USC 20 - Stanford 17 6:34 left in 3rd Quarter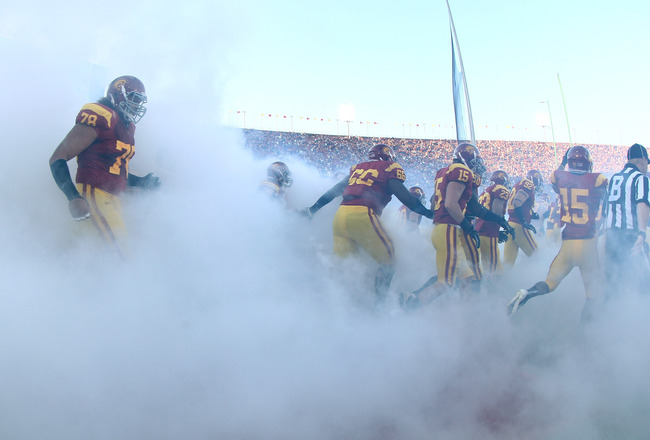 Welcome to the Curtis McNeal show everybody!
The USC running back takes a hand off and knifes through the Stanford defense for another rushing touchdown.
McNeal went untouched for a 25 yard touchdown run, his second of the game and now has 99 yards on 9 attempts, after taking over for USC's starting running back who was lost on the opening play of the game.
The Cardinal's are on the ropes and it's not looking good for Stanford. Much like it didn't look good for Ivan Drago in Rocky IV.
USC 20 - Stanford 10 3rd Quarter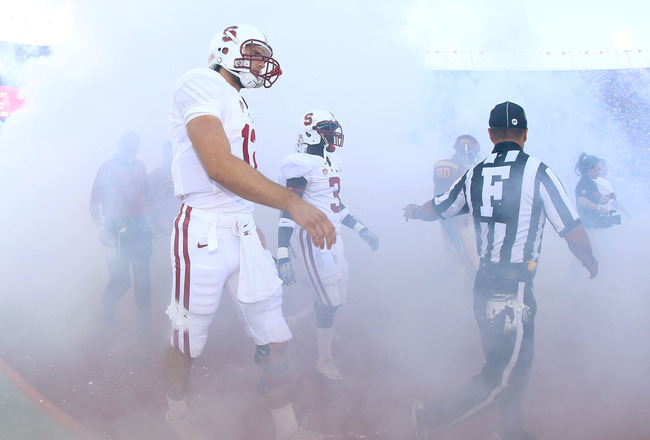 USC forces another Stanford punt, as after a bad series by Andrew Luck and this Stanford offense, they are forced to punt and it was a bad one.
On the drive, the USC defense forced more pressure on Andrew Luck, even forcing a fumble from the Stanford QB.
USC takes over on the Stanford 40 yard line.
USC 13 - Stanford 10 12:15 left in 3rd Quarter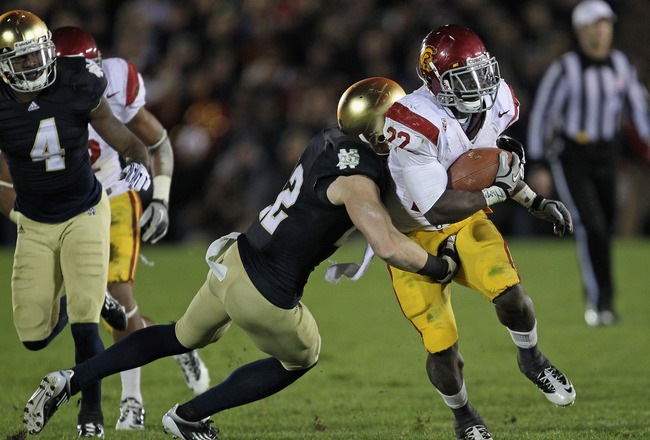 Now that's how you open a second half!
USC explodes to their first lead of this game, as a huge run from USC's RB Curtis McNeal that went for 61 yards gives USC the lead.
The touchdown not only was the longest play by USC today, but also is the first time that Stanford is trailing in a game this season.
What will not show up on the stat sheet from McNeal's run was a big block from USC's Robert Woods down the sideline. His block helped McNeal blow past the the Stanford secondary.
USC 13 - Stanford 10 13:49 3rd Quarter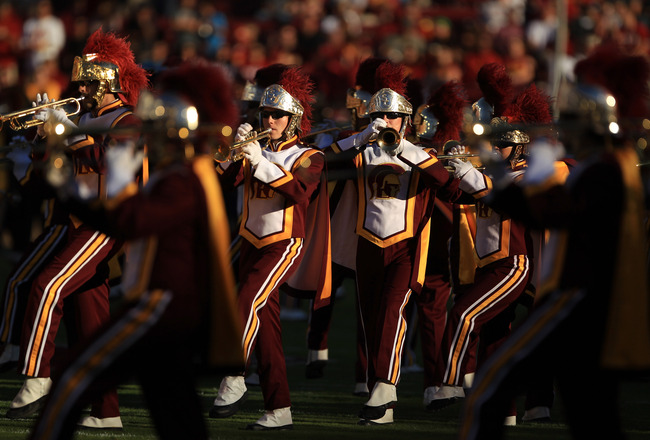 Half Time stats
USC Leaders:
QB Matt Barkley 14 of 25, 127 yards, 5.1 passing yards per attempts, 0 touchdown, 1 interception
RB Curtis McNeal 5 attempts, 3 yards, 0.6 rushing average, 0 touchdown
WR Marqise Lee 3 receptions, 32 yards, 10.7 yards per catch, 0 touchdown
Stanford Leaders:
QB Andrew Luck 9 of 14, 98 yards, 7 passing yards per attempts, 1 touchdown, 0 interception
RB Stepfan Taylor 8 attempts, 35 yards, 4.5 rushing average, 0 touchdown
WR Griff Whalen 1 reception, 23 yards, 23 yards per catch, 0 touchdown
USC is 3 of 8 on 3rd down while Stanford is 3 of 7 on 3rd down.
USC has 9 first downs while Stanford has 8 first downs.
USC has 0 penalties while Stanford has 5 for 40 yards.
Stanford leads the time of possession 16:08 to 13:41
Enjoy Half Time, with some Nick Cannon Drumline action!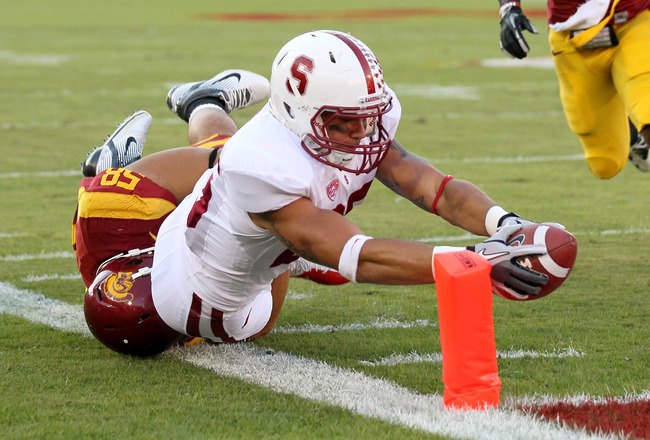 And we are at Half Time.
But, before we get into the Half Time stats, USC drilled a 50 yard field goal with :14 seconds left on the game clock. That field goal capped off a seven play 26 yards drive, that saw USC miss on a 3rd and 17 where Barkley hit a short nine yard pass to Xavier Grimble.
The field goal takes the Trojans only down by four heading into Half Time, where they will get the ball first in the second half.
Score at the end of the 2nd Quarter: Stanford 10 - USC 6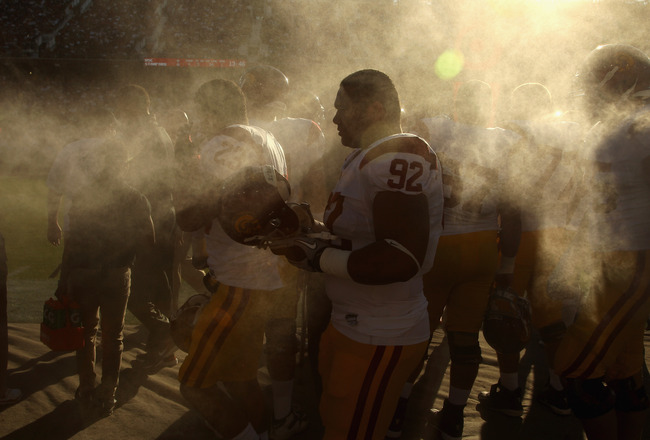 And it's a USC punt, as Matt Barkley fails to convert a long third and eight.
On the seven play 43 yard drive, USC had to rely on a pass interference call to keep the drive alive.
Stanford takes over with the clock winding down to Half Time. This game has been more about the defenses, than the quarterbacks so far.
Let's see if Stanford can drive down to score before half time.
UPDATED:
Stanford couldn't do anything on offense as USC's defense forced another Stanford punt.
USC get's the ball back on their 45 yard line with 2:48 left before Half Time.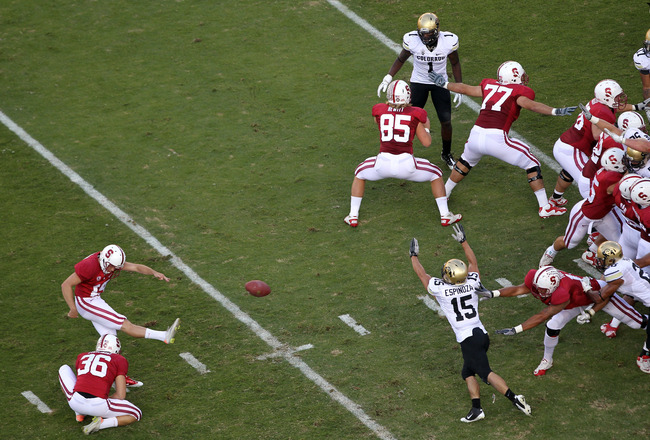 Three points is good, but when you get an interception that puts you inside of your opponents 50-yard line, you should be able to get a touchdown.
This is what happened to Stanford, as their drive that started on the 40, ended at the eight yard line, with the Trojan's defense putting a lot of pressure on Luck, once again making him force throws.
Two big stops inside of the ten yard line for USC led to this field goal from Stanford.
With 7:10 left in the 2nd Quarter the score is: Stanford 10 - USC 3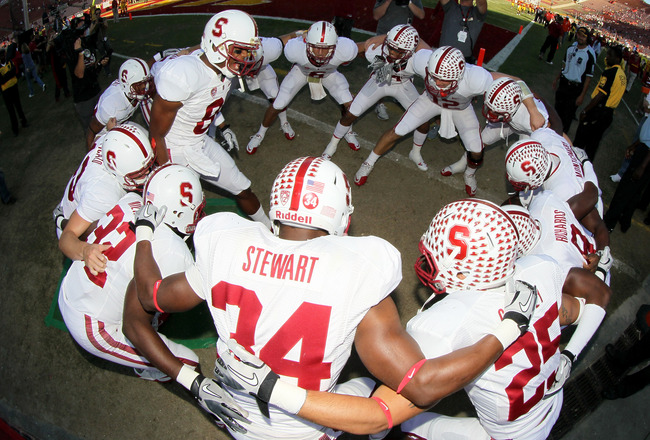 And we have our first turnover of the game as USC's Matt Barkley was picked off by Stanford's A.J. Tyler.
Stanford has the ball well inside of USC's territory, as they are primed to take a big lead.
This article is
What is the duplicate article?
Why is this article offensive?
Where is this article plagiarized from?
Why is this article poorly edited?