Bill Buckner: 25th Anniversary, a Fan Says Thank You
October 29, 2011
Pool/Getty Images
I have no business being a Boston Red Sox fan.
I have no connection to New England. I have never lived there, and as far as I know, no one in my family has either. I played America's pastime from T-ball to high school, and none of my teams were Sox of any kind.
But I am a Red Sox fan, and I have Bill Buckner to thank for it.
This week, we observed the 25th anniversary of Game 6 of the 1986 World Series—a game that is forever branded as the Buckner game.
I was 14 years old.
I grew up west of the Rocky Mountains watching Fernando Valenzuela pitch for the Dodgers. I didn't know that the Red Sox and Yankees were heated rivals. I knew of Babe Ruth, but I knew not the Curse of the Bambino.
On that fateful night, I sat in my grandmother's basement and watched Game 6 of the World Series between the Mets and the Red Sox. I had no horse in the race, so I picked a team. I'd heard that the Red Sox had a pretty good pitcher, a young guy by the name of Roger Clemens. Call it kismet or destiny, but nothing about the Mets appealed to me, so I decided to root for the Red Sox.
In the bottom of the 10th inning, with two outs and Bob Stanley on the mound, Mookie Wilson stood at the plate. Stanley worked a full count—that's right, the BoSox were one strike away from a World Series victory—when Buckner made me a Red Sox fan for life. Why? Because of the story—a story that began in 1920 and climaxed in 2004.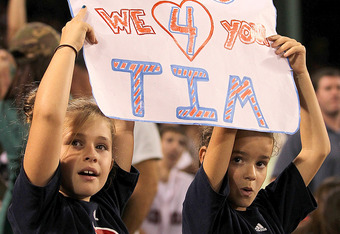 Jim Rogash/Getty Images
In the years after that series, I did my research: No, No, Nanette, Carl Yastrzemski, Carlton Fisk and, eventually, Pedro in the eighth.
If Buckner makes a not-so-routine ground ball—on a bad ankle—then Red Sox nation and I am happy for a night. But he didn't, and I became invested.
I know what you're thinking. You don't get it. You're an outsider. You can't get it. The Red Sox aren't just a team—they're a culture.  
It's okay. I get that I don't get it.
In another classic Game 6 of the World Series—one that featured Pete Rose and Johnny Bench—the Red Sox forced a Game 7 with the Reds when Carlton Fisk went yard down the third-base line. I didn't see it. It was 1975. I was three. But I love the retelling of it by Robin Williams' character in Good Will Hunting.
I did see Boston Red Sox manager Grady Little walk to the mound in Game 7 of the 2003 ALCS against the Yankees, pat Pedro Martinez on the butt and walk back to the dugout alone. Martinez proceeded to give up a 5-3 lead, letting Jorge Posada tie the game and send it into extra innings, where Aaron Boone put a single shot over the left field wall to win the game 6-5 and extend the dry spell to 85 years.
So close. I was beginning to feel a little of what Boston fans had endured for generations.
Then came 2004.
Al Bello/Getty Images
Red Sox and Yankees, again. Down three games to none. "We're just a bunch of idiots." Yet, the Red Sox go on to become the first major league team to overcome a 3-0 postseason series deficit, making the Yankees the first team in history to give up a 3-0 postseason series lead.
Wow, that felt good. Go ahead and wave all your rings at me; most of those occurred before I was born—they carry no meaning for me. There may come a time when another team gives up a 3-0 postseason series lead, but you'll always be the first.
It also felt good when the Red Sox reversed the curse and beat the St. Louis Cardinals in four straight to win their first World Series in 86 years. But you know what? The World Series almost seemed like an afterthought that year, a foregone conclusion, the denouement. I think the curse was reversed when the BoSox beat their rivals in never-before-seen fashion.
I saw it. I experienced it. I was invested because of Bill Buckner.
Given the way that the Red Sox won that year, a 3-0 series comeback against their hated rival and the most winning club in baseball, considering their history back to 1920, the great Bambino and their near-miss the previous year—given all that, would you trade 86 years, Game 7 of the 2004 ALCS and a World Series victory for 26 previous championships (20 of which happened before I was even born)?
I say no.
I'll take it just the way fate designed it, because that's the story. A little bit of it is my story. And now I write stories. You may still say that I don't get it, and that's okay. I'm still a Red Sox fan. I wear my jersey with pride knowing that I witnessed the final innings of the greatest story in MLB history.
Would Buckner take back that moment in Game 6 of the '86 World Series if he could? Of course, he would—anyone would. Unfortunately, he can't take it back. But for what it's worth, thanks Bill.