October 29, 2011
It's the last weekend in October, and that means it's crunch time in college football.
A loss this late in the season will dash the title hopes of the unbeatens, and teams that lost early on are fighting to make their way back into the BCS picture.
With so many undefeated teams so late in the season—eight to be exact—no team with plans to play in January of 2012 can afford to slip up.
Because there is still no playoff in the FBS, the only ranking that really matters once the calendar turns to November is each team's BCS number.
The No. 1 and No. 2 teams will take care of each other next week when LSU faces off against Alabama, leaving Oklahoma State, Boise State, Clemson, Stanford and even Kansas State with golden opportunities to catapult towards the top of the standings.
With favorable schedules (Wisconsin, Virginia Tech), key matchups (Oregon vs. Stanford, Arkansas vs. LSU) and conference championship games remaining, one-loss teams like the Badgers, Ducks, Razorbacks and Hokies can still climb their way back up near the top of the BCS.
And for a team like Houston that is stuck at No. 17 despite a perfect record because of its mid-major status, an undefeated season will inevitably move the Cougars into the top 10 by season's end.
Keeping in mind that college football is wildly unpredictable, here's a look at what the BCS standings could look like come December 4:
1. LSU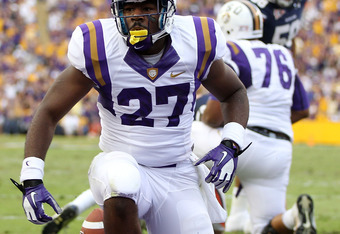 LSU has a great chance to run the table and finish No. 1.
Jamie Squire/Getty Images
2. Stanford
3. Clemson
4. Boise State
5. Oklahoma
6. Alabama
7. Wisconsin
8. Virginia Tech
9. Houston
10. Oklahoma State
11. Oregon
12. Arkansas
13. Michigan State
14. South Carolina
15. Arizona State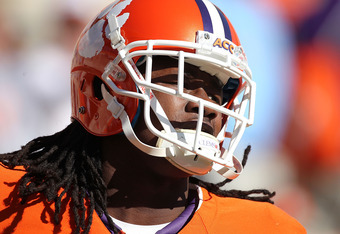 Clemson could finish unbeaten and still not make the title game.
Scott Halleran/Getty Images
16. West Virginia
17. Texas A&M
18. Georgia
19. Texas Tech
20. Nebraska
21. Southern Miss
22. Kansas State
23. Cincinnati
24. Penn State 
25. Michigan
Like the new article format? Send us feedback!