Navy vs. Notre Dame: Live Score, Highlights and Analysis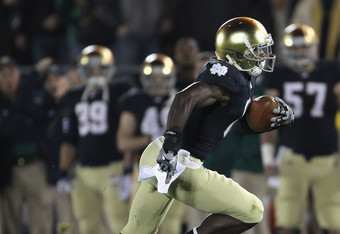 Jonathan Daniel/Getty Images
Notre Dame 56, Navy 14 -- Final
After an ugly 31-17 loss to USC last Saturday, Brian Kelly and Co. look to rebound against a Navy team reeling from four straight losses.
A win against the Midshipmen would set the Irish back on track after their four-game winning streak was dismantled against USC.
Because the Irish are ineligible for a BCS game, it's time for Brian Kelly to consider playing freshmen. He will do so, as the head coach stated he will be playing George Atkinson in the backfield on Saturday.
Keep it here for live scores, highlights and analysis
Through three plus quarters of action, junior linebacker Manti Te'o has recorded 10 tackles. It's easily the most impressive game for the potential All-American this season.
He faces a very difficult decision at the conclusion of this season as to whether or not he will enter the 2012 NFL Draft.
Many draft sites are predicting him as a first-round selection, so the temptation is certainly there for the native of Hawaii.
Notre Dame's defense has been extremely reliant upon Te'o, so his decision will be somewhat of an off-season soap opera.
The biggest storyline surrounding the Notre Dame Football program entering today's contest against the Naval Academy was a select few comments head coach Brian Kelly made earlier in the week.
"You can see the players i recruited here. You know who they are. We've had one class of recruiting kids that I've had my hand on. The other guys here are coming along. But it's a process. It can't happen overnight."
Obviously, those comments had the potential to divide the team, but after one half of football, it's apparent that the team is playing as one.
While those comments made by Kelly weren't the best way to address the media, they certainly lit a fire under his players.
However, the underlying message in his comments was getting his players to understand the level at which they need to perform on a week to week basis.
Consistency hasn't been Notre Dame's strong suit, so Kelly's frustration is justifiable.
We'll have to wait and see if Kelly and Co. continue to take out their frustrations on a overmatched Navy squad.
Cierre Wood plows ahead for his second touchdown of the day, making it a 35-7 game with 3:37 remaining in the first half.
One week after a devastating loss to USC in the first home night game in 21 years, Notre Dame seems to have healed itself in less than a half of play against Navy.
The team seems to be hitting on all cylinders after looking quite sluggish on both sides of the football against USC.
Also, comments made by Brian Kelly that could have potentially divided the team seem to be water under the bridge at this point.
The question to ask is whether or not Notre Dame can maintain a consistent level of play for the remainder of the season.
Notre Dame fans will be able to breathe easily when they don't have to worry about which Notre Dame team will show up.
After recovering a Navy fumble, Jonas Gray pounds his way into the endzone to put the Irish ahead 28-7.
Tommy Rees hooks up with Michael Floyd for the Irish touchdown.
Current score: Notre Dame 21, Navy 7
For second time in as many weeks, Notre Dame turned the ball over on an attempted lateral screen pass.
It's silly mistakes such as that that are killing the Irish week in and week out.
Whether it's a matter of discipline or a lack of preparation, the amount of turnovers committed by this team is unseemly.
While Brian Kelly can't be on the field to prevent them from happening, the turnovers are ultimately accredited to him.
It's up to Kelly to force his team to pay attention to detail and to do the small things well.
Cierre Wood shakes and bakes his way into the endzone for the Irish's second score of the game.
Current score: Notre Dame 14, Navy 0
Jonas Gray rumbles ahead for Notre Dame's first score of the game.
Current score: Notre Dame 7, Navy 0
After one Navy possession, it's clear that Notre Dame's defense is up to the challenge.
Last year's 35-17 loss to the Midshipmen is surely lingering in the minds of every defensive player on the Irish roster.
What made that loss even worse is the fact that defensive coordinator Bob Diaco admitted that he was outschemed by the Navy offensive coaching staff.
Those days are long gone, as Notre Dame shut down Army's triple option attack late last season, and stifled Air Force's offense on October 8th.
Kelly's squad needs to continue to execute defensive assignments, avoid turnovers and maximize possessions.
On a quick note, regular Navy starting quarterback Kriss Proctor is a no-go after he dislocated his throwing elbow last week.
Sophomore quarterback Trey Miller will be starting in his place.
In an effort to get some of his younger players more involved, head coach Brian Kelly will be playing freshman running back George Atkinson in an expanded role this afternoon.
There's been much debate as to whether or not Kelly and his staff are looking forward to next season, which wouldn't be a surprise after a disappointing 4-3 start.
It's difficult for fans, especially Notre Dame fans, to be patient, but it's an excellent choice for Kelly to begin developing his young talent.
It may be frustrating in the current moment, but will pay dividends in the long run.
If you're a Notre Dame fan, think of the Brian Kelly era in a big picture perspective. Develop talent now, win big next season and in the years to follow.
Heading into this afternoon's contest between Notre Dame and Navy, the Fighting Irish have reason to smile.
That may seem like a strange comment to make at a time like this, but it's for good reason.
The Midshipmen will be without do-it-all quarterback Ricky Dobbs who graduated in the spring. Dobbs was notorious as a Fighting Irish killer in his year's as Navy's starting quarterback.
However, Navy seems to replace quarterbacks, or any position, with ease.
They pride themselves on being a well-oiled machine of interchangable parts. That notion has proven true this season, as quarterback Kriss Proctor has done an excellent job after taking the reigns from Ricky Dobbs.
Today's game will be the biggest test that Proctor and Co. have faced all season.
There's no doubt that Navy will give an outstanding effort for all 60 mintues of the game, and it's up to Notre Dame to match that level of intensity.
The game should shape up to be a memorable one.
We're a few hours away from kickoff of Notre Dame's annual contest with the Midshipmen of Navy.
After winning 43 consecutive games in the series, the Irish have faltered against Navy three of the last four seasons.
The Irish defenses have seemingly been befuddled by Navy's triple-option attack, but showed improvement against Army at the end of last season, and against Air Force this season.
The other weakness that has haunted the Irish against Navy is the team's inability to play with the same type of passion and heart that Navy displays each and every year in this rivalry game.
Match that level of energy, and the Irish should walk away with the victory today. Play with their heads hanging, and another embarrassing loss to Navy will be in the books.
Let's hope the Irish have a fire lit beneath them this afternoon.
This article is
What is the duplicate article?
Why is this article offensive?
Where is this article plagiarized from?
Why is this article poorly edited?

Notre Dame Football: Like this team?