Most Valuable Players for Each MLB Team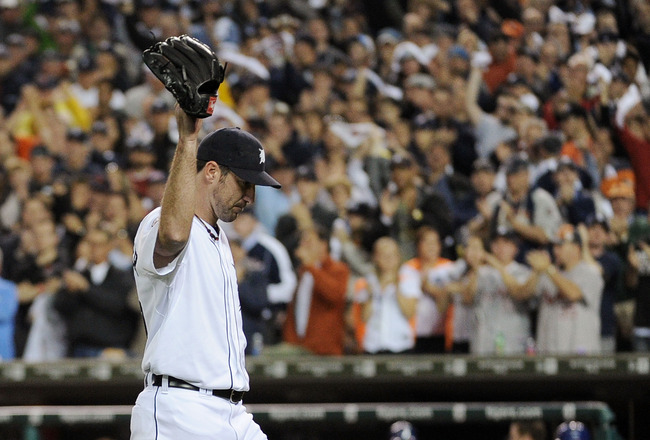 Harry How/Getty Images
With St. Louis' World Series victory, the 2011 Major League Baseball season has drawn to a close.
The season had it's ups and downs, heroes and goats, surprises and more of the same old thing.
Each season, one player from each league receives the Most Valuable Player award. It's usually a position player, as pitchers have the Cy Young award to recognize their best.
Some teams recognize their individual MVP's and some don't. I based this list on the "Wins Above Replacement" statistic. The individual with the highest contributing number on each squad made the cut. The list is in ascending order, with the "least valuable" Most Valuable Player first.
San Diego Padres: Nick Hundley (WAR: 3.4)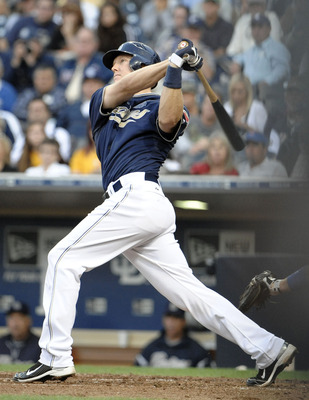 Denis Poroy/Getty Images
Hundley split catching duties with Rob Johnson and ended up playing in 82 games.
Eighth on the team with 308 plate appearances, Hundley spent most of May and July on the DL, but managed to club nine home runs with 29 RBI, hitting .288 with a .477 slugging percentage, the team's best with at least 300 plate appearances.
Washington Nationals: Tyler Clippard (WAR: 3.4)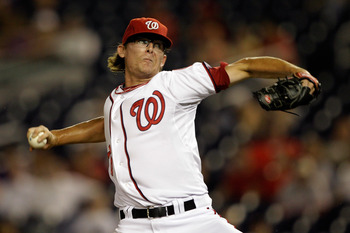 Rob Carr/Getty Images
In his fourth season as a National, Clippard appeared in 72 games, posting a 3-0 record with a 1.83 ERA.
Clippard allowed 4.9 hits per nine innings and a WHIP of 0.838. He also struck out 104 batters in 88.1 innings.
Clippard has not been used as a closer, but his stuff is ridiculous. It's only a matter of time before he gets the nod.
Chicago Cubs: Aramis Ramirez (WAR: 3.6)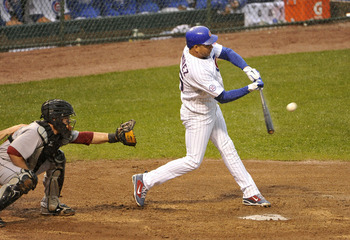 Brian Kersey/Getty Images
Ramirez, the Cubs starting third baseman, hit an NL seventh best .306 with 26 home runs and a team leading 93 RBI. He also led the team with a .510 slugging percentage.
Ramirez also has a glaring home field advantage, hitting 50 points better at Wrigley Field versus on the road. The Cubs use him in the third or fourth spot in the lineup.
Atlanta Braves: Tim Hudson (WAR: 3.7)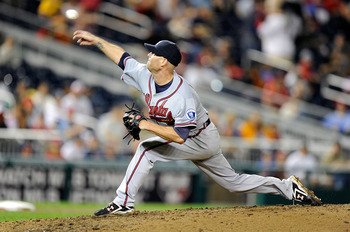 Greg Fiume/Getty Images
In 13 Major League seasons with Oakland and later with Atlanta, Hudson has never posted a losing record.
2011 would be no exception, as he completed the year at 16-10 in 33 starts. His WHIP of 1.140 was seventh best in the NL.
Honorable Mentions: Hudson, along with Jair Jurrjens, Eric O'Flaherty, and Jonny Venters all finished the season with a WAR rating of 3.7. Hudson took the cake with his team leading total of 215 innings pitched.
Chicago White Sox: Mark Buehrle (WAR: 3.7)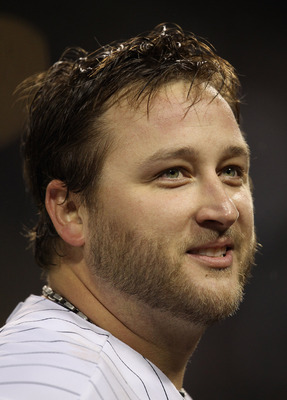 Jonathan Daniel/Getty Images
In Buerhle's 12th season with the White Sox, he provided more of what he has always provided: a solid number one starter.
Buerhle led the team in wins, with a 13-9 record. He also led the team in innings, with 205.1 and with the best ERA amongst the starting pitchers, with a 3.59.
Minnesota Twins: Scott Baker (WAR: 3.8)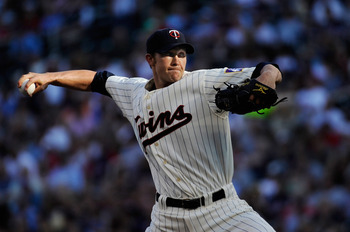 Hannah Foslien/Getty Images
Although he missed most of August and September, Baker still led the Twins starters with a 3.14 ERA, compiling an 8-6 record.
In 134.2 innings pitched, Baker led Minnesota with 123 batters struck out. His 1.173 WHIP also led the Twins, and would have ranked with the AL leaders if he had met the minimum required innings.
Baltimore Orioles: J.J. Hardy (WAR: 4.1)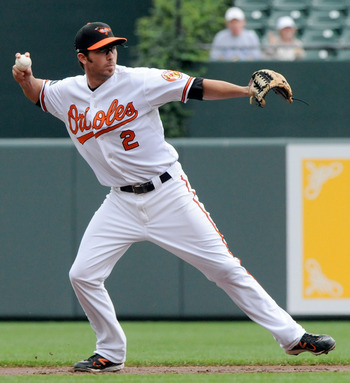 Steve Ruark/Getty Images
After six seasons with the Brewers, Hardy's first season with the Orioles was a success. He hit 30 home runs in only 129 games as the Orioles starting shortstop, good for second most on the team.
He averaged .269 in 567 plate appearances for Baltimore, collecting 80 RBI batting mostly from the leadoff position.
Cleveland Indians: Justin Masterson (WAR: 4.1)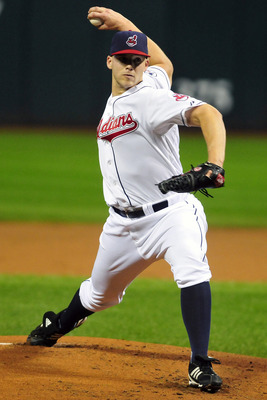 Jason Miller/Getty Images
Cleveland's opening day No. 3 starter, Masterson led the Indians in wins, ERA and starts, with a 12-10 record and a 3.21 ERA in 34 games (33 starts).
Masterson struck out 158 in 216 innings pitched for Cleveland. He was second in the AL in home runs allowed per nine innings pitched, with 0.458.
Houston Astros: Carlos Lee (WAR: 4.6)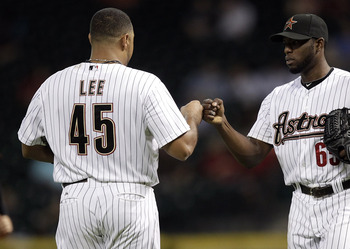 Bob Levey/Getty Images
Lee played 80 games in left field and 79 at first base, making a total of seven errors.
In 155 games, Lee hit .275. He led the team with 653 plate appearances, 585 at bats, 66 runs, 161 hits, 38 doubles, 18 home runs and 94 RBI.
On an Astros team where everything seemed to go wrong this season, Lee came to play. He had 44 multi-hit games in 2011, also leading the Astros.
Seattle Mariners: Felix Hernandez (WAR: 4.7)
Brandon Wade/Getty Images
A year after winning the Cy Young award, Hernandez went 14-14, leading the Mariners in wins.
He also struck out 222 batters, fourth best in the AL. He pitched five complete games out of 33 starts for Seattle, compiling a 3.47 ERA and a 1.220 WHIP.
His 233.2 innings pitched also led the team and was sixth best in the league.
Oakland A's: Gio Gonzalez (WAR: 5.0)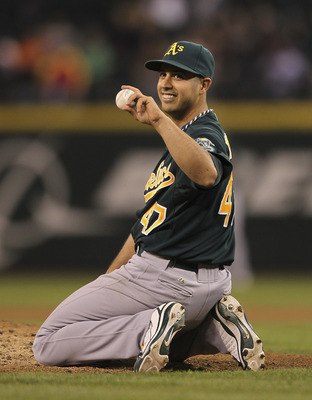 Otto Greule Jr/Getty Images
Gonzalez was invited to his first All-Star game this season.
The opening day No. 3 starter for Oakland completed the season as the A's leader with 16 wins against 12 losses.
His 3.12 ERA and 197 strikeouts also led the team, placing him in the AL's top 10 in both categories.
St. Louis Cardinals: Albert Pujols (WAR: 5.4)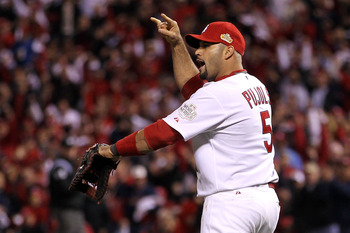 Ezra Shaw/Getty Images
Pujols is in annual contention for the NL MVP award. This season was no different for the slugger.
In 11 seasons with St. Louis, Pujols has never hit less than 32 home runs. He also had hit at least 100 RBI's in every season until 2011 (he had 99).
Pujols had a .299 average and 37 homers in leading his team to their eventual World Series Championship.
Honorable Mention: Lance Berkman collected a 5.2 WAR rating this season, narrowly missing the Cardinals top spot.
Arizona Diamondbacks: Ian Kennedy (WAR: 5.5)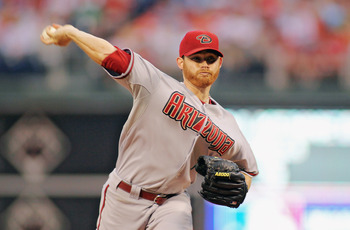 Len Redkoles/Getty Images
On April 25, Kennedy struck out 10 Phillies and allowed three hits and zero walks in blanking Philadelphia 4-0. This performance was the best in a series of great performances by the 26-year-old right hander.
Kennedy's 21-4 record was the NL benchmark in 2011 for wins. He also placed seventh in the ERA race, with a 2.88 clip.
He posted a league sixth best WHIP of 1.086 and an NL eighth best 198 strikeouts.
Pittsburgh Pirates: Andrew McCutchen (WAR: 5.5)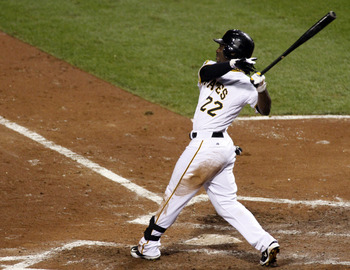 Justin K. Aller/Getty Images
McCutchen was invited to his first All-Star game this season, as the Pirates centerfielder of the future became their man of the present.
Batting mostly third in the order, McCutchen hit .259, leading the team with 23 stolen bases, 23 round trippers and 89 RBI. He also showed patience at the plate, drawing an NL fifth best 89 free passes.
Texas Rangers: Mike Napoli (WAR: 5.5)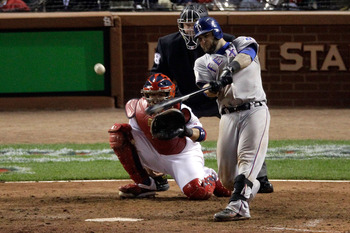 Rob Carr/Getty Images
In 113 games for Texas at first base and behind the plate, Napoli made a total of three errors for a fielding percentage of .996.
His .631 slugging percentage and 30 home runs were both good for 10th highest totals in the AL. Batting mostly sixth and seventh in the order, he hit .320, which was second best on the AL Champion Rangers.
Florida Marlins: Mike Stanton (WAR: 5.7)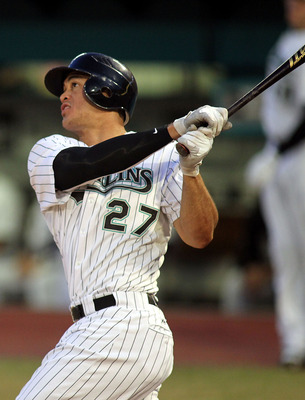 Marc Serota/Getty Images
Still only 21 years old, Stanton already has 56 home runs.
Batting mostly from the sixth spot in the order, the Marlins right fielder hit .262 with an NL fifth best 34 home runs and 87 RBI.
I'm calling it now; this guy will hit 600 home runs.
Colorado Rockies: Troy Tulowitzki (WAR: 5.8)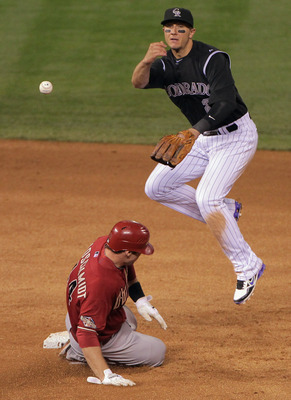 Doug Pensinger/Getty Images
In 143 games, Tulowitzki hit .302 with 30 home runs and an NL fifth best 105 RBI in 606 plate appearances. He garnered his second consecutive selection to the All-Star roster.
He could do it in the field, too, boasting a .991 fielding percentage at shortstop.
New York Mets: Jose Reyes (WAR: 5.8)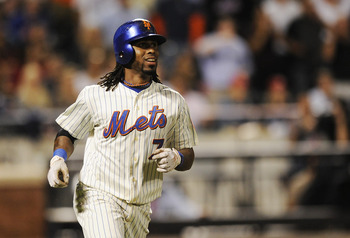 Patrick McDermott/Getty Images
Reyes batted leadoff for the Mets in 126 games at shortstop. He was selected to play in the All-Star game for the fourth time.
He led the NL with a .337 batting average and 16 triples. He also swiped a league sixth best 39 bases.
Reyes also makes excellent contact, walking 43 times versus 41 strikeouts.
Kansas City Royals: Alex Gordon (WAR: 5.9)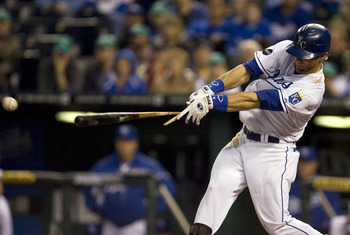 Ed Zurga/Getty Images
Gordon batted leadoff for the Royals, hitting an AL 10th best .303. He led the team with 23 home runs, knocking 87 runs in.
He also stole 17 bases and led Kansas City with 67 walks, helping him to a .376 OBP.
From his position in left field, Gordon had a very respectable .991 fielding percentage.
San Francisco Giants: Pablo Sandoval (WAR: 6.1)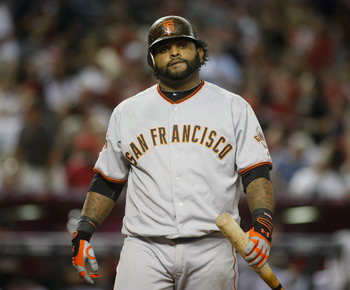 Ralph Freso/Getty Images
Even though he missed the month of May on the DL, the Giants starting third baseman made his first All-Star appearance.
Incredibly, his 117 games for the Giants this season represented the third highest total on the team. He led the team with a .323 batting average, 23 home runs and 70 RBI.
Tampa Bay Rays: Evan Longoria (WAR: 6.3)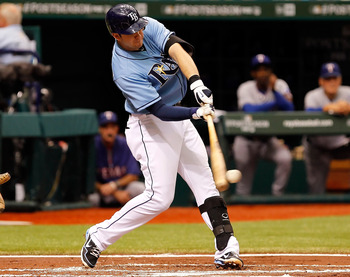 J. Meric/Getty Images
In 133 games, the Rays third baseman hit a career low .244.
From his spot batting third in the order, he did manage to lead the team with an AL eighth best 31 home runs, 99 RBI and an AL eighth best 80 walks, helping him to a team best .355 OBP.
Cincinnati Reds: Joey Votto (WAR: 6.5)
Jared Wickerham/Getty Images
Batting third in the order, the All-Star first baseman hit an NL best 40 doubles, connecting on 29 home runs and collecting a league sixth best 103 RBI. His 110 walks led the NL, which helped him to his league leading OBP of .416.
He also had a fielding percentage of .996 from first base for the Reds over a career high 161 games.
Los Angeles Angels: Jered Weaver (WAR: 6.6)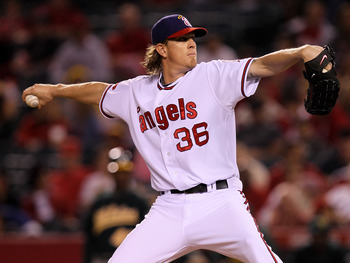 Stephen Dunn/Getty Images
The Angels opening day starter, Weaver collected an 18-8 record, third highest win total in the AL, while his 2.41 ERA and 1.010 WHIP each ranked second in the league.
After six games in April, Weaver was 6-0 with a 0.99 ERA, allowing 26 hits and 10 walks while striking out 46 in 45.2 innings pitched. He was selected to his second All-Star game.
New York Yankees: C.C. Sabathia (WAR: 6.9)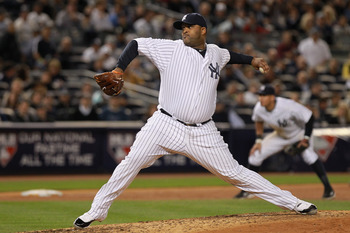 Nick Laham/Getty Images
With 19 wins against eight losses, as well as his 230 strikeouts, the Yankees opening day starter ranked second in the AL.
He garnered his fifth All-Star selection while posting a 3.00 ERA.
Sabathia again proved himself a workhorse, pitching 237.1 innings. In four of the last five years, he has finished in the AL top four in innings pitched.
Boston Red Sox: Jacoby Ellsbury (WAR: 7.2)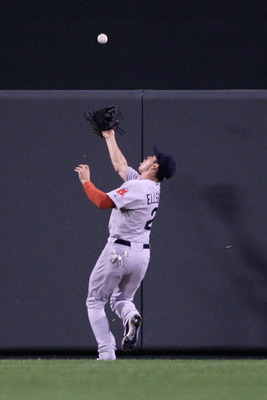 Rob Carr/Getty Images
Batting leadoff, the Red Sox centerfielder hit an AL fifth best .321.
Another new member of the 30/30 club, Ellsbury stole an AL fourth best 39 bases while clubbing an AL fifth best 32 home runs and a league sixth best 105 RBI.
Ellsbury was invited to his first All-Star game while playing 154 error free games for the Red Sox in center field.
Philadelphia Phillies: Roy Halladay (WAR: 7.4)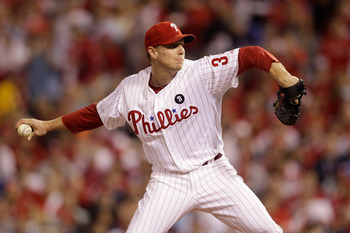 Rob Carr/Getty Images
On a staff of aces, Halladay got the nod as the opening day starter for the Phillies.
In his second season with Philadelphia, Halladay compiled a 19-6 record, and his win total was good for third most in the NL.
Loaded with control and power, Halladay walked 35 while striking out 220 in 233.2 innings pitched. He was selected to play in his eighth All-Star game and is a leading candidate for his third Cy Young award.
Milwaukee Brewers: Ryan Braun (WAR: 7.7)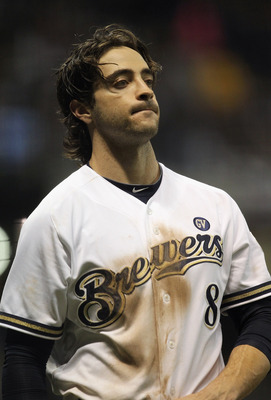 Jonathan Daniel/Getty Images
Braun, or "the Hebrew Hammer," played left field and batted third for the Brewers.
His .994 OPS led the NL, and he was selected to his fourth consecutive All-Star game.
His .332 batting average was the NL's second best, just behind Jose Reyes. He was also made the 30/30 club for the third time, with 33 home runs and 33 stolen bases, bringing in 111 RBI. All totals were good for the NL top 10.
He is also great friends with teammate Prince Fielder
Toronto Blue Jays: Jose Bautista (WAR: 8.5)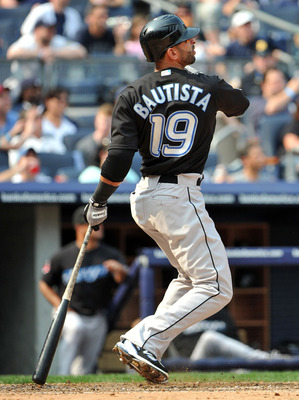 Christopher Pasatieri/Getty Images
Bautista started out his career in a conspicuous manner, dressing for four teams in his rookie season. With his recent performance, he has managed to live down this indignity.
Bautista played in his second consecutive All-Star game for Toronto. From his third spot in the order, the right fielder hit .302 with a Major League leading 43 home runs along with 103 RBI. He also walked an AL leading 132 times, resulting in a world-beating .443 OBP. His 1.056 OPS also led the Majors.
Detroit Tigers: Justin Verlander (WAR: 8.5)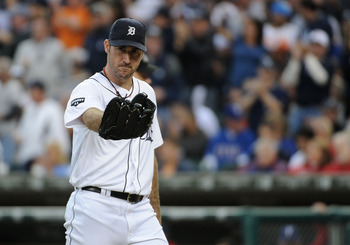 Harry How/Getty Images
Verlander played in his fourth All-Star game this season and is very likely the AL Cy Young award winner.
With a Major league leading 24 wins against only five losses, Verlander also led the Majors with a 2.40 ERA, 251 innings pitched, 250 strikeouts and a 0.920 WHIP.
He only allowed 6.2 hits per nine innings, and on May 7th, allowed zero. He blanked the Blue Jays 9-0, walking one and striking out four with only 108 pitches.
Los Angeles Dodgers: Matt Kemp (WAR: 10.0)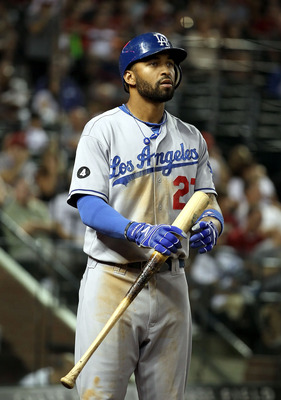 Christian Petersen/Getty Images
In his sixth season with the Dodgers, everything clicked for Kemp. He was selected to play in his first All-Star game.
Batting cleanup, Kemp led the NL with 39 home runs and 126 RBI. He also swiped an NL second best 40 bases, just barely missing the 40/40 club.
The center fielder also boasted a .986 fielding percentage and 11 outfield assists, good for third in the NL.
He personified the term, "Most Valuable Player," and tops this list.
Keep Reading