Buffalo Bulls vs. Miami RedHawks: Live Scores, Highlights and Analysis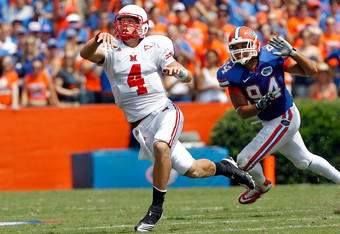 Sam Greenwood/Getty Images
Welcome to the live blog for Miami of Ohio's homecoming game versus the Buffalo Bulls. Here you will find timely updates straight from the RedHawks' very own Yager Stadium press box.
This game will feature two teams fighting for position in a tough MAC East division, both coming off conference losses.
Buffalo (2-6, 1-3) will need a win to keep its bowl hopes alive, and Miami (2-5, 1-2) is looking for a chance to win back-to-back MAC championships.
Follow my live blog for scores, quick highlights and analysis when the game commences at 3:30 P.M. ET.
This was a fantastic win on both spectrums for Miami. The offense pretty much did whatever it wanted at any given time, with Zac Dysert possibly having the best game of his career. And after allowing 164 yards of offense in the first quarter alone, the RedHawk defense gave up just 194 total yards throughout the final three quarters (including Buffalo's gimme yards in the final minutes).

A great opportunity has been given to the Miami of Ohio RedHawks, as they are now 3-5 (2-2 MAC) and will play the lowly Akron Zips (1-7, 0-4) on this coming Thursday.

Final score: Buffalo 13, Miami 41

Notable statistics:


Buffalo

QB Chazz Anderson: 24-41 (58.5 percent), 281 yds, TD, 2 INTs

RB Branden Oliver: 24 att, 47 yds (2.0 ypc)

WR Alex Neutz: 4 rec, 110 yds, TD

Team: 358 total yards of offense

Miami

QB Zac Dysert: 20-25 (80 percent), 313 yds, 5 TDs, INT

RB Tyrone Jones: 16 att, 58 yds (3.6 ypc), TD

WR Dawan Scott: 3 rec, 141 yds, TD

Team: 441 total yards of offense




Thanks for tuning in!
When you're 2-5, you don't let up easy. Coach Don Treadwell made this apparent as the RedHawks drove down the field once again, continuing their usual passing onslaught with less than eight minutes to go in the game.

Miami's unyielding offense traveled all the way down to Buffalo's 20-yard line before electing to run the ball seven straight times. It was halted on fourth down, two yards short of the goal line.

Great class by the RedHawks football team here to not throw the ball inside the 20 and leave without a guaranteed three points.
It seemed as if the Bulls were going to put together a solid drive to rebound from the 27 unanswered points put up by Miami, but couple of miscues gave Chazz Anderson a 3rd-and-28 situation in RedHawk territory.

This didn't play out very well in his favor.

Following a five step drop, multiple scrambles and an incompetent launch to the end zone, he was intercepted by senior safety Anthony Kokal.

However, on the ensuing play, Miami running back Chrishawn Dupuy's fumble was taken 31 yards to the RedHawk 1-yard line. Easy touchdown for the Bulls, right?

Wrong.

After three straight unsuccessful handoffs, two timeouts from each team and a lot of impatience from this particular sports writer, the RedHawks' finished their incredible goal line stand with an interception off a lob to the right pylon.

This puts an exclamation mark on what was a complete turnaround by Miami's defense, which has been absolutely dominant since the first quarter.
Miami defensive lineman Jason Semmes, older brother of FB Justin, forced a fumble inside Buffalo's 25-yard line after a completed pass by Anderson and the RedHawks recovered. This was Semmes' first forced fumble of his career.

And of course, Dysert constructed yet another scoring drive, hooking up with Chris Givens. Mason Krysinski's extra point attempt was no good.

Dysert has surpassed 300 yards passing for the fourth time this season and broke his career-high for passing touchdowns in a game with five. He is now tied for the school record.


Buffalo 13, Miami 41
Following a few ineffective drives by both teams, Zac Dysert once again led his offense down the field for a touchdown.

The quarterback accounted for 50 of the 51 yards (23 rushing) during the march into the end zone and Miami has tied its season-high for points (35).


Buffalo 13, Miami 35
Buffalo threatened on the opening possession coming out of the half, but failed to convert a pivotal fourth down and the RedHawks take over on their own 35-yard line.
When the first 15 minutes concluded, I figured I was in for a shootout. But Don Treadwell's defensive squad really came up big in the second quarter, allowing just 49 yards and sacking Chazz Anderson twice.

Now it's just a one sided affair, with Miami leading at halftime 28-13.

Here are some notable halftime statistics:


Buffalo

QB Chazz Anderson: 13-19 (68.4 percent), 186 yds, TD

RB Branden Oliver: 15 att, 25 yds (1.6 ypc)

WR Alex Neutz: 4 rec, 110 yds, TD

Team: 213 yards of total offense

Miami

QB Zac Dysert: 15-18 (83.3 percent), 268 yds, 4 TDs, INT

RB Tyrone Jones: 6 att, 19 yds (3.2 ypc)

WR Dawan Scott: 3 rec, 141 yds, TD

Team: 296 yards of total offense






After looking putrid to begin the game, the RedHawks' defense has come up big on three straight drives. A quick three-and-out forced Buffalo to punt from its own end zone, giving Miami possession near the Bulls' 40-yard line.

However, Dysert found himself being a little greedy and made his first bad decision of the day. An attempt for a long pass up the seam into double coverage ended up being intercepted, giving the ball right back to Buffalo inside the 10.
It was imminent that Dysert would be back in at QB the next time Miami's offense reached the field. And, just like every other drive he led today, it ended with a touchdown pass.

This time it was fullback Justin Semmes on the catch for his third TD of the season.

Four touchdown passes marks Dysert's career-high, who has already matched that with 5:50 left in the second.


Buffalo 13, Miami 28
The decision to put sophomore quarterback Austin Boucher into the game for Miami was made to start the next drive. This came to much of a surprise after the stellar first quarter performance of Dysert. Instead of swinging with momentum, coach Treadwell let the RedHawks go three-and-out and gave the ball right back to the Bulls.

Am I the only one that's a little confused by this move?
The first stalled drive came by the Bulls' offense with 13:46 remaining. Miami takes over on its own 24-yard line.
D-E-F-E-N-S-E! What does that spell? Something that this matchup is not showing.

The RedHawks are just flat-out destroying Buffalo's anemic defense. Zac Dysert is prepared to have a record-breaking day, as he is currently 9-of-9 for 187 yards and three TDs through the first quarter. He has now passed Josh Betts for second all-time on Miami's list of quarterbacks.


Buffalo 13, Miami 21
Miami's defense is making Chazz Anderson look like a NFL prospect right now. A 1-yard dive by the senior QB topped off the Bulls' 11-play, 85-yard scoring drive. Anderson is now 7-of-9 for 142 yards with two TDs (one rush).

However, Patrick Clarke missed the extra point, leaving the RedHawks ahead by one point.

This game has featured four touchdowns off four possessions and both offenses are averaging over 15 yards per pass.


Buffalo 13, Miami 14
It may have taken them a little longer than the first time, but the RedHawks found the end zone again through the air. Junior quarterback Zac Dysert found Andy Cruz for seven yards and is looking outstanding early.

This was a 10-play, 74-yard drive that lasted four minutes and 58 seconds and Miami has had no problems picking apart the Buffalo defense thus far.


Buffalo 7, Miami 14
After a quick scoring drive by Miami, the Bulls started their first drive of the day at their own 25-yard line. A few short, yet significant plays set up a nice 60-yard touchdown pass from Cincinnati transfer Chazz Anderson to the 6'4", 210-pound Alex Neutz.

Two big plays have headlined the first four minutes of this ball game and both defenses look very unprepared to start the day.
Miami started its first possession on its own 26-yard line after a 19-yard opening kickoff return. Two plays later, Zac Dysert connected with freshman receiver Dawan Scott for a 71-yard touchdown strike.

This was the fastest the RedHawks have scored all season long.


Buffalo 0, Miami 7
The RedHawks won the coin toss and elected to receive, Buffalo will defend the north goal. The game is seconds away from beginning!
"They provide a great challenge defensively. They're going to make you defend the run and the pass. To me, those are the dangerous teams because they can hurt you in a couple of ways," said Miami coach Don Treadwell of Buffalo, according to USA Today.

The RedHawks will be doing anything but brushing off the 2-6 Bulls. Be ready for a competitive, hard-hitting Mid-American football game.

We're about five hours away from the opening kickoff. Post your thoughts, questions and score predictions here.
This article is
What is the duplicate article?
Why is this article offensive?
Where is this article plagiarized from?
Why is this article poorly edited?