Purdue Boilermakers vs Michigan Wolverines: Live Scores, Highlights and Analysis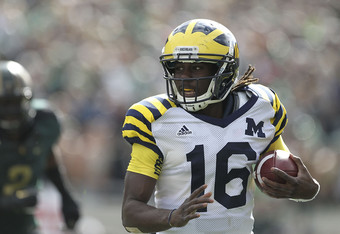 Leon Halip/Getty Images
Welcome to the Purdue Boilermakers vs Michigan Wolverines live blog on Bleacher Report.
Michigan comes into this game ranked 18th with a record of 6-1 after a tough loss against Michigan State. History shows that the Wolverines struggle after losing to the Spartans, so it will be interesting to see how they bounce back.
Purdue is one of those teams that you don't want to play right now. They are playing their best football, coming off a win against 23rd-ranked Illinois, and a near upset at Penn State. The Boilermakers are clicking on all cylinders right now, and might be a tougher challenge for the Wolverines than most think.
Kickoff is scheduled for Noon eastern time Saturday. The temperature is expected to be 46 by kickoff with a slight chance of rain during the game.
I look forward to bringing you the best live blog on the web for this game and hope you will join me for what should be a great Big Ten match-up.
James Evens serves as a National Featured Columnist for college football and basketball as well as the FC for the Purdue Boilermakers. Follow him on Twitter or like him on Facebook.
Purdue comes in with a late touchdown to OJ Ross.
Michigan wins this one easily 36-14 in what was a dominating performance.
Fitzgerald Toussaint was by far the player of the game today. He recorded 170 yards with two touchdowns.
The defense was extremely great for Michigan as they stifled the Boilermakers running attack.
Michigan seems to have things back in order after their tough loss to MSU and will most likely play a key role in the title race this season.
Thanks for joining me in what was a not so entertaining game! Hope you enjoyed the commentary!
At the end of the day, looks like Michigan was the much stronger team. Purdue started off extremely hot with the opening touchdown and it all went down hill from there.
Michigan had a great performance with a key highlight being their running game in this game.
Michigan continues the domination at this point with a 37 yard run by Michael Shaw. It looks like Purdue has given up especially on the tackling front.
Michigan's running game is just terrific in this one, or maybe it is the lack of Purdue's running defense, either way, Michigan now leads, 36-7.
After a defensive stop by Michigan, Toussaint breaks a 59 yard touchdown pass to close in on 150 yards rushing for the game. Purdue's defense could not stop a nose bleed right now.
Michigan offense is running all over them, and their defense is stuffing Purdue as well.
It looks like this one is going to get out of hand, Michigan leads 29-7 with those 29 points coming unanswered by the Boilermakers.
It's going to take a comeback for the ages for this one to be a close game.
Michigan got the ball after the half, drove down the field until the goal line, but once again didn't get the ball in even going for it on fourth down.
This was a huge stop for the Boilermakers, but they will start deep in their own territory on this drive.
Still 22-7 Michigan.
Somehow Michigan Fails to get in the end-zone before halftime again after a few attempts in the red zone. They did however get another field goal putting the Wolverines up 22-7.
That is 22 unanswered points for the Wolverines and there is a definitive momentum advantage in their direction.
This game has been sloppy but it seems that Michigan has finally got it all clicking. Michigan already has 294 yards despite the turnovers and the offense is dominating Purdue's defense.
Look forward to a great second half as Purdue will surely make some halftime adjustments to try to get some points on the board, and slow down Robinson and the Wolverines.
Michigan with a huge interception leads to a great drive, highlighted by a 42 yard pass to Jeremy Gallon. Toussaint with a rushing touchdown up the middle to put Michigan up 19-7.
The Boilermakers seem to be deflating on both offense and defense and the Wolverines are clicking even after the turnovers.
This one could get out of hand if the Boilermakers don't pony up and start making plays.
Wolverines offense is just looking unstoppable especially on the perimeter.
Wolverines were stopped down the field, but were able to put up a 37 yard field goal. That safety was a huge play for the Wolverines and really swung the momentum.
It's going to be hard for the Boilermakers to break through on the road after that, but holding UM to just a field goal should create some optimism.
Let's see what Purdue can do with the ball back following a huge offensive mistake.
Michigan defense capitalizes with a safety. Very costly play for the Boilermakers and a questionable no call on a face-making play.
Michigan now up 9-7.
After a huge play by Robinson down the field, Gardner throws an interception in Purdue territory. The Turnovers are killing the Wolverines so far with what should have been two scores left off the board because of them.
Let's see if the Boilermakers can capitalize on this turnover, or be stopped again by this motivated Michigan defense that seems to be playing with a chip on its shoulder.
This one is a battle folks!
Still 7-7 early in the second quarter!
After a three and out by the Boilermakers, Michigan starts driving the ball, but the drive is cut short by an interception by Joe Holland. Purdue defense is still struggling despite the forced turnover.
Michigan's defense looked a lot better on that drive, guarding the perimeter and dealing well with the different formations showed by Purdue.
After two non-scoring possessions, this one is looking more and more like a dog fight.
Robinson with a touchdown with 7:30 seconds left in the first quarter. Michigan really exploited the Purdue defense with different formations, especially keying on the outside.
The Michigan offense is looking good, and the drive only featured on penalty a personal foul.
It looks like both of these offenses are out to a great start and this one could be a barn burner.
The score is all tied 7-7, as the Boilermakers are set to take the field on offense following this upcoming Michigan kickoff. We will see if Purdue can continue their success on the outside for another quick score.
Purdue out on top early with a 48 yard screen play to Gary Bush. Purdue offense seems to be exploiting the weakness of the perimeter defense of the Wolverines. Boilermakers score in under a minute and a half and are out to a 7-0 lead.
Soon to see Denard Robinson starting from behind after this kickoff.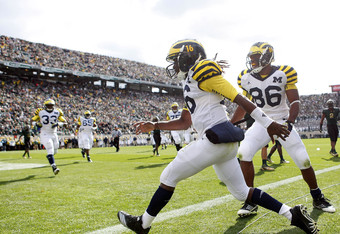 Only 15 minutes until kick-off. Are you ready for some football? Michigan is favored by two touchdowns, but can the Boilermakers make a run at the upset in the Big House?
It's almost time for some football! I'm ready! Are you?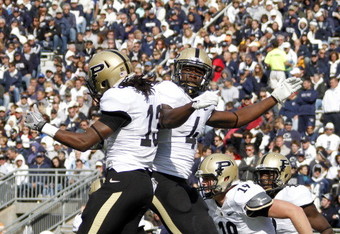 Is everyone up and excited for a great day in college football? Can the Purdue Boilermakers pull off an impressive upset for their second straight win against Michigan at the Big House, or will Michigan come out with an impressive statement making win?
We are less than 45 minutes until kickoff for this exciting Big Ten match-up!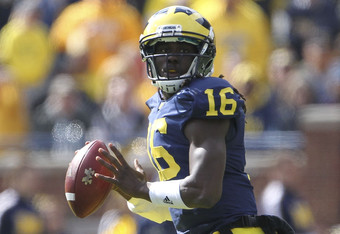 Good morning football fans, we are less than 3 hours to kickoff in Ann Arbor between the Purdue Boilermakers and the Michigan Wolverines.
We are still looking at 46 degrees by kickoff on homecoming Saturday at Michigan with a slight chance of shower towards the end of the game.
Turn on ESPN and get ready to watch some College Game Day before the match-up.
Tune in around 11 here for the start of our coverage of what should be a brilliant Big Ten match-up.
This article is
What is the duplicate article?
Why is this article offensive?
Where is this article plagiarized from?
Why is this article poorly edited?

Michigan Wolverines Football: Like this team?