World Series Game 7: Carpenter, Harrison and the Battle of the Depleted Bullpens
October 28, 2011
Doug Pensinger/Getty Images
This afternoon I had the chance to watch Game 6 of the World Series again.  This time I took off my Texas Rangers hat, shirt and even my "lucky" socks.  
Perhaps it's time to go back to the flip flops that seemed to serve my team so well in Games 2 and 5 of this knock-down, drag-out epic World Series between the St. Louis Cardinals and the Texas Rangers.
As I watched the game as a baseball fan, plain and simple, without peering through the goggles of a relentless, life-long Texas Rangers fan (not easy), I did notice what an outstanding Game 6 it was for the world to behold.
Even with my artificial impartiality attached for my second viewing, I still greatly preferred innings one through eight rather than the final three.
I get the feeling Game 7 will be equally legendary.
You know you're in for a wild Game 7 when even the sabermetricians of the world offer advice that's more befitting of Randy Galloway than Bill James.  
From www.beyondtheboxscore.com in J-Doug's scientifically succinct article:
We are no longer in the realm of simple probability.  What we are effectively dealing with is Schrodinger's Cat...we now live in a realm where Texas' and St. Louis' title hopes are both alive and dead simultaneously. It is our very observation of the final out that will collapse the wave function...and present us with one of two realities.  In other words, just watch the game.  Watch history in the making.
Yeah, don't worry, the Schrodinger's Cat* thing gave me a headache too.  This is probably the first time that a sabermetrician (and fine writer) has ever made the assertion to "just watch the game."
It's basically like me telling you to turn off the television, and just go plot a graph or something.   
I love baseball, and enjoy talking about the sport over a beer or two, without having to lug around my freaking graphing calculator.  
Ever bring up "Schrodinger's Cat" over a beer with me and you are more likely to be wearing said beverage than drinking it.
Besides, I've always been more of a Pavlov's Dog lover anyways.  
However, sabermetrics is very necessary and a wonderful way to find even more enjoyment in the game.  Evidently though, it won't help any of us predict what the heck is going to happen in Game 7 tonight.
Well, here's some of my empirical thoughts on the topic.
Both teams are in trouble if the game is up to the bullpen
Since St. Louis "closer" Jason Motte was pitching in the 10th inning (in a non-save situation), he doesn't look nearly as bad as Neftali Feliz of the Texas Rangers.  Motte doesn't get a free pass though.  He was untouchable coming into the World Series and was blasted by Josh Hamilton for the go-ahead home run.
Neftali Feliz...well, you saw it.  They say the definition of insanity is to institute the same actions and expect a different outcome.  I think that is a dumb and non-clinical definition.  But it does sound a lot like Feliz and his fastball.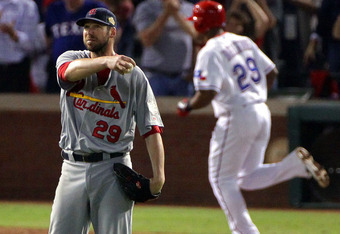 Doug Pensinger/Getty Images
All hands will be on deck for both teams' bullpens tonight.  I think Colby Lewis is probably the only pitcher who will definitely not pitch tonight (for either team.)  La Russa's quick hook with Jaime Garcia may end up being considerably less obtuse than it seemed last night.
Both teams are emotionally drained
Losing in the fashion that the Texas Rangers did last night is no doubt a serious emotional exertion. Word on the street is that Neftali Feliz was a wreck in the clubhouse last night.  The flip side of this is that winning the way the Cardinals did last night is also a drain.
Don't get me wrong, the Cardinals, as they are playing at home, have a distinct advantage in this department.  
Yet the psychological drain of extreme highs is quite similar to that of extreme lows.  Just ask psychiatrists who deal with patients who are bipolar.
Both teams are banged up
Sure, everyone knows that after playing in 170-plus games, most players are hurting.  However, Game 6 you had Matt Holliday hurting his hand, Nelson Cruz pulling his groin and Mike Napoli turning his ankle.
Both Cruz and Napoli are in the starting lineup tonight. Holliday is out.  This is an advantage for the Cardinals as Holliday has not been hitting well, and his replacement is Allen Craig.  Craig has been outstanding in the World Series, and if the Cardinals can pull this off, he'll get strong consideration for World Series MVP (along with David f*****g Freese.)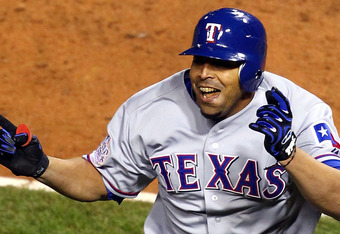 Dilip Vishwanat/Getty Images
Keys to Game 7
Once again, the Cardinals and Rangers have something else in common for Game 7.  They both need the same things to happen if they are to bring home a World Series title.
Chris Carpenter is crucial for the Cardinals' success. If he can shut down the Rangers as he has done in his previous two starts against the Rangers, the Cardinals' exposed bullpen won't have enough opportunities to shut down the Rangers.
Matt Harrison needs to be strong as well, and for the same reasons.  If he can keep his pitches down in the zone and away from the fat part of the bat, he should give the Rangers a real shot to win this thing.  
Remember that many consider Harrison to be more advanced and a better pitcher than Derek Holland.  He doesn't have to do what Game 4 hero Holland did, but he does need a quality start.
Final Prediction
Clearly, in my initial "Rangers in Six" prediction, I was wrong.  But the Texas Rangers are my team. And you've got to stick with your boys; especially when things don't look so good. 
The Texas Rangers blister pitchers the third time they see them; to the tune of a 5.80 ERA. Also, they haven't lost consecutive games since late August.  
I think the Rangers will get after Carpenter by the fourth inning, and then it will be off to the races.  I'm not sure my heart or liver can withstand another humdinger like last night, but that's how I see it going down.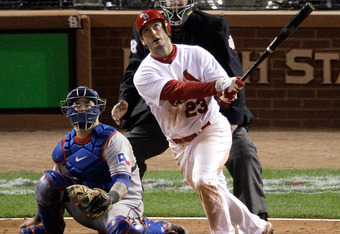 Rob Carr/Getty Images
Rangers win, 7-5.  
And if the Texas Rangers don't win tonight, the world won't be over. I'll still love my favorite team. But I can't promise that I won't give Schrodinger's cat a swift kick.
Craving more on the Texas Rangers?  
Do the Rangers have enough in the tank to win it all?
Texas' Top 7 Postseason Pitching Performances
Texas Rangers' best power hitters of all-time
Follow Timothy on Twitter @TMurrayHowell—he follows back, but not in a creepy way. Or hit him up on Facebook—you know you have an account.