Fantasy Football: Making Tough Calls Like Starting Tim Tebow over Philip Rivers
October 28, 2011
Scott Cunningham/Getty Images
Let's talk turkey, shall we? It is very easy just to pick players you "like" this week or players you "hate" this week. But how useful are such broad suggestions?
In Week 8 you will constantly hear "start all of your Saints" because they are playing against the Rams. So does that mean start Robert Meachem? Really? Over who?
This is as simple as it gets. Here some players I will start in Week 8 and who I will start them over. If you have a scenarios of your own, please use the comments.
QB
Start CAM NEWTON over TIM TEBOW–This is about as easy as they get. No matter how good you think Tebow is, you can't possibly think he will be better than Newton this week in fantasy. You start Newton every week.
Start TIM TEBOW over everybody EXCEPT these QBs in Week 8: 
I'm well aware that MATTHEW STAFFORD, PHILIP RIVERS & MATT SCHAUB are not listed.
Start ELI MANNING over MATTHEW STAFFORD–Have you really looked at Stafford game totals? He's hasn't topped 300 yards since Week 3. He's only had more than 15 fantasy points in a game once since Week 3. Stafford is a good QB. But he's going to play hurt with no running game.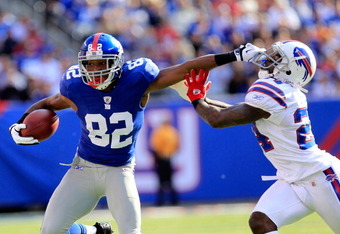 Chris Trotman/Getty Images
RB
Start JONATHAN STEWART over KNOWSHON MORENO and ROY HELU (non-PPR)–This is a difficult call. Stewart is still sharing touches with DeAngelo Williams. But Stewart has seen goal line carries the last two weeks. Knowshon will give way to Tebow at the goal line and who knows how Lance Ball will be used. Helu might be an option in PPR leagues, but I don't want to get Shanahan'd.
Start BEN TATE over MAURICE MORRIS and DEANGELO WILLIAMS (non-PPR)–I can't bring myself to start DeAngelo Williams at this point. He's just a very small part of the Panthers offense.
Maurice Morris will split carries with Keiland Williams, with the latter getting the call at the goal line. The Lions have struggled to run the ball effectively this season, no matter who has been carrying the ball.
It looks like Andre Johnson will miss Week 8 for the Texans, meaning Houston once again will lean heavily on their ground game. We've all seen what Tate can do and I'm betting that he sees 12-15 touches against the Jaguars.
Start PIERRE THOMAS over ROY HELU, MONTARIO HARDESTY, KNOWSHON MORENO and DANIEL THOMAS (PPR)–Mark Ingram is officially out for the Saints. If Chris Ivory plays, he will see very few touches. Pierre Thomas should be in line for at least 20 touches against a Rams defense that gave up almost 300 yards rushing against the Cowboys in Week 7.
Start DANIEL THOMAS over MARSHAWN LYNCH (PPR)–This is of course, assuming both players actually play and make it through pregame warmups. Lynch has a brutal match-up against the Bengals defense and he has no part in the passing offense for the Seahawks. Thomas has a better match-up and is good for a couple of catches each game.
Start DELONE CARTER over MAURICE MORRIS and BRANDON JACOBS (PPR)–It's tough to depend on any Colts, but Carter was the Colts lone bright spot against the Saints. Donald Brown will still get some work, but Carter is more talented and would see any goal line carries. Morris will split work with Keiland Williams and won't see goal line work. Who knows what Brandon Jacobs will do in his first week back from injury.
WR
Start GREG LITTLE over PERCY HARVIN and VICTOR CRUZ (non-PPR)–Harvin is a non-factor right now until he gets healthy and starts playing a full complement of snaps on offense. Cruz is the ultimate boom-or-bust option.
I'm electing to with Little against the 49ers. With Peyton Hillis likely out and Montario Hardesty expected to struggle to run on the 49ers, Little should see plenty of targets. He's as good of a bet of any of these players to score a TD, so go with the guy who will see the ball the most.
Start EMMANUEL SANDERS over GREG LITTLE (PPR)–Hines Ward is out for the Steelers and Emmanuel Sanders will start in 2-WR sets for the Steelers and then move into the slot in 3-WR sets. The Steelers face the Patriots in Week 8, who just happen to give up the most fantasy points to opposing WRs.
Start JABAR GAFFNEY over STEVE BREASTON (PPR)–Breaston has actually been a nice fantasy WR his past three games. But the Chargers pass defense is excellent while Matt Cassel is the exact opposite of excellent. Gaffney faces a Bills defense that gives up the 10th most fantasy points to WRs. Outside of Fred Davis, Gaffney is the only other real target for John Beck.
Start MARIO MANNINGHAM over REGGIE WAYNE and MICHAEL CRABTREE (PPR)–Between pass interference penalties and being called down at the one-yard line, Manningham should have a handful of TDs this season. He is clearly ahead of Victory Cruz in the Giants passing game.
Reggie Wayne has done absolutely nothing to warrant being started in any fantasy league right now. Michael Crabtree is all potential and almost no performance. He's a nice player to have on your bench, but not somebody you want to start right now.
TE
Start FRED DAVIS over ANTONIO GATES (PPR)–Did this last week and it worked out. Gates is back, but it doesn't seem like he's quite back to being his old-self. Davis is now the No. 1 target in the Redskins passing game with Santana Moss out.
The Chargers are running the ball quite a bit and Vincent Jackson deserves plenty of targets. It is always dangerous to bench a player like Gates, but go big or go home, right?
Start OWEN DANIELS over GREG OLSEN (PPR)–With Andre Johnson out, only the TEs in Houston have been consistent receivers for Matt Schaub. The Texans face the Jaguars who give up the 5th most fantasy points to TEs. Greg Olsen is an excellent talent, but he still splits targets with Jeremy Shockey.
There's a good chance that you did not have one of these specific decisions. But I would be surprised if you did not have at least one decision involving one of these players.
Feel free to use the comments if you have an questions or just want to tell me how wrong I am. Good luck to all of your teams in Week 8.
Follow John on Twitter
Check out John's other work on Bleacher Report