World Series 2011: How Outfield Positioning Completely Changed the Series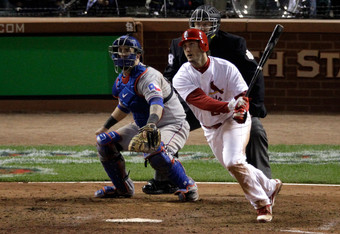 Rob Carr/Getty Images
It was the bottom of the 10th inning, and the St. Louis Cardinals were down to their final strike in the 107th World Series.
For the second time.
The Texas Rangers were clinging desperately to a 9-8 advantage after a roller coaster of a game that had seen so much dizzying drama that it was a miracle the participants were able to hold their ground any longer.
Lance Berkman was at the plate with the tying run 180 feet way at second base. Around the outfield, David Murphy, Josh Hamilton and Nelson Cruz were playing so deep that if they turned around they might hit the wall.
In so doing, the Texas Rangers sealed their own fate. Manager Ron Washington was conceding a tie score on anything hit out of the infield.
Lo and behold, that's exactly what Lance Berkman produced: a floating single that landed well in front of Josh Hamilton. Despite streaking in to collect the ball, Hamilton had no play at the plate, as Jon Jay scored the ninth and tying run for St. Louis.
Hindsight is always 20/20, but if Hamilton was playing normal depth, there may very well have been a play at home plate—one that could have ended the World Series.
Instead, the game went on into a fateful 11th inning, when David Freese ended what may be regarded as the greatest World Series game ever played with one mighty swing.
Freese was not only the man who came through with the game-winning hit, he also tied the game earlier that night, when Texas was one strike away from the title in the ninth inning, then leading the Cardinals, 7-5.
Did Ron Washington unfairly place the blame squarely on Nelson Cruz?
Another example of poor outfield positioning would haunt the Rangers. This time, it was even more curious.
While Murphy and Hamilton were extremely deep in left and center field, respectively, playing a "no-doubles" defense, Nelson Cruz was not nearly deep enough to prevent a ball from going over his head for extra bases.
In this scenario, contrary to the aforementioned 10th inning situation, a "no-doubles" defense was the right move, as a single would only bring the Cardinals to within one (St. Louis had runners on first and second), but a double or triple could conceivably tie the score.
Oddly, Cruz remained too shallow, and when Freese lined the ball over his head, a ball that would have ended the World Series for the Rangers instead flew to the base of the wall and caromed back toward the infield. Freese ended up at third; two runs were in to tie the score.
Ron Washington laid the responsibility for that play on Cruz, saying, "He froze, and the ball took off. If he just takes the right route it's an easy out. You've got to stay behind the baseball and he didn't. I thought it was going to be caught. It didn't turn out that way."
Washington is an accomplished manager, leading his club to two consecutive World Series appearances, and he deserves great respect as a big-league skipper.
But there's no excuse for having your right fielder not playing deeper when a single won't tie the game and an extra-base hit could, especially in Game 6 of the World Series.
While Cruz certainly could have thought more carefully about his own positioning, Washington certainly should have been surveying the depth of his outfielders in a situation like that.
If the St. Louis Cardinals win Game 7 Friday night, the Cruz moment may become Buckner-esque in Arlington, and manager Ron Washington will have to look back on that moment as a huge managerial lapse that cost his club the title.
This article is
What is the duplicate article?
Why is this article offensive?
Where is this article plagiarized from?
Why is this article poorly edited?