David Wright: Should the New York Mets Trade Wright This Offseason?
October 28, 2011
Patrick McDermott/Getty Images
Due to some slow news days in New York, the topic of trading David Wright has come up. This topic is being discussed frequently and there are many different viewpoints on it.
This is a surprising development for baseball and the Mets. I believe that trading Wright this offseason will be a bad move for the Mets. Wright has definitely not been the David Wright of old, but he has still been quietly successful. If you take a deep look into his numbers then you will realize that he is right on the cusp of re-achieving his superstar status.
It seems as if Wright's "demise" began in 2009, when the Mets opened their beautiful new ballpark, Citi Field. Wright hit for a great average of .307 in 2009. He continued to hit the ball with authority but his power numbers took a hit. Wright only hit 10 home runs that season.
Some people believe that the reason for the decline in Wright's home run total was that Wright's home field was a "canyon." Citi Field had proved to be a pitchers' park and it clearly affected Wright and his mindset to hitting.
Wright's home run numbers were also bad on the road and that could most likely be because he changed his mindset due to hitting in Citi Field. On top of that, Wright got drilled in the head by a Matt Cain pitch in 2009. He was out for a while with concussion symptoms and that incident also affected his approach at the plate.
Wright suffered some unfortunate setbacks in 2009, but he still managed to put together a solid season. Wright was determined to have bounce-back season in 2010, and get his power numbers back up. He did that by hitting 29 home runs. 
Wright looked to continue to improve this season, but things didn't turn out so well for him. Wright suffered a pesky back injury early in the season and it caused to miss some time on the DL. But not before Wright played about a month with the injury.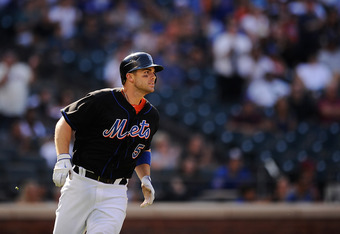 Patrick McDermott/Getty Images
Wright looked lost at the plate and in the field and the Mets decided to take another look at him, and he was indeed injured. He was put on the shelf, and he suffered yet another setback. Wright only played in 102 games this season, and he couldn't really get into a groove.
He would show flashes of the old David Wright but he wasn't able to hold onto them and be consistent. It was a tough season for him and there is every reason to think that his best days are behind him, but I dispute that.
There is no denying that Wright's talent is still there. He has just suffered so many unfortunate setbacks in the past three years. His luck looks like it is beginning to change though.
The Mets have announced that they are going to change Citi Field's dimensions this offseason. The new dimensions are very similar to the dimensions of Shea Stadium.
Wright had some of his best seasons playing in Shea and this change should definitely help him mentally and statistically. 
The importance of Wright to the Mets goes beyond his stats though. Wright is clearly one of the leaders in the clubhouse and although he hasn't won much with the team, you cannot say that he is part of the problem. He is part of the solution, and he will help bring the Mets back to prominence if he gets the chance.
Wright has made it clear that he wants to retire a Mets and that he wants to help bring this team back to the playoffs, and ultimately bring the World Series back to Queens.
If the Mets do decide to trade Wright then I believe that they won't be able to net top prospects for him, because they would basically be selling low. Wright's current trade market value is arguably the lowest of his career.
It doesn't make sense to trade a player with as much talent as Wright for a couple of "B" prospects. Wright will become a free agent after the 2012 season if he is traded. Teams are looking at him as a one-year rental and they are reluctant to give up top prospects for him.
I'm not saying that Wright is untouchable, but trading him now simply doesn't make sense. The Mets should definitely listen to the offers, but I feel like they won't be blown away by any offers due to the circumstances.
If that amazing offer comes then this becomes a whole different story, but the truth is that the perfect offer is very unlikely to come. Wright is a great player and I expect to have a monster season with the Mets next season.