World Series 2011: Classic Game 6 Makes for a Tough Act to Follow
October 28, 2011
Doug Pensinger/Getty Images
Too often, we get caught up in a moment and definitively declare it "the greatest," or provide an assessment that disregards unbelievable moments of the past. It's an easy trap—excitement amplifying a moment's place in your own history. 
However, it's safe to say that two nights in baseball's past two months will not fall victim to post-game hyperbole when it comes to standing the test of time. 
As the epic final night of the baseball regular season came down to heart-wrenching moments in three different ballparks, analysts proclaimed it "the greatest final day in baseball history."
That's a large statement considering the game's earliest origins date back a couple centuries. 
But there was something innately exceptional about that night, the comeback of the Rays and the collapse of the Sox and Braves.
The St. Louis Cardinals were the forgotten team that night. They made easy work of the Astros and were forced to play a waiting game as the Braves played. 
Last night, though, it was St. Louis who provided the spell-binding and historic heroics. They were down to their last strike twice, trailed five times and had their backs against the wall in the ninth and 10th innings of a World Series elimination game.
There's no exaggerating the significance of David Freese's walk-off shot to deep center in the 11th inning. It's one of the World Series' most classic moments. Game 6 of the 2011 World Series will go down as one of the best of the past 20 years and, perhaps, of all time. That's no hyperbole. 
Some moments are just too seeped in drama and impossible circumstances to not recognize their long-term value.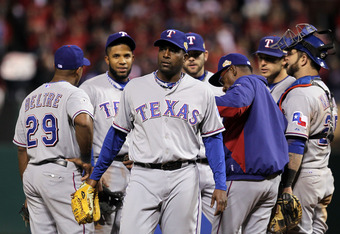 Ezra Shaw/Getty Images
Game 7 will have a tough act to follow. Pitching staffs are burnt out, and key players are injured on both sides. There are plenty of penultimate games in sports and baseball history that overshadow the final act: 
Exceptions do exist where the seventh game matches or exceeds its predecessor: 


Kirby Puckett's 11th-inning walk off in Game 6 of the 1991 World Series forced a Game 7 that was even more incredible. Jack Morris out-dueled John Smoltz, pitching 10 shutout innings in one of the World Series' iconic pitching performances. 
The Lakers beat the Pistons in Game 6 of the 1988 NBA Finals by just one point, and then won the NBA title two days later by three, both closely contested battles and Lakers' wins with their backs against the wall. 
It won't be surprising to see a sluggish Game 7 tonight in St. Louis. Most of Game 6 was quite sloppy, a combined five errors committed. But no matter what happens tonight, the Cardinals' scrappy Game 6 comeback (or the Rangers' dumbfounding defeat—whichever way you choose to view it) will live forever in baseball lore.