Wisconsin Badgers vs. Ohio State Buckeyes: Live Scores, Highlights and Analysis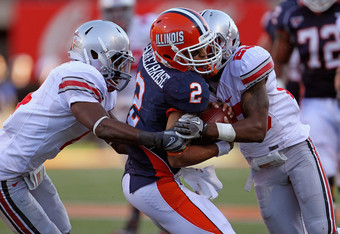 Jonathan Daniel/Getty Images
Alright folks, we are 24 hours away from a highly-anticipated matchup in the Horseshoe. The No. 15 Wisconsin Badgers are looking to spit out the bad taste from last week's controversial upset loss to Michigan State, while the Ohio State Buckeyes are trying to remain relevant.
Each team is still very much in the race for the Big Ten's Leaders Division. However, this game will both crush title dreams and be a stepping stone for the next.
Will freshman phenom Braxton Miller lead his Buckeyes to their biggest win of the year, or will Russell Wilson and the Badger offense prove to be too much for Ohio State young defense?
Follow my live blog for scores, quick highlights and analysis when the game commences at 8:00 P.M. ET.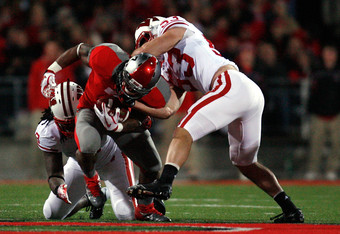 Game, set, match.

The Ohio State Buckeyes handed the No. 15 Wisconsin Badgers their second loss in as many weeks tonight in Columbus by a score of 33-29.

And I'm sure all that watched can agree it was in inconceivable fashion.

With this win, OSU (5-3, 2-2) moves into second place behind Penn State in the Big Ten's Leaders Division.

Few thought that the Bucks would come away winners tonight. None predicted it to end the way it did.

Thanks to those who followed my live blog. I had a blast covering this football game and look forward to more Ohio State victories in the near future. God Bless and good night!


Notable statistics:


Wisconsin

QB Russell Wilson: 20-of-32 (62.5 percent), 253 yds, 3 TDs

RB Montee Ball: 17 att, 85 yds (5.0 ypc), TD

WR Jared Abbrederis: 6 rec, 113 yds, TD

Team: 342 yards of total offense

Ohio State

QB Braxton Miller: 7-of-12 (58.3 percent), 89 yds, TD

RB Dan Herron: 33 att, 160 yds (4.9 ypc)

WR Devin Smith: 1 rec, 40 yds, TD

Team: 357 yards of total offense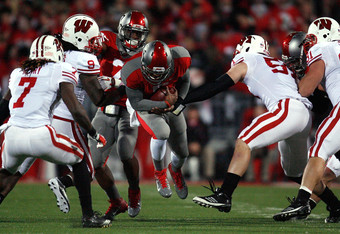 Just watch and try not to drool.
This is one of those moments in a writer's life that makes it almost impossible to describe what went down. Freshman quarterback Braxton Miller just created one of the most unbelievable plays in Ohio State football history as he launched the ball to his left, off his back foot, while scrambling to the right sideline and hit Devin Smith (another freshman) for a touchdown.
This was one of the most improbable plays that I've ever witnessed and it will go down as one of Miller's best plays as a college athlete.

You'll just have to see it for yourself on ESPN's Top Plays. Sorry Michigan State for topping your Hail Mary.
It was inevitable; we all saw it coming. Russell Wilson easily handled the Buckeyes' inattentive secondary, hooking up with Jared Abbrederis for a 49-yard touchdown strike.

Here comes that passing game we were all waiting to see. Too bad it's coming with 1:18 left.
The last thing you want is Russell Wilson and the Wisconsin offense to have the ball with less than three minutes remaining and down by five.

But it's happening. Crunch time, baby.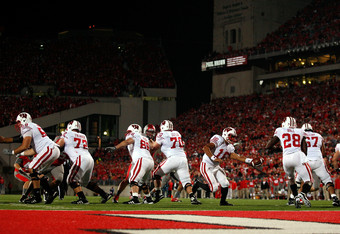 Like I said earlier, the Badgers don't need much time to score. Four plays, 66 yards and just 51 seconds after Miller's astonishing TD run and Wisconsin is back in it.

This next possession may be the most important one of the night for the Buckeyes. It's time to ground and pound, taking time off the clock and forcing the Badgers to use their timeouts.

Hold onto your seats, folks, it's going to get dicey.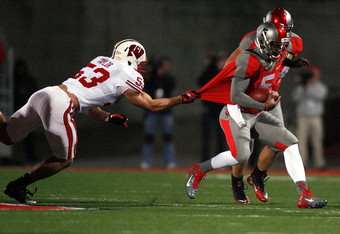 Who needs a passing game, anyways?

A Braxton Miller 44-yard touchdown run off a speed option has given the Buckeyes a 26-14 lead (2-pt conversion no good). Ohio State now has 254 yards rushing and is averaging 4.8 yards per carry.

This critical play came on third down, making OSU 10-of-18 (55.6 percent) for the night. The Badgers have a lot of ground to make up with very little time.

They have the weapons to do it, but those same weapons have been ineffective thus far. Less than five minutes remain in the game.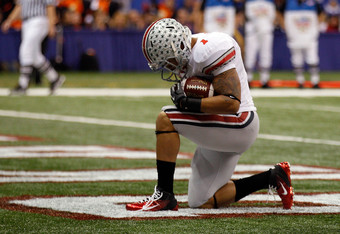 It was decision time for coach Bret Bielema. A short drive that presented a fourth and two situation on Ohio State's 38-yard line gave Wisconsin the option to either punt and play field position or go for it and possibly go take the lead.

The Bucks' defensive line wasn't having it, and the Badgers' running game continued its woes.

Get ready to see a lot of Dan Herron and Jordan Hall (if you haven't already).
Questionable, over conservative play-calling by Jim Bollman on this drive. There were plenty opportunities to poke in a touchdown strike, but it seemed as if the Buckeyes were content with running a few minutes off the clock and kicking a field goal.

The coaching staff may be comfortable with a six point lead, but I'm not. That was a situation where Ohio State needed to cross the goal line. The Badger offense has struggled today, yes, but it still has the potential to explode at any point in time.

Buckeyes lead it 20-14 with 10:39 left in the final quarter.
Ohio State's defense is giving Russell Wilson all sorts of problems. The Heisman-contending QB looks rattled by the crowd of over 105,000 and the defensive line is putting pressure on him on every play.

I'll also add that I'm not ready to eat crow yet, but Jordan Hall did a nice job on that punt return.
This was the third time Jordan Hall botched a punt return this game, and this time it proved to be the charm. Instead of Ohio State's ball with decent field position looking to extend its 17-7 lead, we're looking at a 17-14 ball game.

Three strikes and you're out, Hall. This clutzy move is detrimental to the Bucks' chances. I'm curious to see who they'll put out there next, if needed.

4:23 remains in the third.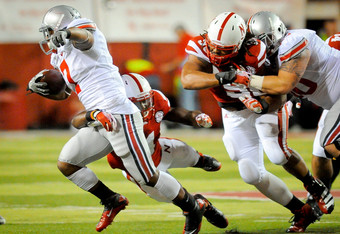 The words "three-and-out" and "Wisconsin" aren't used together very often, but then again, the Badgers haven't faced Ohio State's defensive front seven this season.

It was then where OSU's special teams came up HUGE, blocking Brad Nortman's punt and stumbling onto the ball at the Whisky 1-yard line.

But boy oh boy, I wished they'd had returned it all the way because Ohio State's goal line offense makes me a nervous wreck. After two sloppy runs up the gut (how many times are we going to see this?), Jordan Hall breached the end zone on an outside handoff to the left side.

Don't look now, ladies and gentlemen, but your Buckeyes currently own a 10-point lead over the No. 15 Wisconsin Badgers.
BOOM! That is all.

Talk about your momentum swing. On the very first play from scrimmage, Dan Herron (thank God he's back) ripped through a seam and sprinted for 57 yards until he was put to a stop at the Wisconsin 18-yard line.

Two plays later, he found himself in the end zone after an 18-yard run. However, the call was reviewed and overturned, making it first and goal at the 1.

No problem, right? Wrong.

Three straight runs up the middle backtracked the Buckeyes, leaving Fickell with a tough decision. Nevertheless, it was one he needed to make.

A quick QB draw and one timely juke move later, Braxton Miller was in for six and the Buckeyes took their first lead of the game. They now lead 10-7 with 12 minutes in the third quarter.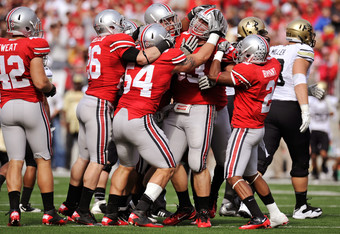 Here are some notes from the first half:

- So much for the long-awaited passing game we were supposed to expect from the Buckeyes' offense. So far, Braxton Miller is 4-of-7 for 35 yards (although it could be more without the drops). All-in-all there have been probably 10 or 11 passing plays called. This number will have to be exceeded in the second half if the Bucks want to score more than six points.

- Ohio State's run defense has rebounded to a great extent after being thwarted versus Rex Burkhead and the Nebraska Cornhuskers. Montee Ball, who leads the Big Ten with nearly 110 rushing yards per game, has been held to 11 yards off six carries. Wisconsin has 10 yards on the ground as a team.

- Even though the Buckeyes' offense has averaged just 3.2 yards per play, it's done a remarkable job of keeping Russell Wilson off the field. They have had the ball 18:21 of the first 30 minutes.

- Speaking of, what's wrong with Wilson? It's almost like he's overwhelmed. He's not making the plays he usually does and, other than the one scoring drive, has been buttoned up.

- Believe it or not, but the Bucks have Wisconsin right where they want it. They're playing their own game, have controlled the pace, and will get the ball once the second half begins. Despite the inability to find the end zone, Braxton Miller has met expectations. The passing game will have to open up if Ohio State wants to win, but that's why there are four quarters played.

Go Bucks!
To no one's surprise, Luke Fickell chose to play it safe and run the ball three straight times and punt the ball. This gave Wisconsin enough room to play with, as it started the drive near midfield.

The Buckeyes' defense wasn't in the mood to play.

Defensive lineman Adam Bellamy capped the half with a sack after John Simon put pressure on Wilson. The score is 7-3 at halftime in favor of the Badgers.
The Badgers' offense looks completely out of rhythm and big man John Simon of the Buckeyes is going headhunting.

And Russell Wilson is first on his list.

One minute remains in the half and OSU is set to get the ball back after yet another Wisconsin punt. The Badgers are averaging just 1.5 yards per carry.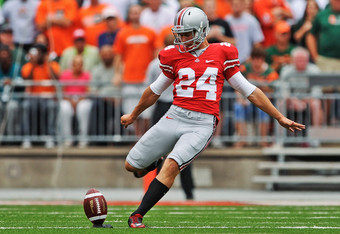 No. 93 for Wisconsin is still looking for his jock strap after Miller made a ridiculous play with his feet on third-and-long.

Nevertheless, first and second down play-calling was once again the poison to the Buckeyes' drive, as two run plays that were supposed to go up the middle ended up backwards. Miller then made a nice pass on the run to set up a 39-yard field goal by Drew Basil that banked off the left upright.

Basil has made nine in-a-row after missing the first two of the season.
The Badgers are 2-of-5 on third down. I'm a little surprised that they elected to run the ball again in this situation, especially since it didn't work the last time. Wilson has only thrown twice since his outstanding drive back with seven minutes remaining in the first.

I'm not complaining, though, and OSU takes over at its own 45. This is great field position and it's time to punch one into the end zone.
Ohio State is doing a decent job keeping the Wisconsin offense off the field, but its offense hasn't done anything to keep the Badgers' defense on its feet.

The Bucks are averaging just over two yards on first downs, mostly due to a lack of creativity. So far I'm happy with the passing game, because it's been somewhat effective for short yardage. However, it would be a whole lot better if the ground game was more productive. This would open up the play-action pass.

Wisconsin is now taking over at its own 7-yard line after a good punt by Buchanon.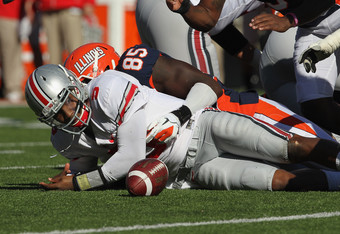 No one is helping Braxton Miller.

Wisconsin's defense is loading the box, so run plays up the gut just aren't going to work. I don't know how long it'll take offensive coordinator Jim Bollman to figure this out, but it needs to be soon.

The freshman QB has actually looked pretty decent passing the ball so far. However, when your receivers drop balls and your running game is absent, your offense is going to struggle.

Quick adjustments need to be made for the Bucks to stay in this.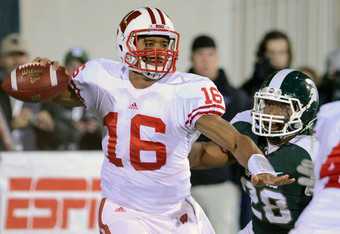 It was just a matter of time until Wisconsin got into the end zone, but this came pretty quickly.

This comes with all thanks to QB Russell Wilson, who was 4-of-5 for 63 yards and threw the touchdown to the nation's leading scorer Montee Ball.

The drive consisted of eight plays for 69 yards and OSU's secondary didn't look so hot in round two.
Even though the Buckeyes' first drive was stalled after one first down (a nice run by Boom Herron), there was some good to come from it.

On the second play from scrimmage, Braxton Miller dropped back and launched a very nice looking ball that landed on the helmet of wide receiver Corey Brown. It was more than catchable and those are the kind of plays the Bucks will need to win this game.

However, we have to like the fact that OSU came out swinging through the air, and that Miller showed confidence in his arm.
And so it begins.

Ohio State's defense has set the tone early, holding Russell Wilson and the Badger offense to one first down on its first possession. Bucks take over on their own 10-yard line.
We're a little over an hour away until the opening kickoff. But until then, here are some pregame notes:

- This is the 77th meeting between Wisconsin and Ohio State. The Buckeyes lead the all-time series 53-18-5 including 28-7-3 in Columbus.
- The teams have split the last 10 meetings, although Ohio State has won three of the last four.
- The last time Wisconsin won at Ohio State was in 2004.
- Bret Bielema is 47-5 all-time against teams which aren't ranked in the top 25.

- Wisconsin leads the nation in touchdown percentage in the red zone (32 of 38, 84.2%).
- Wisconsin's defense has allowed a total of 56 yards on opponent's first drives this season.

- Montee Ball leads the Big Ten in rushing at 109.7 yards/game.
Just figured I'd throw this out there:

Wisconsin lost to Michigan State last week, struggling to stop its offense, right? And Ohio State scored 27 points (which really could have been more if Miller wouldn't have gotten hurt) against Nebraska, right?

Well, the Cornhuskers almost shut out the Spartans today, holding them to three points and just 187 yards of total offense. This loss makes the Wisconsin-Ohio State all the more important for both teams, but especially for the Bucks.

If OSU were to win tonight, it'd skyrocket to second place in the Leaders Division behind Penn State. The Nittany Lions are undefeated in conference play, but still have Illinois (today's game), Nebraska, Ohio State and Wisconsin left on the schedule.

Things just got interesting.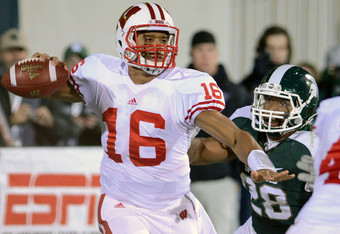 So, what does coach Luke Fickell expect from Wisconsin after losing to Michigan State?

"They're going to be fired up. I don't think you were gonna see anything different anyway. I know that they had this game circled and they always do. It starts with their head coach. Does it put a little more fire in their step? I'm sure it does. It's probably as much as anything a wake up call just to make sure they understand that you have to play the entire game and special teams is a huge part of it. They were going to come out fired up no matter what but their wake-up call has already been had," said Fickell, according to Sports Radio.

The Badgers may have already had their wake-up call, but the Buckeyes are hoping that they pressed the snooze button.

Kickoff is less than 10 hours away. Post your thoughts, questions and score predictions below.
This article is
What is the duplicate article?
Why is this article offensive?
Where is this article plagiarized from?
Why is this article poorly edited?

Ohio State Football: Like this team?