MLB Offseason 2012: Washington Nationals Fielding Breakdown
October 28, 2011
Patrick Smith/Getty Images
As we come to the close of the team fielding series, I am thankful for all of the comments I have gotten along the way. All of them show me where I have been and where I need to go. A scant ten years ago I was well into my studies in sabermetrics, but I held the belief commonly held at the time: fielding simply didn't matter.
Thankfully, I have grown during that time and, more importantly, the field of sabermetrics has grown during that time. We understand more now than we ever have and I expect that to be equally true five years from now. So, if anyone thinks I am full of (fill in the blank), don't mince words. I have no problem with people suggesting I don't know what I am talking about. After all, I am simply quoting the understanding held in the industry.
Some have questioned particular metrics and their accuracy. That is great criticism, because it allows us to move forward. Some are still hanging onto the old numbers and that is understandable too. Change can be a scary thing sometimes, and each of us has a point where we stop drinking the Kool-Aid, as it were. Now, let's dive into the Washington Nationals.
Defense Efficiency Rating: .697 (13th)
Runs Allowed: 643 (9th)
Fielding Percentage: .983 (17th)
Baseball Reference: +39 runs (2nd)
Fangraphs: -14.3 runs (22nd)
Fielding Bible: +34 (7th)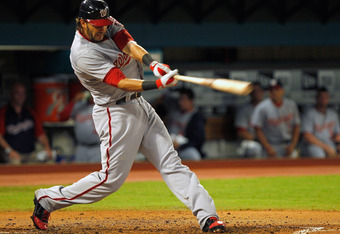 Mike Ehrmann/Getty Images
Baseball Prospectus: +0.5 runs (15th)
Composite Runs: +15.1 runs
The Nationals were criticized every way but Tuesday for signing Jayson Werth to that mammoth contract. Yet, there was some logic to it. They wanted to show the fans and the young players they were ready to compete now. The numbers above help reflect that belief. The pitching and fielding is there, for the most part. 
Werth did struggle with the bat, but the Nationals had enough in the tank to finish out of last place in the National League's best division. Stephen Strasburg came back late in the season to show that he was 100 percent. Bryce Harper should be up in 2012 sometime as well. This is definitely an organization on the come up.
Best Fielder
Danny Espinosa wasn't the best second baseman in the National League, but I was surprised to see how high he finished in the defensive rankings. Espinosa is an example of one of the many young players the Nationals have traded for or developed through the draft. He joins Michael Morse, Ian Desmond and Ryan Zimmerman to form a nice core of young players.
Espinosa does not hit for average, but he does everything else. Rumors are floating around that the Nats are going to hit the free agent market again this offseason. If they do, they could be a force to be reckoned with.
Worst Fielder
The aforementioned Michael Morse wasn't developed in to the organization, but did come out of nowhere, as he hadn't enjoyed big league success before coming to Washington. Adam LaRoche went down with an injury and ended up getting Wally Pipped. LaRoche is back, so the Nats have the option of making Morse their left fielder. They may do that to hide him defensively, but they must get his bat in the lineup somehow.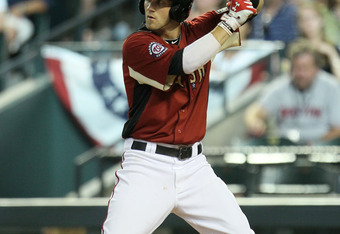 Jeff Gross/Getty Images
Possible Changes
LaRoche has another year on his contract. If the Nats are dissatisfied with their left-field options, they may put Morse out there to get LaRoche's bat and glove into the lineup. Otherwise, this team will be pretty stable. Rick Ankiel is a free agent as well, but there shouldn't be much demand for him. Bryce Harper will be coming soon, so they may wait until the deadline, try to trade LaRoche and switch Morse back to first.
2012 Outlook
It's hard not to like this team, and if Morse goes back to left field, they should be better defensively until Harper comes up. If they get better health from LaRoche and Zimmerman, they will be a force to be reckoned with in the NL East.