World Series 2011: Can Chris Carpenter Get It Done on Short Rest?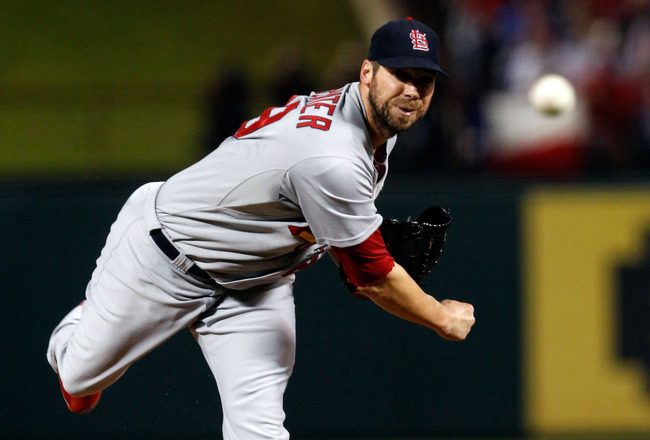 Pool/Getty Images
What a game last night was, but now we have to shift our attention to Game 7 and Chris Carpenter.
All of the St. Louis Cardinals' hopes rest on Carpenter's shoulders tonight as he goes out to pitch just the second time in his career on three days rest.
October has a habit of making legends, and tonight is Carpenter's chance to become one. It's also his chance to become the bane of St. Louis. So there's not much pressure here.
Either way, let's break it down and see if Chris Carpenter can give the St. Louis Cardinals their 11th title on short rest.
History on Short Rest
Rob Carr/Getty Images
Chris Carpenter has pitched one other time on three days' rest. While it only gives us a small sample to work it, it's better than nothing.
Too bad his only appearance on short rest was a rather unmemorable one.
In Game 2 of this year's NLDS against the Philadelphia Phillies, Carpenter went just three innings while giving up four runs and five hits. Not exactly a good outing.
So what does it mean? Right now, it means Carpenter can't get it done on three days' rest, but looking closer could indicate otherwise.
It was the first time in his career that he pitched on short rest so maybe he just wasn't used to it. Tonight will be the night where we see if he can truly deliver on short rest.
His Postseason Performance Thus Far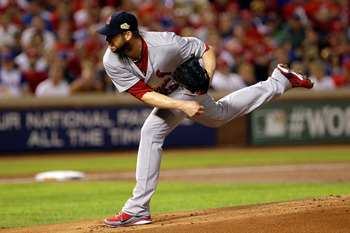 Rob Carr/Getty Images
3-0, 3.30 ERA, 1.13 WHIP, 16 SO, 9 BB, 30.0 IP, 5 GS, 1 CG
That's Carpenter's line in this year's playoffs so far. Overall, those are pretty good numbers.
There are worse numbers, and pitchers, to rest your hopes on in Game 7 of the World Series.
The 1.13 WHIP shows he's in control for most of his starts which is what you want in your Game 7 starter.
He also hasn't lost a game in the postseason yet so that has to count for something.
With those numbers, Cardinals fans as well as the team should feel pretty comfortable and confident heading into Game 7.
His Last Outing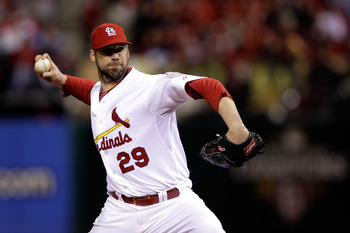 Rob Carr/Getty Images
7.0 IP, 6 H, 2 ER, 2 HR, 2 BB, 4 SO, 101 pitches thrown
That's Chris Carpenter's line from Monday's 4-2 loss in Game 5.
It wasn't necessarily a bad outing despite the team's loss.
He was able to go seven innings and only give up two runs which came on solo shots by Mitch Moreland and Adrian Beltre.
At least Carpenter gave his team the chance to win. The Cardinals just couldn't capitalize, and Mike Napoli's double in the eighth proved to be the game-winner.
The Texas Rangers' Lineup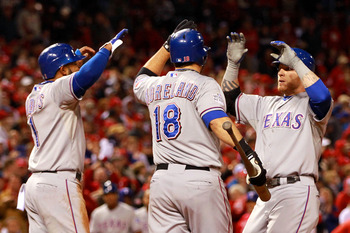 Jamie Squire/Getty Images
You always have to take the other team into consideration when it comes to sports, especially in baseball.
As good as a pitcher is, if the other team's got a batter hotter than Derek Jeter's latest arm candy, then the pitcher can only do so much.
Looking at last night's game, it seems that the Texas Rangers' bats are clicking at just the right time.
Carpenter has been able to control Michael Young, holding him to at .167 average, but Adrian Beltre and Mike "I'm Gonna Drive in Runs Like There's No Tomorrow" Napoli have a combined three homers against him.
Then there's also Nelson "I'm Swinging for the Fences Every Time" Cruz and his eight home runs, tying him for the most in a single postseason.
Luckily for Carpenter, the entire Rangers lineup isn't scorching hot, but there are some batters he will have to navigate around if he wants to win.
The St. Louis Cardinals' Lineup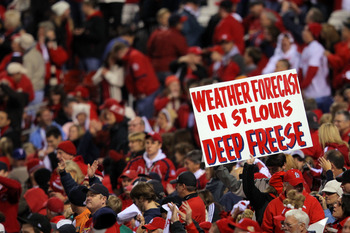 Doug Pensinger/Getty Images
When it comes to baseball, the pitcher can't win a game on his own. He's going to need some help from the offense which is why we can't ignore the St. Louis Cardinals' lineup when examining Chris Carpenter.
The good news for Carpenter is that he has Albert Pujols backing him up.
Pujols has simmered down since his three home run extravaganza in Game 3, but everyone knows he can easily put up another performance just like that.
Then there's Lance Berkman who's basically been batting with a column of fire lately giving Pujols some protection. And yet, the guy who's got Carpenter's back the most is last night's hero, David Freese.
This postseason Freese's been batting .393 with five home runs, 19 RBI and an on-base percentage of .448. He's been the most consistent hitter for the Cardinals.
With last night's heroics, Freese just might not be done with the bat yet.
Prediction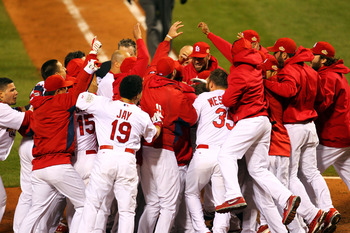 Dilip Vishwanat/Getty Images
As you can probably guess by the picture, Chris Carpenter's going to give a great performance, and the Cardinals are going to win the 2011 World Series.
The Texas Rangers are pitting Matt Harrison against him and barring any October heroics, I don't imagine Harrison out-pitching Carpenter as he hasn't been spectacular this postseason.
Carpenter will give a strong outing and Albert Pujols and David Freese will chip in with some timely hits.
The Rangers aren't going to go down without a fight, but in the end, Carpenter and his Cardinals will stand victorious.
After all, if I was Tony La Russa, I wouldn't want any of my other pitchers pitching Game 7 of the World Series for me.
Keep Reading

St Louis Cardinals: Like this team?