UFC 137: B.J. Penn vs. Nick Diaz Technical Breakdown & Prediction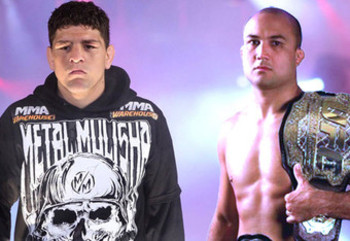 This weekend's big fight between B.J. Penn and Nick Diaz has been a much-debated subject when it comes to weighing the advantages that one fighter has over the other. Is Nick Diaz a better boxer? Do Penn's superior BJJ credentials really mean that he's the better BJJ player?
The arguments are clouded by the fact that the two fighters have faced vastly different levels of competition over the past few years.
While Penn has gone 3-3-1 over his last three fights, his losses and draw were to pound-for-pound fighters in Frank Edgar, Georges St-Pierre and Jon Fitch.
On the other side of things, Nick Diaz has won his last 10 fights, but mostly over guys who wouldn't be (or weren't) good enough to stick around in the UFC.
In this article, I'll break down the advantages of each fighter in detail, explaining how the fight is going to go down based on both fighters' likely strategies and finally make a prediction on the fight.
Striking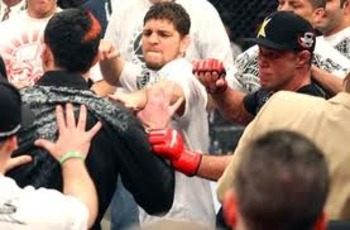 As long as the fight remains on the feet, we're going to see what will primarily be a boxing match.
B.J. Penn's boxing arsenal includes a very good jab, powerful combinations, good control both at range and in close quarters, excellent head movement and some of the best counter-punching in the division. He also boasts one of the most tried, tested and true chins in the sport, and has never been knocked down in his MMA career.
Penn displayed his jab most prominently in his fight with Sherk, whose face was badly cut up by the end of three rounds.
In a display of great counter-punching, Penn completely nullified Kenny Florian's offense at UFC 101 before taking him down late in the fight.
Penn does occasionally use knees and kicks, but they're not primary parts of his arsenal.
Penn did struggle against the diverse and speedy attack of Frank Edgar, the dirty-boxing style employed by St-Pierre in their rematch, and with leg kicks that Penn can counter but often doesn't defend effectively.
Nick Diaz has become known for a "volume punching" style that is nearly unique to MMA. Diaz walks his opponents down, stays within short proximity of his opponent and overwhelms with a constant stream of jabs, crosses, hooks and body punches.
Diaz has an excellent chin that he often relies upon in order to employ this strategy.
Some of Diaz's most effective offense comes when he's able to pin his opponent against the fence and unload with flurries. He did this to good effect against both Evangelista Santos and Paul Daley, and body punches especially seemed to take the wind out of their sails in those fights.
Diaz has been knocked down with power punches before, but has great recovery. If there's another weakness in his striking, it's with his vulnerability to leg kicks which he doesn't really check or counter effectively.
When Penn strikes with Diaz, it seems likely that Penn will try to counterstrike and stay at range. Diaz will likely try to wear Penn down with consistent volume from range or, perhaps, push Penn against fence and try to unload with body shots and flurries.
Although Diaz has a reach advantage, Penn should still be able to counter effectively early on. The question will most likely be about how well Diaz's chin holds up early on as Penn counters.
If Diaz is able to remain on the offense without getting hurt, there's a good chance that he can wear Penn down and take over later on in the fight.
That said, I think Penn has enough power and boxing ability to hurt or possibly even knock down Diaz early, and if Penn is in the driver's seat, it'll be that much tougher for Diaz to wear him down.
Advantage: Penn
Wrestling
Wrestling was probably Nick Diaz's Achilles' heel in his first initial UFC run.
Although Diaz is occasionally able to be an effective offensive wrestler, his shot was repeatedly stuffed by boxer K.J. Noons.
The two fights where a lack of wrestling cost Diaz the most were probably his fights with Diego Sanchez and Karo Parisyan.
While Diaz was likely an equal match to both in terms of BJJ, Diaz spent too much time on his back, losing both decisions as a result.
While he did have a lot of success stopping the takedowns of Sean Sherk, it would still be a stretch to say that Diaz's wrestling defense is very good, unless, of course, it has improved a ton since his last UFC stint.
While Diaz is known for his lack of takedown defense, Penn was famous for his takedown defense and ability to get up off his back when taken down.
During his title reign, Penn had almost complete success in stopping the multitude of takedown attempts from Kenny Florian, Diego Sanchez and Sean Sherk.
Frank Edgar and Georges St-Pierre were able to get Penn down, but Edgar had the advantage of speed and versatility while GSP... is GSP.
If Penn tries to take Diaz down, he'll probably have a fair amount of success as long as he's able to set up his takedowns with strikes.
It seems unlikely that Diaz will be able to stuff Penn if Penn gets his arms around Diaz's legs.
If Diaz tries to take down Penn, I doubt he'll have very much success at all unless Penn is extremely tired. Diaz's shot just isn't very explosive and, although he's occasionally able to catch his opponents off-guard, I doubt that alone will be enough to actually secure takedowns against Penn.
Advantage: Penn—big time.
Submission Grappling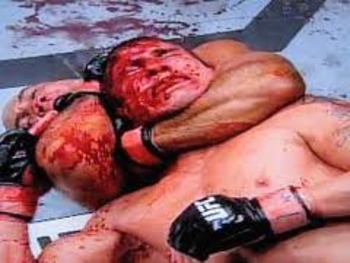 When it comes to BJJ, you'd think that Penn's world title in the discipline would be enough to call the advantage for him, yet some people argue otherwise.
Although Penn has the better BJJ achievements and credentials, Nick Diaz is a black belt in his own right, and many consider him to have the superior guard game.
Diaz has submitted many people with his guard and has shown off an effective armbar, triangle and gogoplata from that position.
Unfortunately, this advantage isn't likely to pay off against Penn, as he has never shown any vulnerability to anyone's guard.
Aside from the guard game, the rest of Diaz's arsenal doesn't stack up to Penn's.
Both Diaz and Penn are decent positional grapplers, but Penn is phenomenal at passing guard, sweeping, mounting and taking the back. From the back, Penn's control and rear-naked-choke are both highly effective.
And although Penn rarely showcases a good, active, offensive guard, that's mostly a product of strategically avoiding that position. When he's in that position, being less effective is only a result of facing superior opposition.
When Diaz and Penn grapple, I expect it to be on Penn's terms, since Penn will most likely be the one who has secured the takedown. From there, Diaz will likely have to initiate a scramble in order to get back to his feet.
Although Penn could lose a scramble, the worst-case scenario for him is winding up on bottom when trying to secure back control as he did occasionally against Jon Fitch, Frank Edgar and Caol Uno in their rematch.
Penn also needs to be wary of tiring himself out with excessive grappling. If he can control the pace, he should be able to avoid that.
Neither Penn nor Diaz are very likely to be submitted, but if a submission happens, it'll probably be Penn locking up yet another rear-naked-choke victory.
Advantage: Penn
Durability and Endurance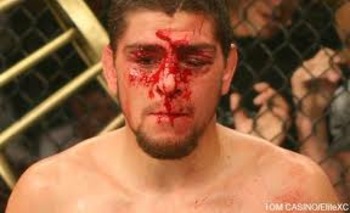 Penn and Diaz both have opposing strengths and weaknesses when it comes to durability and endurance.
Both possess good chins, but while Penn tends to tire out and is famous for a lack of motivation, Diaz is famous for being able to push the pace and for competing in triathlons.
If this were a five-round fight, there's a good chance that Diaz would be able to wear Penn down with pace (and possibly body punches) in order to take control in the later rounds. For example, after two high-paced rounds of grappling, Diaz would probably be able to out-hustle Penn in the third.
Unfortunately for Diaz, it's going to be a three-round fight, so Diaz is probably going to have to win at least one of the first two rounds while Penn is still fresh.
Outside of cardiovascular endurance, Penn has the advantage when it comes to absorbing damage.
Penn is rarely ever marked up or cut in a fight, and while some of that is a result of good defense, at least some part of it is a result of having good skin.
Unlike Penn, Diaz's skin is prone to cutting. He bleeds often during fights, and was once stopped due to cuts after absorbing some punches from K.J. Noons.
Still, I can't rightly give Penn the advantage in durability and endurance just because he has better skin.
Diaz's cardio advantage should be more significant.
Advantage: Diaz
Strategy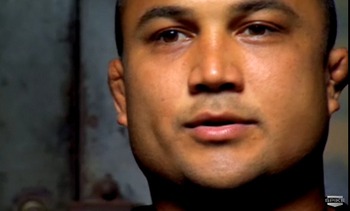 When it comes to strategy, B.J. Penn is far more of a wild card than Nick Diaz.
Diaz is going to push the pace, attack with volume and possibly initiate a takedown or a scramble just to mix things up.
Penn is often content to engage in a slow-paced boxing match, but at other times is relentless in pressing the action. He often only initiates a takedown once he smells blood (mostly metaphorically speaking). Usually, though, he's content to control the pace with boxing and counter-wrestling.
However, Penn surprised Jon Fitch in his last fight by immediately attacking with takedowns.
When Penn and Diaz fight, I don't expect much of a change from Diaz, but am intrigued with the possibilities of what Penn might do.
It's likely that Penn will at least attempt to control the standup, but I can't be entirely sure.
If Penn does go to the ground, he could have a lot of success, but he also increases the likelihood that he'll tire himself out.
Prediction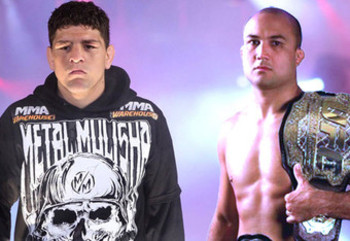 If Diaz was able to drag Penn into a five-round war, I think he'd start to take over the fight in the later rounds, perhaps even getting a TKO stoppage after slowing Penn down with body shots.
Unfortunately for Diaz, he only has three rounds to work with, and more than that, Penn has the power to knock Diaz out even before the fight really gets going.
Although there's a chance that Diaz can win a decision over three close rounds, I just don't think it's super likely.
In a three-round fight, Penn simply has more tools.
But just to be brazen and bold, I'm picking Penn to win by TKO in the third round, possibly in a cut-related stoppage.
Keep Reading