Cleveland Browns: Ranting About the Terrible Offense
November 2, 2011
Ezra Shaw/Getty Images
It's getting tougher and tougher every week to keep making excuses for the Cleveland Browns' poor play.
Don't get me wrong, I still love them. But they are tough to watch on offense!
I understand that this team has young players and that young players need time to grow and mature as NFL players. I understand that Colt McCoy is basically a rookie. I understand that the most productive wide receiver this year is a guy who played QB in college and is best known for returning kicks. I understand that Pat Shurmer is a first-time head coach. I understand all of this.
But what I also understand is the NFL is a league that is built so that bad teams can get good. And that seems to be happening to every team except the Browns. Just in the past two seasons we've watched the Buccaneers, Chiefs, Lions, Bengals, Bills, Raiders and 49ers go from drafting right around the Browns to being relevant in the playoff race.
I also understand that in the NFL we've seen young QBs like Sam Bradford, Cam Newton, Andy Dalton, Christian Ponder and Josh Freeman actually look good on a consistent basis playing as rookies.
So why then does it seem to be working for everybody else except the Browns?
This team looks lost on offense right now.
Ezra Shaw/Getty Images
It seems almost unconscionable that the Browns haven't scored a touchdown in the first and third quarters this season. That's NO TOUCHDOWNS in the first and third quarters of all seven games!
The crazy thing is that we've been here before. I wrote a couple weeks ago about how as bad as this is it isn't as bad as the non-2007 Derek Anderson era. But now it seems like we might be getting there.
What has compounded matters is the utter lack of anything resembling a running game—3.2 yards per carry is what the Browns are pounding out this season.
Peyton Hillis has been Madden cursed, it appears. Montario Hardesty, an injury-plagued RB in college who we traded up to take in the second round last year, is shockingly injured again. This leaves the fate of the running game on the back of Chris Ogbonnaya. If that doesn't instill confidence in your heart, then nothing will.
Not having a running game is putting a lot of strain on McCoy for sure.
Another key factor in the offensive woes is the poor play by the offensive line. They're not giving Colt enough time to make reads and throw and aren't getting any push for the running game.
I know that losing Eric Steinbach hurt, but Jason Pinkston is an NFL player and I don't think I'm asking too much for him to look a little more like it.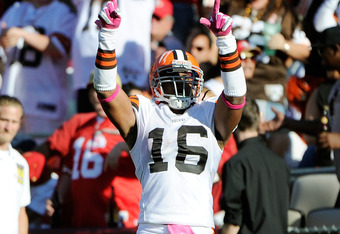 Thearon W. Henderson/Getty Images
Speaking of not looking like an NFL player...Tony Pashos. Just put our two tackles side by side. It's not too tough to pick out which one is the All-Pro and which one is a total waste of space at right tackle. Whether it's penalties or just a general lack of being able to contain a pass rusher for 0.2 seconds, Pashos just isn't cutting it.
The offensive line needs to come together if we are going to have any chance to put up points the rest of the year.
I could exhaust a good 45 paragraphs on the receivers, but I'll settle for this: Get Joshua Cribbs the ball more. It's no coincidence that Cribbs' two catches on Sunday were directly involved in the Browns' only two scores. Every NFL pundit looks at Cribbs as the only playmaker on the Browns. And they have the same question: Why aren't they getting him the ball more? I don't know the answer either.
One more thing on the receivers: I like Greg Little. He makes rookie mistakes and owns up to them. But he obviously has the talent to be a No. 1 guy. Maybe let's try running him some routes outside of five yards?
In the end, however, every discussion about the offense has to come down to the quarterback, Colt McCoy. And I just don't know what to think.
This Sunday against Houston will be McCoy's 16th NFL start. That's a full season, so we can stop the "he's still basically a rookie" talk. It's time for him to grow up and start producing. Some of it may be the line and some of it may be the play-calling. But the bulk of the blame for bad offense will always fall on the QB.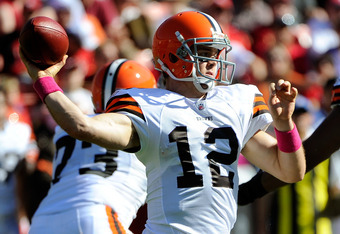 Thearon W. Henderson/Getty Images
We praised him in the preseason when he looked great, and the offense looks so much better than last year. But now that it's back to sucking it's time for Colt to put up or shut up.
I don't have the answers for what's wrong with Colt. At least one drive a game he looks fantastic and I think that he could be turning things around. But that's not what he shows most of the time. We need more consistency out of our quarterback. And we need more wins. Because we're all sick of losing.
A couple final interesting notes...
If Colt starts every game this year, which is likely, then he will be the first quarterback since the Browns came back in 1999 to start every game in a season! Not sure how that's possible, but it is.
Here's a fun stat: the three teams that the Browns have beaten this year have a combined record of 2-20. It's a good thing the NFL doesn't use the BCS because I don't think those would exactly count as "quality wins." This week would be a great time to beat a legitimate NFL team.
And finally, as bad as the Browns have been on offense this year, there are still six teams that are worst! The silver lining...it could be worst, Cleveland, we could be the Colts or Jags.

You can follow me on Twitter @ClevelandFlack