Cowboys vs. Eagles: Why Tony Romo's Job Is on the Line on Sunday Night
October 28, 2011
Wesley Hitt/Getty Images
It's gameday. The Cowboys are down by six points with 1:34 left on the game clock in the fourth quarter. Dallas has a 4th-and-2 at their own 43-yard line, and Dallas head coach Jason Garrett has a decision to make.
Running back DeMarco Murray is having a decent enough day to warrant considering running a dive straight up the middle. Murray has 19 carries for 73 yards and one touchdown. The Eagles have stymied him over the past few drives, so Garrett believes that his offensive line is a little tired.
Quarterback Tony Romo has thrown two touchdown passes with no interceptions and 268 yards. Cornerback Asante Samuel dropped one sure pick, but it slipped through his hands after Romo misread the Eagles coverage.
What should Garrett do? Should he run the ball with Murray and pray that his line gets a push, or does he pass with Romo and hope that he doesn't turn the ball over?
Situations, like the hypothetical one listed above, are why it's necessary to believe that Romo's job and career as a Dallas Cowboy may be on the line. Yes, Tony gives Dallas the best chance to win, and we all know that Jon Kitna replacing him for the remainder of the season is a non-starter. We also know that while Romo is capable of winning a ballgame, he's capable of throwing it away as well.
On Sunday the Cowboys have the unique opportunity to bury the Eagles. Philadelphia is playing at home, after a bye week where Philly head coach Andy Reid is 12-0 and the game is in primetime on NBC.
The "Iggles" are 2-4 and if the 'Boys beat 'em down they'll tank toward 2-5. Their playoffs hopes will be dashed because after Dallas there is New England, the Bears, the Giants and Jets. Five losses heading into Week 9 probably means no playoffs for Philadelphia.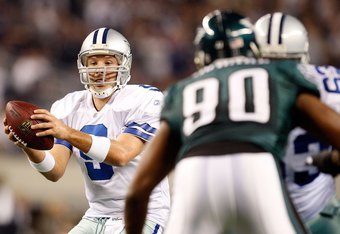 Ronald Martinez/Getty Images
The Cowboys have to know that this is there chance to cut the Eagles off at the knees and maybe head to the top of the division.
But if Dallas loses this may give Philly new life and prop up any playoff hopes fans had before the season started. The Cowboys would slide to 3-4 with games against the Seahawks, Bills and Dolphins ahead.
There will still be hope for the Cowboys, but with four losses and four division games remaining for the season, it will be tough sledding for the Cowboys to make it to the second season.
This is Tony Romo's chance to prove his critics and maybe his head coach wrong about what's being said about him and his ability to lead Dallas to a championship.
The last time Romo was in prime time we remember him throwing a costly interception to Revis on his non-existent island. Revis is a good cornerback, but by no means is he great. But that's another time for another article.
Tony has to play well and lead or even will Dallas to victory. The Cowboys need this game to take their win total to four and to bury the hated Philadelphia Eagles.
If Romo is unable to knock Philly off and he turns the ball over in a key situation, then the sun will probably set on his career as the starting Dallas Cowboys quarterback after this season.
Prove 'em wrong Tony, prove 'em wrong.
-JH
Making a Case for Jon Kitna as Dallas Cowboys Starting Quarterback
Dallas Cowboys Report Card: Grading Each Unit vs. the St. Louis Rams