10 AHL Players That Will Move to the NHL During the Season
Bruce Bennett/Getty Images
Late in the 2009-10 season, Logan Couture was skating in the AHL when he got the call from San Jose. After a 32-goal, 56-point rookie season last year, he won't have to worry about meal money again.
As the 2011-12 season progresses, there are some kids around the AHL that are fighting for respect within their organizations and, if available, a spot on an NHL roster. While we can't project injury opportunities, we can look at some of the top prospects around the AHL and see who might have a fighting chance at cracking the NHL.
Here are 10 prospects, all currently in the AHL, that might get the same phone call Couture did in the spring of 2010.
Kyle Palmieri, Anaheim Ducks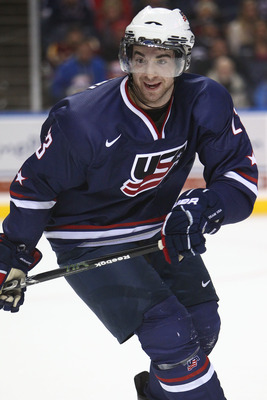 Tom Szczerbowski/Getty Images
Palmieri, a gritty forward who reminds some of Boston's Brad Marchand, scored 29 goals in 62 games with Syracuse last year. The 26th overall pick in 2009 by Anaheim, he is their top prospect in the AHL and could be one injury away from getting a phone call.
How incredible would it be for Palmieri, born Feb. 1, 1991, to join Cam Fowler as a 20-year-old on a roster with future Hall of Famer Teemu Selanne, who made his NHL debut in October of 1992.
Simon Despres, Pittsburgh Penguins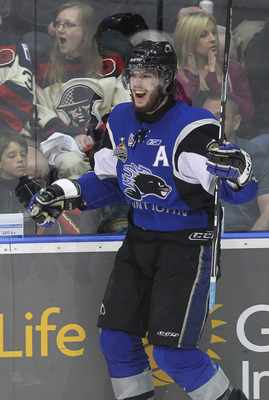 Claus Andersen/Getty Images
Despres probably needs more seasoning in the AHL, but the injury-plagued Pens might be forced to consider the 6'4", 200-pound defenseman at some point this year. He registered 41 points in 47 games in the QMJHL last year before making the leap to the AHL this year with Wilkes-Barre/Scranton. Despres has two points in his first eight games this season.
Carl Klingberg, Winnipeg Jets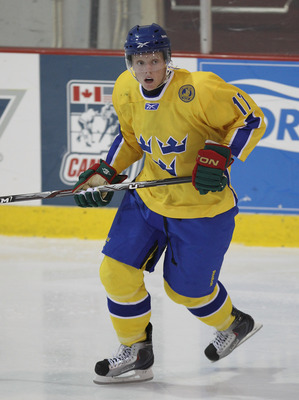 Bruce Bennett/Getty Images
Klingberg, the 34th overall pick by then-Atlanta in the 2009 Draft, might not be the most talented player on this list but might benefit from being part of a thin system. He's listed at 6'3" and 205 pounds and has six goals in his first eight games with St. John's in his first full AHL season.
He's still only 20 and could use more seasoning, but if the Jets need a forward at some point, or if their management wants to move a veteran or two off the NHL roster, Klingberg might be on the way to Winnipeg.
Carter Ashton, Tampa Bay Lightning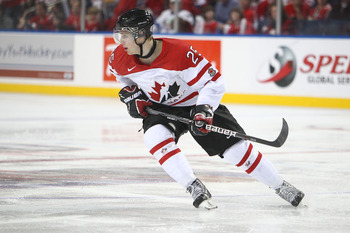 Tom Szczerbowski/Getty Images
The 29th overall pick in the 2009 Draft (initially by Detroit, who dealt his rights to Tampa), Ashton is making waves as a 20-year-old with Norfolk in his first full AHL season. In his first eight games, the 6'3", 215-pound forward has seven goals and four assists. If Tampa looks to add some size and scoring at some point, Ashton's name will be near the top of Steve Yzerman's list.
TJ Brodie, Calgary Flames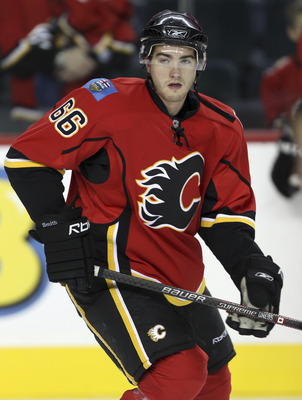 Mike Ridewood/Getty Images
Not as highly regarded at the draft as most of the other prospects on this list, Brodie hasn't disappointed. The 6'1", 185-pound defenseman was the 114th overall selection by the Flames in 2008, but has done well to climb the ranks of Calgary prospects.
Brodie piled up 34 points in 68 AHL games last year and saw three games at the NHL level with Calgary. If and when the Flames start selling this year, Brodie might be one of the first players brought to the NHL.
Tomas Kubalik, Columbus Blue Jackets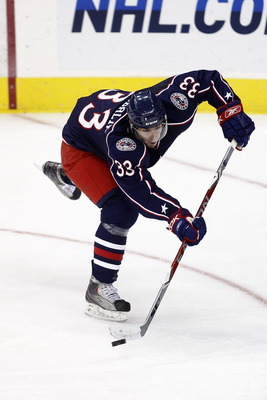 John Grieshop/Getty Images
Matt Calvert and John Moore have already been to Columbus this year, and Kubalik might be next. The 135th overall pick in the 2008 draft, the 6'3", 215-pound forward piled up 53 points (24 goals, 29 assists) in 76 games in the AHL last year with Springfield.
If and when the Jackets decide the wheels are off, the youth movement could come on strong around Rick Nash, Jeff Carter and James Wisniewski. With Kubalik, Moore and Calvert being the key pieces coming up from the AHL, there is reason for hope in Columbus.
Justin DiBenedetto, New York Islanders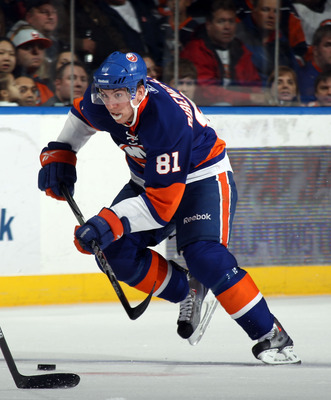 Bruce Bennett/Getty Images
DiBenedetto, the 175th overall pick in the 2008 Draft by the Islanders, has flown out of the gates this year after seeing action in eight games at the NHL level last year. He's scored seven goals in seven games for Bridgeport Sound.
The Islanders are young already, and if there's a time that they need to add a secondary scorer from within the organization, DiBenedetto is the best option in the AHL for the Isles.
Jeremy Morin, Chicago Blackhawks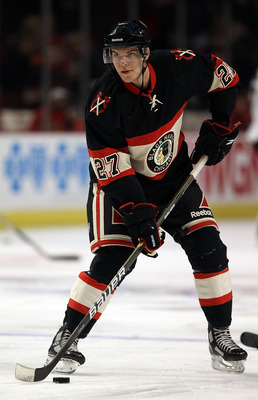 Jonathan Daniel/Getty Images
Morin has the skillset to be a top-six forward in the NHL, and that talent made him the centerpiece of the blockbuster trade sending, among others, Dustin Byfuglien to Atlanta.
He was the talk of the Chicago preseason last year, and skated a total of nine games during two separate call-ups with the Blackhawks last year. He scored two goals in those nine games, and posted eight in 22 games with the Rockford IceHogs before a concussion ended his 2010-11 season prematurely.
Because of that concussion, Morin didn't start the 2011-12 season on time. But since returning to the ice, he has scored two goals in five games with the IceHogs this year. If the Blackhawks need secondary scoring, or start getting offers they can't refuse for some of their veterans on one-year contracts, Morin or Ben Smith could be in Chicago quickly.
Joe Colborne, Toronto Maple Leafs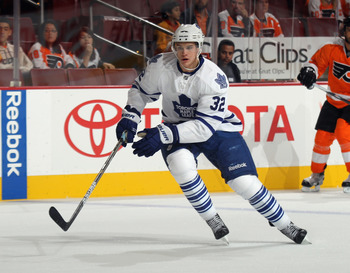 Bruce Bennett/Getty Images
A huge, 6'5", 215-pound center that was originally drafted by Boston 16th overall in 2008, Colborne is off to a fabulous start with the Marlies this year. He leads the AHL with seven goals and eight assists in seven games, and could work his way into the NHL rotation before long.
Toronto acquired the rights to Colborne with a number of draft picks last year in the trade that sent Tomas Kaberle to Boston. The Bruins rented Kaberle and won a Cup; Toronto may have a big-time center for years to come.
Ryan Ellis, Nashville Predators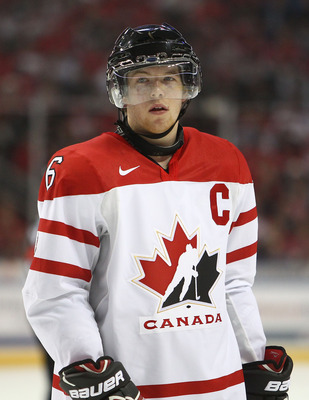 Tom Szczerbowski/Getty Images
How about a defenseman putting up 101 points in 58 games in the OHL? Ellis, the 11th overall pick by Nashville in 2009, is going to be the centerpiece of the future in Nashville because, odds are, the Preds won't keep both Shea Weber and Ryan Suter.
Ellis' production this year with the Milwaukee Admirals will be closely monitored while the trade rumors surrounding the defensemen on the NHL roster in Nashville will be more visible. If he keeps putting up ridiculous point totals, it will be hard to keep him in the AHL whether Suter or Weber is traded or not.
Keep Reading