Patriots vs. Steelers: 10 Things That Steelers Fans Should Watch for in Week 8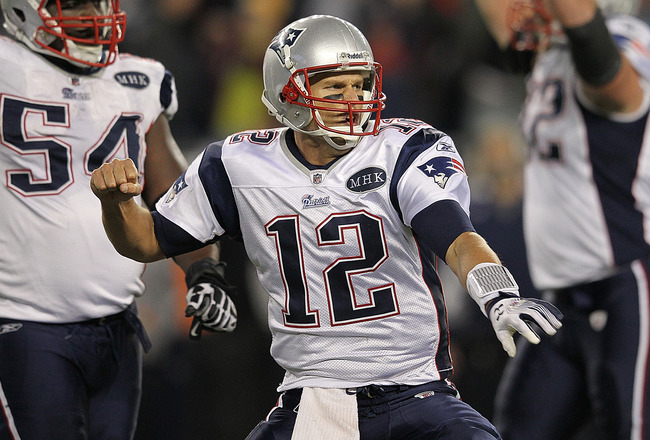 Jim Rogash/Getty Images
As the New England Patriots travel to Heinz Field for Sunday's contest against the Pittsburgh Steelers, history casts a warm glow on a franchise that has seen so much success at the decade-old venue.
Unfortunately for Steelers fans, this refers to the Patriots, with numerous wins and two AFC championships that came in the Steel City; the only thing cast over Pittsburgh in many of the previous contests has been the shadow of Tom Brady.
Steelers fans are a special breed: blue-collar, towel-waving, confident football fanatics whose majority fanbase believes the team will win every Sunday and that no opponent can't be overcome. Perhaps, the greatest sign of respect for the talents of New England are the voices of those eternal optimists, suddenly hesitant in the wake of this weekend's daunting task:
Beat Tom Brady and the New England Patriots at all costs.
With a 6-1 lifetime record against the Steelers, Brady has often made the Black and Gold appear to be "Men of Still." With gaudy numbers and scary effectiveness, defenders have appeared motionless (or helpless) to stop the all-time great quarterback's attack.
Nevertheless, this year's Boston bunch sports a lackluster secondary, and some fans are hopeful that exploiting this weakness will allow Pittsburgh to finally overcome a true bane of their existence in the past decade.
Hey, anything is possible...right?
The Pittsburgh Steelers have an opportunity to produce their first truly validating victory of the 2011 season—a win that would actually put them in first place in the AFC through Week 8.
With a familiar opponents coming to town and evoking the ire of Steelers' fans everywhere, here are 10 things for frothing fans to watch for in between their bytes about Belichick and barking at Brady.
Welker and Wallace: Different Styles, Great Results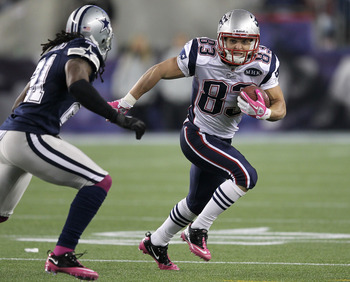 Jim Rogash/Getty Images
Two receivers enter Sunday's contest on record-breaking pace: Wes Welker and Mike Wallace. Here are the 2011 statistics for both receivers:
MIKE WALLACE: 36 receptions, 730 yards (20.3 avg), five touchdowns
WES WELKER: 51 receptions, 785 yards (15.4 avg), six touchdowns
While Welker's yard per catch is higher than his career average by over four yards, Wallace's game breaking downfield speed and ability is shown in both totals, career and season.
Both do it in different ways, and both are having magnificent campaigns.
With 15 more receptions, Welker has only 55 more yards, largely buoyed by a 99-yard reception on opening weekend against Miami. Otherwise, Wes's approach is still the same. He is an extreme threat on intermediate and quick passing routes, using his deceptive speed and shiftiness to make additional yardage beneath coverages. A great stick mover, it's no surprise that he is Brady's most targeted pass catcher.
On the other side of the field, Wallace is a threat to break open downfield on any play. While his route running has developed and his game has expanded as a receiver at all three passing levels (short, intermediate, and deep), Mike's afterburners show in his numbers. He is a big-play receiver. Coupled with Ben's penchant for extending plays and giving receivers opportunities to open up downfield, the talented wideout is among those threatening Jerry Rice's single-season receiving record.
Rice's record is 1,848 yards in 1995. While this would be difficult to break, Wallace should destroy the team record (barring injury) of 1,398 yards in 1997.
Avoiding (Another) Brady Beatdown
A California kid, hair blowing in the breeze, whose flamboyance (and success) draws out the ire of many opponents. A pocket passer by day, a supermodel's husband by night.
Just the type of guy the Steelers want to destroy. Yet, they don't. Or, dare it be stated...that he's destroyed them?
Was there any doubt of his appearance on this slideshow? After all, anything related to the Patriots somehow works its way back to Tom Brady.
So, Danny Woodhead's former babysitter's pet groomer accidentally hurt Dan's cat? All kidding aside, this would somehow trace back to Mr. Brady. Like it or not, the Patriots' ascension from gutter to glory had a keystone piece, and Brady has become a Boston fixture. He is Mr. Patriot.
Against Pittsburgh, Brady is the official "bomb." From long touchdown strikes to his 6-1 record, his success is not an accident, nor the mere result of circumstance.
After skating to an AFC championship victory in 2001, he exposed the Steelers secondary by passing on nearly every play in the second half of the 2002 Monday Night Football opener. The Patriots won, and teams used the blueprint to harass the Pittsburgh secondary for the rest of the year.
In 2004, the Steelers finally defeated New England, ending their historic 21-game winning streak. The encore came in the playoffs, but the scripts was very different. Brady's meteoric passer rating came after a night of bed rest and high temperatures. The Patriots utilized misdirection and took advantage of an overaggressive defense, winning 41-27.
The 41 points remain an opponent record at Heinz Field. So, who was the runnerup?
Brady, naturally, who brutalized the Steelers using backs and tight ends last season—a 39-26 triumph.
In 2005, the Steelers defense forced opportune turnovers and pressured Brady for three quarters. In the fourth quarter, Tom Terrific went 12-for-12, rallying from a 13-7 deficit earlier in the second half to win 23-20.
And, who can forget the guaranteed victory that safety Anthony Smith made against the Patriots in 2007? Yes, that 2007 Patriots team, the gangbusters who finished 18-1 and could have easily been undefeated. With a game plan that included some gadgetry and a lot of pump faking against the overwhelmed safety, Brady tore up the Steelers.
Predictably, he made it a point to approach Smith after zinging a touchdown pass past him.
With new wrinkles and a scary confidence in his performances, fans fears have a very universal cause. While you can't stop him, Brady must be contained for the Steelers to win.
Killer B's: Belichick and Bye Week
Ezra Shaw/Getty Images
"And what will Belichick have up his sleeve with two weeks to prepare?" It's one of the most popular comments on Pittsburgh radio stations this week.
In reality, the other "Killer B" in New England isn't infallible. He has a great track record, but some of even his decisions have come under scrutiny. 4th-and-2, anyone?
But, so what? Yes, he looks like a loafer with his short-sleeved hoodies. There's a bad man under that hood, and after a bye week, his reputations becomes badder!
His winning percentage and championship pedigree speaks for itself, and much of it is the result of his tactical skill. One of football's greatest tacticians, he is the mastermind behind two of the most well-prepped defensive strategies in Super Bowl history. Before Super Bowl XX, defensive coordinator Belichick told his Giants squad that they would win their game against the Bills if Thurman Thomas had over 100 yards rushing? In those days, that was considered a key to winning: running the ball.
Like Nostra-Bill-us, it happened. Years later, Patriots corners manhandled Rams receivers in a physical performance than led to another Super Bowl upset over the "Greatest Show on Turf." For his defensive prowess, Belichick's decision to promote Brady to his full-time starter (even during the early years, when many fans still pined for Bledsoe) has bolstered the offense.
Bill's reputation for winning only heightens with an extra week to prepare. He is 9-2 in the regular season and 13-3 overall after a bye week. Coupled with New England's novel approaches in games against the 'Burgh, it seems new strategies are deployed with each contest. His 6-1 record showcases their success.
Some call him a genius. Others doubt this claim. One thing is for sure. Bill's track record speaks to a high football I.Q.
Two weeks is a long time to prepare. With a history of winning game plans against the Black and Gold, can the Steelers give Bill a black mark in the series? Or, will his strategy at Heinz Field prove golden again?
Steelers Best Defense is Exposing the Terrible Patriots Pass Defense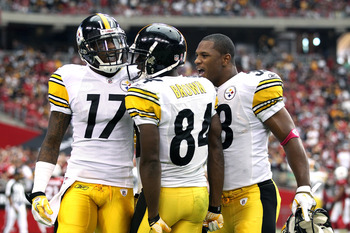 Christian Petersen/Getty Images
Nobody will argue that the best way to prevent Brady from controlling the tempo of the football game is to keep him on the sideline. Traditionally, this would mean a strong running game from the opposition, controlling the clock and wearing out the defense.
The Steelers running game has been inconsistent, and most fans are conceding that a weekly strong rushing effort isn't going to develop in 2011. While a great game from the running backs would be the cherry atop the Steelers' "Sunday," Pittsburgh's best chance of keeping the Patriots offense off the field is the passing game.
In recent contests, the offense has stagnated until far too late; last year, Big Ben and company only got on track after New England had taken a three-touchdown lead. Despite matchup advantages, it has always seemed that the Steelers offense bogs down for long stretches of these key matches.
Against the 32nd-ranked Patriots pass defense, the Steelers hope to replicate their success from last week, where the Cardinals experienced the frustration of Pittsburgh's depth and ability at receiver. Coupled with Ben Roethlisberger's ability to extend plays and make throws, the passing game looked crisp, and the improving protection from the offensive line since the arrival of Max Starks has been an undeniable catalyst.
While the Patriots run defense has been solid and their defensive front has made plays, keeping Ben upright to attack the defensive backs is critical. First downs extend the game for Pittsburgh and shorten it for New England. While a few long gains to Wallace will surely be needed to keep up with the Pats' offensive machine, the priority has to be sustaining offense. Getting everyone involved, from Heath Miller to Antonio Brown to Emmanuel Sanders to Hines, is key.
Mike Wallace vs. Devin McCourtey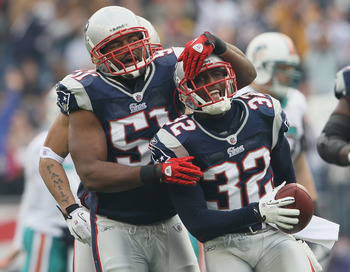 Elsa/Getty Images
After a great rookie season that included seven interceptions, curious eyes have begun to focus on Patriots cornerback Devin McCourtey. In today's NFL, various stat-tracking agencies rank players, a huge drawing point for our number obsessed sports culture.
McCourtey's numbers indicate one of the lowest success rates in coverage this season, and statistics imply that the corner is the weak link in the New England secondary. While various explanations have been provided to explain his "slump," here are the straight coverage numbers against two premiere opponents, followed by a cumulative season total (according to Pro Sports Daily):
at MIA, covering Brandon Marshall - seven receptions, 139 yards; overall - 15 targets, nine receptions, 151 yards
vs. SD, covering Vincent Jackson - 10 catches, 172 yards, two touchdowns
In 2011, the cumulative stats shown for McCourtey, ranked as the league's worst defensive back by some measures (a simple online search shows these results), shows the following totals:
51 targets, 35 receptions allowed, 496 yards, two touchdowns
According to this source, quarterback's ratings have averaged 125.9 when throwing to McCourtey's receiver; only James Ihedigbo has been worse on the squad, allowing a 136 rating on only seven targets.
Whether these stats are 100 percent accurate, they are certainly a close reflection of a sophomore slump, and McCourtey's assignment this week won't be any easier.
In an interview, McCourtey described Mike Wallace as the fastest receiver he's ever covered. Last year, the speedster torched the Patriots for 8 catches, 136 yards, and two touchdowns.
With a record-breaking season well underway for Wallace, the electrifying Pittsburgh wideout is surely licking his chops for Sunday's assignment.
Woodley vs. Nate Solder?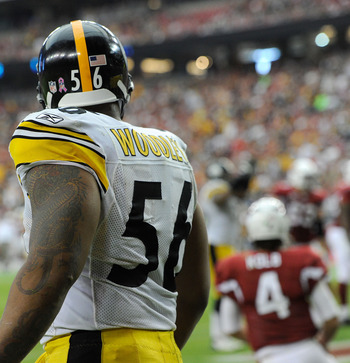 Karl Walter/Getty Images
Last season, the Patriots blitzed Ben Roethlisberger 23 times, sacking the quarterback on five occasions and taking advantage of a perceived weakness: the offensive line. Surely, the Patriots will deploy a similar tactic; with Ben releasing the ball quicker and the line improving, there is hope that the Steelers can resolve this area of strength in the 2010 Patriots' gameplan.
When playing a great quarterback, allowing him to be comfortable is a death sentence. Can the Steelers turn last year's disadvantage into their favor in 2011?
This time around, the Steelers must get pressure on Brady. While many argue this philosophy, citing Brady's strong numbers against the blitz , allowing the quarterback to sit idly in the pocket, picking his targets with time to spare is a recipe for another record day against the defense.
One key advantage the Steelers have with respect to this objective is the potential matchup of rookie tackle Nate Solder facing off against Lamar Woodley on the outside. Woodley was a linebacker possessed last week, and his production has increased in recent games.
Assuming the favorable matchup, can the boot help to make up for the loss of James Harrison, who also didn't play against New England last season?
An Increase in Press Coverage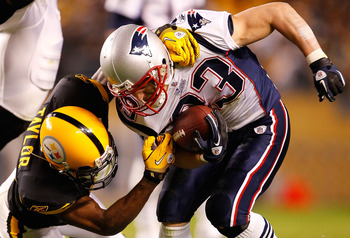 Jared Wickerham/Getty Images
"Why are they playing so far off?

-99 percent of Steelers fans during 2010 contest vs. New England
In recent weeks, Ike Taylor and the Steelers secondary, namely the corners, have been playing closer to the line. With close, physical coverage translating to success, the unit is the top-ranked pass defense in the NFL.
Is this strategy preparation for the Patriots, who made mincemeat of the Steelers' loose coverage schemes in previous affairs? Many radio personalities in the area have indicated their belief that this is the main goal of the recent penchant for press coverage.
After seeing everything fall apart for the Men of Steel against Brady's Bunch in most recent outings, any change in philosophy is welcome. Want to disrupt a passing offense?
Most would tell you to get in the receivers' grills. This Sunday, how physical will Ike and company get in their assignments?
A Fast Start
In 2010, the Steelers were trailing 7-0 after a methodical opening drive by Brady. The offense never responded through thirty minutes, and the Patriots missed opportunities to lead by better than their 10-3 edge at intermission.
In the second half, before the Steelers could get cold again, New England scored twice, the second touchdown being a demoralizing quarterback sneak that put the Patriots up 39-26.
Few remember that before the contest at Heinz Field, New England's offense was inconsistent at best. They went through change, getting Deion Branch and relieving themselves of Randy Moss. The offense was more questions than answers.
Then, they exploded, emulating their 2007 historic production, scoring mounds of points each week.
So, what can the Steelers do against a high-powered machine to prevent another blowout? A fast start is a good start. It's amazing how invigorating a solid beginning by all units can be!
Consider a stark contrast to last season: 2004. Despite New England stopping Pittsburgh on an opening drive before taking a 3-0 lead, rookie Ben Roethlisberger and the offense answered. A deep touchdown pass to Plaxico Burress gave Pittsburgh the lead. After a Pats turnover, a beautiful catch by Plax made it 14-3. Before the end of the first quarter, Deshea Townsend interepted Brady, taking the football into the endzone.
The 21-game winning streak for New England was in immediate jeopary, thanks to a fast start by the Steelers. The Patriots were forced into playing catchup, and they lost 34-20.
In the AFC Championship Game, the Patriots led 24-3 at halftime. Notice a theme?
If New England takes a systematic lead on Sunday, subsequently forcing a three-and-out by Ben and the offense, it could be another long evening. Sunday is the day before Halloween, not Groundhog's Day. Bill Murray won't be in the stands, so an encore performance is not desired.
Taking an early lead against the Patriots would be a huge psychological boost to the Steelers, who have not defeated the killer B's of Brady and Belichick united since 2004.
Holy Gron-kow-ski!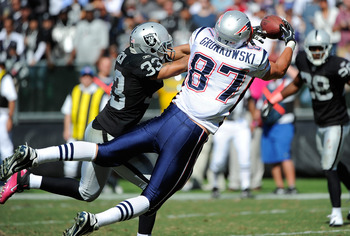 Thearon W. Henderson/Getty Images
Who can forget tight end Rob Gronkowski, whose demolition of Pittsburgh in last year's 39-26 loss to New England saw his coming out party. As the pivotal player on the offense with Brady, his three touchdowns were a career high, and they were caught with corner Willie Gay covering.
Man, those Patriots and attacking weaknesses. Seems to be a theme, huh?
Ten touchdowns in 2010 have been followed up with 29 catches for over 400 yards and five touchdowns. As a tall (6'6") target at tight end, Brady has an ideal outlet, and he was utilized en masse last November in the Steel City.
On a bright note, Gronkowski is a Western, PA, product out of Woodland Hills High School. After moving to Pennsylvania in 2006, the athlete left for collegiate ball before returning to PA in 2011. Sadly, this was after he was drafted by the Patriots. And, his return was not what most in the region would call a welcome homecoming!
Unless they were named Gronkowski....
While we all love hometown success, Steelers fans will not root for an encore this Sunday!
'Tis the Season!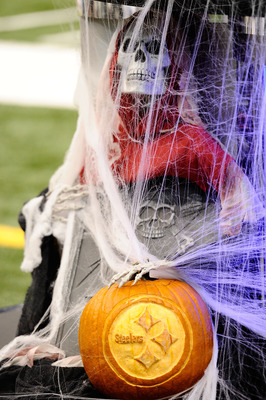 Karl Walter/Getty Images
On Halloween 2004, Heinz Field hosted a key contest against an AFC heavyweight. The victor would lead the race for home-field advantage in their conference. One team was a juggernaut, labeled as invincible by most prognosticators. Their opponent was a team seeking validation; their record not considered complete proof of their ability considering some of their recent struggles .
As the game kicked off, fans garbed in elaborate costumes could be seen amongst the massive number of black and gold jerseys. Black and gold schemes were used for dress-up mummies, vampires, and other ghastly ghouls. "The Monster Mash" blared on the loud speakers, then the Steelers mashed the Patriots.
With each record win during their streak, the Patriots fans' in Boston would hold the new number high over their head. 19, 20, 21…
On a crisp Heinz Field evening, the breeze off the three rivers put an appropriate chill in the air. After all, something spooky had happened. The Steelers just beat the Patriots. At the time, few knew what type of sorcery that would later prove to require.
Two fans waited atop the hill for the Patriots' team bus after the game, which would take them down the hill above the field toward the airport. When the bus passed, those fans held two zeroes in their hands, reading "00." After all, the Pats held a new winning streak.
Those two fanatics were my friend and me.
Fastforwarding to Halloween Eve 2011, the devilish holiday sees a true menace returning. Both teams will reprise their roles. The Steelers struggles cause them to seek validation, and a win over the Patriots would provide this merit. The Pats again enter as a juggernaut favored to win.
Brady returns for more blood. The Steelers hope to make him cry for "mummy." Okay, cheesy, but you get the picture.
While the series has not boded well for Pittsburgh, Halloween has seen fond memories against New England and the bane of Brady.
If for no other reason, fans can enter Sunday's contest with hope. After all…
'Tis the season!
Keep Reading

Pittsburgh Steelers: Like this team?