Ole Miss vs. Auburn: Last-Minute Spread Info, BCS Impact, Line and Predictions
October 27, 2011
Jamie Squire/Getty Images
This game matches up the highly overrated No. 23 Auburn Tigers against a very bad Ole Miss Rebels, but there is no denying the fact that whenever two SEC teams get together it's bound to be a battle.
Auburn is somehow ranked No. 23 even though it is 5-3, including a 3-2 SEC record.
Granted, the Tigers' losses have come against very good Clemson, Arkansas and LSU programs, but that isn't enough of an excuse to keep them in the BCS.
Ole Miss, on the other hand, is coming in at 2-5 and 0-4 in the SEC with its only two wins coming against Southern Illinois and Fresno State.
This may seem like a mismatch, but it will be an interesting matchup nonetheless.
Where: Jordan-Hare Stadium, Auburn, Ala.
When: Saturday, Oct. 29. 7 p.m ET
Watch: ESPNU
Spread: Auburn -12
This is a surprisingly small spread, so Auburn should be able to cover it.
Over/Under: 51
It's going to be a close call; I would suggest the under.
All betting information courtesy of ESPN.com.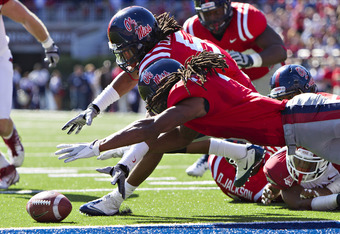 Wesley Hitt/Getty Images
Key Injuries:
Ole Miss: running back Brandon Bolden (probable, ankle), safety Brishen Matthews (questionable, back)
Auburn: linebacker LaDarius Owens (questionable, foot), offensive lineman Ed Christian (questionable, back).
BCS/Top 25 Poll Implications:
I'm not sure if a win here would put the Rebels into the BCS, but they certainly are hoping so. Auburn, on the other hand, needs to prove doubters like me that it belongs.
Keys to Ole Miss Win: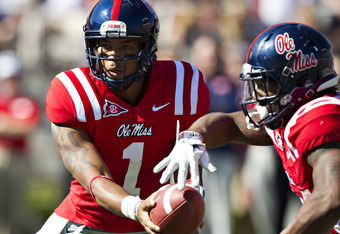 Wesley Hitt/Getty Images
Quarterback Randall Mackey obviously controls the offense, and he's going to have to play perfectly if the Rebels have a shot at the upset.
Keys to Auburn Win: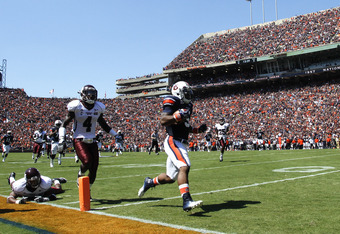 Butch Dill/Getty Images
The best way for the Tigers to crush their opponents' will and hope right off the bat is to pound the ball. That's where running back Michael Dyer is going to play a integral role.
Prediction:
I don't see an upset here as Auburn lives to fight another day.
Auburn 24, Ole Miss 13