SEC College Football Preview: No. 8 Arkansas on Upset Alert vs. Vanderbilt
October 27, 2011
Wesley Hitt/Getty Images
The past two weeks have been full of upsets in college football. Powerhouse teams including the Oklahoma Sooners, Wisconsin Badgers, West Virginia Mountaineers, Illinois Fighting Illini, and Michigan Wolverines have all been shocked by lesser or non-ranked teams.
This weekend's matchup between the eighth-ranked Arkansas Razorbacks and the Vanderbilt Commodores in Nashville has all the makings of a classic trap game and a potential upset.
Arkansas is coming off a 29-24 come-from-behind victory against SEC West rival Ole Miss. A game in which the Hogs were favored to win by more than two touchdowns. The Razorbacks were down 17-0 in the second quarter but closed the gap to 17-7 before halftime.
In the second half. Arkansas defensive coordinator Willy Robinson made the adjustments necessary to slow down the Rebels rushing attack. The Razorback defense tightened up and only allowed a last minute four-yard touchdown pass by Randall Mackey to Donte Moncrief in the second half.
The upstart Commodores have shown signs of life under first-year head coach James Franklin. To date, Vanderbilt has won as many games this year as they had in the previous two years combined, making Franklin a successful hire.
Vanderbilt is coming off a 44-21 ego-boosting win over Army. The Commodores rushed for 344 total yards, while new their new starting quarterback, Jordan Rodgers, threw for 186 yards. Rodgers also contributed 96 rushing yards on 18 attempts.
Junior running back Zac Stacy had a career-high 198 yards rushing in the win over Army, the third-best single-game rushing effort in school history.
More important for the Commodores is the momentum they have built over the past two games. Against the Georgia Bulldogs, they pulled within five points with 9:59 left in the fourth quarter but could never find the end zone to pull off the upset victory.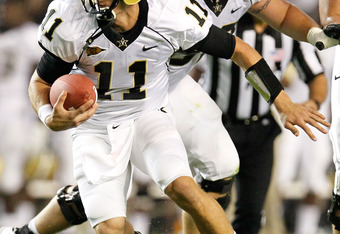 Kevin C. Cox/Getty Images
For Arkansas, a showdown against No. 14 South Carolina looms on the horizon. Will the Razorbacks get caught overlooking upset-minded Vanderbilt?
Key In-game Matchups
Arkansas passing attack vs. Vanderbilt's pass defense
Arkansas has the ninth-best passing attack in FBS. The Razorbacks average 321.86 yards per game, with starting quarterback Tyler Wilson averaging 287.29 of those yards.
Vanderbilt has the 25th-ranked passing defense in the nation. Opponents are throwing for an average of 191.29 yards per game.
Vandy's defense has picked off 15 passes this season. Wilson and Arkansas head coach Bobby Petrino will have to respect the Commodores' competent secondary entering the game.
Vanderbilt's rushing attack vs. Arkansas' rush defense
The Commodores are piling up 159.86 rush yards per game. Arkansas allows 183.29 rushing yards per game, ranked 88th in the nation.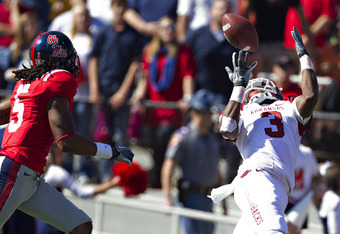 Wesley Hitt/Getty Images
Stacy is the sixth-best rusher in the SEC, with 579 total rushing yards.
In his past two games against Georgia and Army, Rodgers is averaging 88 rushing yards per game.
The Razorbacks have been susceptible to giving up big rushing days to opponents this season. Ole Miss ran for 151 yards, Auburn, 291, Texas A&M, 381, and Alabama, 197.
Inside the Numbers
Vanderbilt has the 23rd-ranked total defense in the nation, limiting opponents to 323.86 yards per game.
Arkansas has the 64th-ranked total defense in the nation, allowing 386.71 yards per game.
Vanderbilt has the 33rd-best scoring defense in the nation, limiting teams to an average of 21.57 points per game.
Arkansas has the 34th-best scoring defense in the nation, holding teams to 21.71 points per game.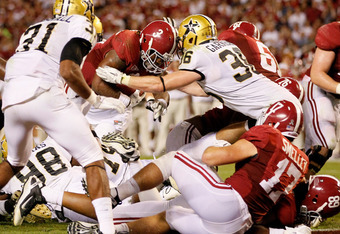 Kevin C. Cox/Getty Images
Arkansas' pass defense is 36th in the nation, allowing a respectable 203.43 yards per game.
Vanderbilt's rush defense is 45th in the nation, stopping opponents at 132.57 yards per game.
Vanderbilt's passing offense averages 140.14 passing yards per game, 111th-worst in college football.
Arkansas averages 37.71 points per game.
Vanderbilt averages 24.86 points per game.
Analysis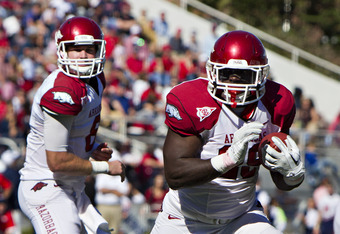 Wesley Hitt/Getty Images
The Commodore defense has played at a high level all season. However, their offense has been more than disappointing.
Starting senior Vanderbilt quarterback Larry Smith was taking a beating behind his offensive line, having been sacked 16 times—second-most in the SEC. Smith did not finish either the South Carolina or Alabama games due to various hits and injuries he had sustained. Rodgers, while backing up Smith, has been sacked twice in his place.
Much has been made about Rodgers being made the starting quarterback for Vanderbilt. His bloodline has also gotten the headlines. You might have heard of his brother, Aaron, who is quarterback for the Green Bay Packers.
Rodgers' two starts have resulted in a moral victory against Georgia and a blowout win against Army.
The Razorbacks have been waiting for their running game to show up in 2011. Starting running back Ronnie Wingo Jr. was not clicking with his offensive line early in the season.
Junior running back Dennis Johnson, an All-American in 2009 as kickoff returner, missed the 2010 season with a bowel injury and the first two games of 2011 with a hamstring injury. He now appears to be emerging as Petrino's go-to running back.
Against Troy and Alabama in weeks three and four, Johnson had four and three rushing attempts respectively for a total of 17 yards. In his last three games, against Texas A&M, Auburn, and Ole Miss, he is averaging 85.33 rushing yards per game, highlighted by his 160-yard performance versus the Rebels.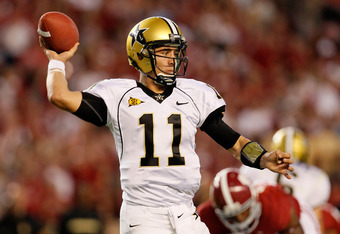 Kevin C. Cox/Getty Images
Inside the Teams
Moral victory aside, Vanderbilt choked when the opportunity to beat Georgia presented itself. In three possessions after they pulled within five points, Vandy went three and out with a fumble on the third down of their first possession, threw an interception on their second series, then blocked a Georgia punt but could not score on three plays from Georgia's 20-yard line to win the game with 15 seconds left.
Rodgers had a really bad passing performance against Georgia. He was 4 of 19 for 47 yards with one interception. His saving grace was the 80 rushing yards he picked up.
Against an Army team that came into the game with a 2-4 record, including a signature win over Northwestern, Rodgers finished the game completing 10 of 27 passes for 186 yards, one score and two picks. Again, Rodgers' saving grace was the 96 yards he gained on 18 attempts.
He is not a running quarterback. He is a quarterback who runs because he is not comfortable with his receivers or in the pocket.
The Razorbacks running game has shown signs of life. A balanced attack is something Arkansas needs in upcoming games against South Carolina, Tennessee, Mississippi State, and most importantly LSU.
Against Auburn and Ole Miss, Petrino took the air out of the passing attack to develop his running game against SEC teams instead of his scout teams. Petrino will let Wilson throw when needed but pound the ball with his running backs as often as he can until his line and running backs get into sync.
The Razorback defense has been criticized for its play in the first half of their games. Much of the blame should land on the offense. Against A&M in the first quarter, the Razorbacks average time of possession was 1:28. The defense gave up 35 first-half points, 14 of which came in the first quarter.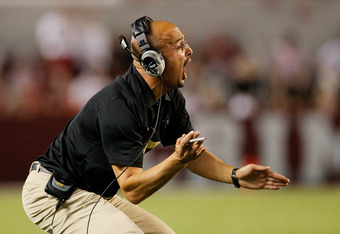 Kevin C. Cox/Getty Images
In a blowout win against Auburn, the Razorback offense held the ball for an average of 2:26 through five first-quarter possessions. The result was one touchdown for the Hogs and 14 Tiger points. Arkansas finished the half with 21 points and put pressure on Auburn's offense the rest of the game as the defense buckled down in the second half.
Against Ole Miss, the Hogs held the ball for a total of 3 minutes and four seconds in the first quarter, which led to a 17-0 first half deficit.
How is the defense supposed to make in-game adjustments when they are on the field the entire first half?
Petrino's offense will always have a quick-strike element to it. Willy Robinson or whoever is the next Razorback defensive coordinator under Petrino will have to live with that fact.
But Petrino's offense has been slow to start this season, making life more difficult than necessary. He will try to find the remedy against the Commodores.
Look for the Hogs to try to jump on Vanderbilt early to establish their tone for the rest of the game and perhaps the rest of the season.
Prediction
The Commodores have not faced a passing offense like the Razorbacks' this season.
I predict Wilson opens it up for another 250-300-yard passing effort with a couple of scores, before being relieved by backup quarterback Brandon Mitchell.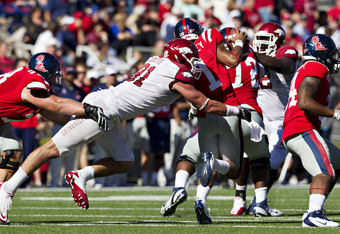 Wesley Hitt/Getty Images
 Stacy had rushed for a total of 381 yards in six games before facing Army. His 63.5 yards per game average will not scare Arkansas. Look for him to finish above his per-game average, but he'll get his yards later in the game, when the outcome is already decided.
The Razorbacks ground game will grind away at the Commodores defensive line in a scrimmage game against SEC-caliber players. Practice makes perfect.
Vanderbilt will keep the game tight but have little luck moving the ball against the Hogs throughout the game.
Rodgers will keep running to move the chains and find a couple of holes in the Razorback defense late in the game.
Arkansas has not received the credit due to them for beating their in-conference rival Ole Miss and former head coach Houston Nutt last week. Although it was in a losing effort, Nutt had his team coached up and playing at a higher level than they have all season.
Rodgers completed 21 percent of his passes against Georgia and 37 percent against Army. His ability in the pocket will not click against the Hogs.
Once Robinson figures out Franklin's offensive game plan and Rodgers' in-game tendencies, he will stop their offense completely.
The Hogs are getting used to taking their opponents' best shots. The role of favorite instead of underdog has been a slow transition for Razorback players, but the team has responded well.
Arkansas takes another tough shot from Vanderbilt but wins comfortably, getting separation in the third quarter.
The Hogs do not get caught looking ahead to next week's game versus No. 14 South Carolina.
Final Score
31-10