Fantasy Football: Start John Beck and Torrey Smith and Swing for the Fences
October 27, 2011
Dilip Vishwanat/Getty Images
There are generally two possible outcomes when you go out on a limb or swing for the fences. You are either regarded as being bold or you are regarded as being, well, dumb. The only difference is your success. If you swing for the fences and hit a home run, of course you are are bold and brilliant. If you swing and miss, you must be less than intelligent.
In baseball you can play the numbers. Even in basketball and hockey, there are so many games that statistics tend to hold up.
But in the NFL? The sample size is tiny. Most of us only play 13 or 14 regular season games in fantasy football. One great game can account for over 30 percent of player's total fantasy points in the regular season. Sure, at the end of the year his numbers look great, but take out that one game, and what are you really looking at?
That's the theory behind starting your best players each week. You drafted them for their total fantasy production for the season. The only way to ensure that you get that production is to start them every week. That way you don't miss that 30 percent of his production because you benched a player who had an unfavorable matchup. But guess what? You might be running out of time to wait for the numbers to work back to your favor.
If your fantasy team is more than one game below .500, it is time to break out your home run swing. This is not the time to start a player who you are just hoping can get 20-40 yards and a vulture TD. That is not going to get it done. Here are some players who could score significant fantasy points for your team in Week 8. Or they could do next to nothing. Go big or go home.
Quarterback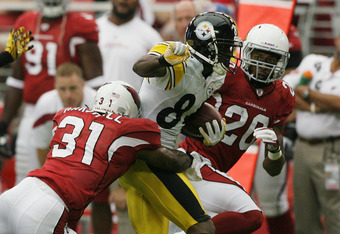 Karl Walter/Getty Images
JOHN BECK (@ BUF): Sure, Beck lost Santana Moss. But the Bills have let everybody throw on them. Since Week 1, no QB facing the Bills has thrown for less than 290 yards. Beck also scored a rushing TD against the Panthers. That's two weeks in a row that Beck has found the end zone on the ground.
MATT HASSELBECK (vs IND): This is not just about how badly Drew Brees and the Saints shredded the Colts defense. The Titans running game has been amongst the worst in the league. It makes sense here that the Titans will let Hasselbeck throw the ball to try to set them up for success in the running game. Any team facing the Colts has a ton of potential to put a lot of points up on the scoreboard.
Running Back

PIERRE THOMAS (@ STL): Thomas owners could not have scripted this better. Thomas has really looked fully healthy in the past two games. Now it looks like Mark Ingram will miss the Saints game this week. And did I mention that they play the Rams this week? The same Rams that just let DeMarco Murray go off for over 250 yards on the ground last week?
LAROD STEPHENS-HOWLING (@ BAL): This might be the ultimate "boom or bust" play. If your league doesn't award players points for return TDs, this play isn't for you. In an ideal world, this is just a PPR play. But even if Beanie Wells plays (doubtful), Stephens-Howling will handle the work in the passing game for the Cardinals. If the Cardinals get down big early (entirely possible) he could see a ton of snaps. Not to mention he could take a kick return for a TD at any time.
ROY HELU (@ BUF): When Tim Hightower was absent against the Panthers in Week 7, it was Roy Helu who played the majority of the snaps, not Ryan Torain. Not to mention Torain has never stayed healthy for three consecutive starts before, and he comes off of the field on passing downs. Helu has big play potential and should be in the backfield quite a bit for Washington, even if Torain starts.
Wide Receiver

MARIO MANNINGHAM (vs MIA): Over the last two games and the bye week, it has become clear that Manningham is still the No. 2 target in the Giants' passing game. Coming out of the bye, the Giants get a Dolphins team that is struggling to do anything well. Look for Manningham to be heavily targeted by Eli Manning. That first trip to the end zone is finally here.
GREG LITTLE (@ SF): It is tough to recommend anybody going up against the 49ers defense, but Little will be the focal point of the offense for the Browns this week. Peyton Hillis is expected to miss the game, and the 49ers should be able to shut down Montario Hardesty easily. Mohamed Massaquoi and Ben Watson will likely be out with concussions. That leaves Little as the primary option for the Browns.
TORREY SMITH (vs ARI): One of the best cures for any problems a team has with their passing game is to play against the Arizona Cardinals. After being downright miserable against the Jaguars, look for the Ravens to open up the passing game and take some shots down the field with Smith. He has the play-making ability to turn a single play into an excellent fantasy day.
ANTONIO BROWN (vs NE) - It almost seems too easy to recommend Brown this week. Hines Ward is expected to miss the game, and the Patriots give up the most fantasy points to opposing WRs. While Emmanuel Sanders and Heath Miller will also see a few extra targets, Brown will be the No. 2 option in the passing game for the Steelers. This game is expected to be a shootout, so Brown could easily continue his Week 7 success into Week 8.
Tight End

FRED DAVIS (@ BUF) - Another no-brainer. Davis is now the No. 1 target in the Redskins' passing game and an every-week fantasy starter. Davis could easily finish as a top-five fantasy TE this season.
JARED COOK (vs IND): Once upon a time the Colts were a tough matchup for opposing TEs. Not any more. Cook is no worse than the No. 2 option in the Titans' passing game right now. He scored the Titans lone TD in Week 7, and he has more big-play potential than any other receiver on their offense.
EVAN MOORE (@ SF); We've all wanted to see what Moore could do with a full complement of snaps. With Ben Watson likely to be out with a concussion, Moore could finally get his chance. With the Browns unlikely to find success through the air against the 49ers, Moore should be no worse than the No. 2 option in the passing game for the Browns. Moore has excellent big-play ability and should see a healthy number of targets.
Do you have anything to add? Wondering who I would start these players over? Use the comments to add to the discussion. Good luck to all of your teams this week.
Follow John on Twitter
Check out John's other work on Bleacher Report