WWE Fantasy Booking Week 2: SmackDown Edition
Every wrestling fan dreams of having creative control over the WWE output.
We all think that we have better ideas than the writers and that, if we were in charge of the show, ratings would soar.
We, as fans, know what we want. What we definitely do not want to see is storylines cut short, just as they are about to gather momentum.
This weekly series, a collaboration between myself and Alex Rivas, will attempt to book Raw, SmackDown and all WWE pay-per-views.
This is the fourth article in the series and will detail the Smackdown two weeks after Hell in a Cell. If you want to go back and look at previous articles in the series then you will be able to find them in my archive.
So far we have seen the debut of the Kings of Wrestling, the formation of a new heel stable for Del Rio and a masked attack on COO, Triple H.
The Miz and R-Truth are still a constant menace and they brutally attacked Daniel Bryan and Ted Dibiase in the backstage area this past Monday. They are also heavily suspected of having a hand in the assault on Triple H.
All of this begs the question, who let them into the arena and who gave them a backstage pass?
Will Miz and R-Truth show up on Smackdown? Read on and find out!
Begin Slideshow

»
The "World's Strongest Man" is in the ring to open the show and he does not look amused with the "Let's Go Big Show!" chants resonating around the arena.
Mark Henry: "My rise to the top of the wrestling business, my new status as the face of Smackdown was cemented by the opening of the "Hall of Pain!"
Big Show, Kane, Great Khali and Jerry Lawler have all experienced what it feels like to be in the clutches of the "World's Strongest Man!"
What I do not expect is for the inductees to return from a three month vacation, afforded to them by me, and start interrupting my business and attacking me after my matches!
And now I hear that the Big Show is being considered for a World Title shot?
Teddy Long has made some ridiculous decisions in his time but this one would really take things to a whole new level.
Big Show, you have done nothing to show me that you are deserving of getting in the ring with the best this business has to offer. If John Cena couldn't compete with me then what chance do you think you have?
What is clear to me, however, is that you failed to learn your lesson! I refuse to ever put my title on the line against you but I promise you, if you ever get in my way, then the next time it will be your neck!"
The Big Show's music hits and the "World's Largest Athlete" looks ready for a cataclysmic collision as he runs down to the ring.
Henry tries to cut off Big Show's momentum but he is hit with a 500 pound Spear and Show proceeds to rain down the punches with venom and severe aggression.
Henry desperately tries to roll out of harm's way but Big Show grabs him around the neck and prepares to unload the WMD when suddenly....
The Smackdown General Manager comes out to the ramp to try and restore order.
Teddy Long: "Big Show, Big Show, hold it right there! You will be given the chance to compete against Mark Henry for the World Heavyweight title but you will have to wait until Vengeance!"
Big Show releases Mark Henry and a smile of anticipation crosses his face as he nods at his GM.
Teddy Long: "But Mark said that he would refuse to face you in a one on one match with the title on the line and a champion's opinion should always be respected.
So at Vengeance it will not just be Mark Henry vs Big Show, it will be a six man Elimination match for the World Heavyweight Championship!"
Now Mark Henry looks livid while Big Show seems to be relishing the challenge of powering through five other men to once again become a World Champion.
Teddy Long: "Big Show, your place in that match is guaranteed but the other four competitors will be determined tonight in four qualifying matches!
Enjoy the show, playas!"
Big Show turns around to Mark Henry, who has regained his feet, and is clocked by the World Heavyweight title belt around the skull.
Henry then performs the World's Strongest Slam on Big Show and angrily shouts that Big Show will never get his hands on the gold.
This past on Monday on Raw, Jack Swagger was able to defeat Evan Bourne after a scuffle at ringside between Ziggler and Kingston caused a distraction.
Tonight Kofi will have the chance to pay Dolph back for the Zig Zag that he took on the concrete at ringside.
A short match in which Ziggler works the neck of Kofi while Vickie Guerrero makes a nuisance of herself cheering on her man.
Swagger and Bourne continually face off outside the ring but there is no physical confrontation.
Ziggler and Swagger's momentum is furthered after Dolph catches Kingston with a Superkick off the High Crossbody attempt.
Winner: Dolph Ziggler
The first qualifying match of the night starts with Heath Slater in the ring awaiting the arrival of the "Great White" Sheamus.
The match is predictably short with Slater putting up a feeble resistance to Sheamus' offence.
Brogue Kick followed by the Celtic Cross allow Sheamus to book his place in the World Heavyweight match at Vengeance, joining Big Show and Mark Henry.
Winner: Sheamus
Teddy Long is backstage conversing with his assistant, Zack Ryder, when Christian, accompanied by David Otunga, interrupts and asks for a private conversation with Teddy.
Ryder leaves and Christian launches into a verbal diatribe about Long's ability to run the show.
Christian: "Teddy, you must have committed some kind of an oversight, it wouldn't be the first time!
You have forgotten to give me a qualifying match tonight. Is this some kind of sick joke? Or are you actually living up to your reputation as the worst GM since Tiffany?
Teddy Long: "Now Christian, you already have a guaranteed match for the World Heavyweight title whenever you choose. I think it is only fair that we give others the chance to challenge for the title."
Christian: "So you're just going to leave your hottest commodity off the card tonight?"
Teddy Long: "Now hold up there, playa! I do have a match planned for you, a main event match no less! Tonight you will compete against a special guest from Monday Night Raw...the WWE Champion, CM Punk!"
Christian looks disgusted at this decision and decides to floor the GM with a vicious slap to the face.
Tyson Kidd is in the ring waiting for his opponent who is unknown to the announcers and much anticipated by the live crowd.
Suddenly a very familiar theme hits!
It is the old WWF music of legendary Hall of Famer, Mr Perfect but the man walking to the ring does not in the least resemble his late father.
The man formerly known as Michael McGillicutty soaks in the huge pop that his father's entrance music has generated and continues to the ring.
A decent-length match showcases the technical abilities of these two young superstars and the announcers talk about the great matches between Mr Perfect and Bret Hart.
Kidd is rebuffed after a Sharpshooter attempt and his shoulders are pinned to the mat after a Perfectplex.
Winner: Joe Hennig
Joe Hennig: "You used to know me as Michael McGillicutty but those days and that name is in the past!
For those of you that do not know, I was born Joe Hennig, son of one of the all-time greatest performers in this business!
My father's name was Curt and he was an inspiration to me in so many ways when I was growing up.
After he passed away and was inducted into the Hall of Fame, I vowed to myself that I would not rest until I had done my father proud.
When I debuted on Season 2 of NXT, I did not feel ready to adopt the name that my father was known as during his time with this company.
I joined the Nexus, I became a tag team champion but something was missing. Then I realised that if I wanted to break out on my own and make a name for Joe Hennig, I needed to follow in my father's footsteps.
I figured that this was the perfect time to start afresh and I also realised that I didn't need to grow into anything...I was born perfect!
So from this moment on, you can call me "Mr Perfect" Joe Hennig!"
The crowd have been really into this promo and "Mr Perfect" chants break out all over the arena. The camera cuts from an emotional Hennig who has clearly been wanting to cut that promo since he debuted in the company.
Cody Rhodes and Justin Gabriel take part in an exciting high-tempo encounter with an opportunity for the World Heavyweight Championship on the line.
Gabriel has the better of the opening exchanges as he makes his presence felt with a series of kicks.
But Rhodes turns the momentum of the match with an Oklahoma Slam and the Intercontinental Champion starts to dominate.
Cross Rhodes attempt countered into an STO and now Gabriel senses his opportunity.
Are we about to witness a 450 Splash?
Rhodes rolls out of the way and Gabriel lands hard, allowing Rhodes to hit the Cross Rhodes and clinch the victory.
This match is announced as a John Laurinaitis creation and Natalya enters first accompanied by Beth who joins the announce team.
The commentators ask Beth what will happen if Natalya emerges victorious and Beth responds that it would be a victory for the Divas Division if two proper women wrestlers competed for the Divas title.
She also says that she would be honoured to lock horns with her best friend as the match begins.
Kelly and Eve start by working together which Phoenix condemns as "classic Barbie Doll behaviour" but after Natalya is thrown out, the two friends go toe to toe.
Eve and Kelly are putting on an impressive display of athleticism which is interrupted by a Double Discus Clothesline from Nattie Neidhart.
Natalya then twists both of her opponents into the highly effective Double Sharpshooter which causes both girls to scream in agony.
Eve is finally able to break out of it and nails Natalya with a Dropkick before Kelly submits.
Torres now sees her opportunity and hits Natalya with a top rope Moonsault for the victory.
Winner: Eve Torres
After the match a staredown ensues between the "Glamazon" and her Vengeance opponent.
Matt Striker asks Barrett if he is confident in his ability to defeat his former ally in the Corre, Ezekiel Jackson, to qualify for the World Heavyweight title match at Vengeance.
Barrett: "My road to becoming a World Champion began when I was in control of the Nexus and I was cheated out of the WWE title on more than one occasion.
But I promise you that 2012 will be the year of Wade Barrett and I plan on riding a wave of momentum into the New Year as the World Heavyweight Champion.
The winds of change have picked up again and Jackson will rue the day, he ever had the nerve to cross me"
Neither of these two former Corre members are going to pass up this golden opportunity lightly and this match promises to be a "slobberknocker!"
Barrett looks very impressive in victory showing devastating strength to deliver Wasteland to his opponent after hitting all of his signature moves.
Wade Barrett will be given a shot at the World Heavyweight title come Vengeance.
Winner: Wade Barrett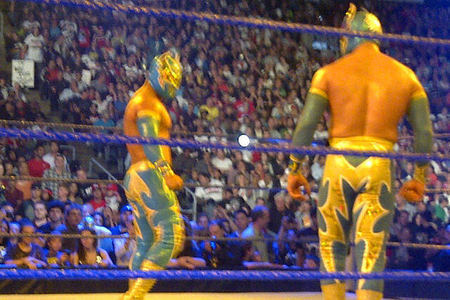 Alberto Del Rio's "La Familia" stable needs to pick itself up from the disappointing turn of events on Monday Night Raw that featured the debut of the Kings of Wrestling.
Sin Cara Negro and Sin Cara Azul are in tag team action against the Usos, who receive a nice babyface reaction.
A well-worked tag team match ensues with the two luchadors debuting a series of electrifying double team moves.
But the Usos really show themselves to be a legitimate contender for the tag team titles with an Assisted Samoan drop on Negro nearly winning them the match, but Azul makes the save.
Del Rio is making his presence felt at ringside and makes his mark on the match by sneakily forcing Jimmy Uso to lose his balance on the top turnbuckle.
Jimmy was going for the big Splash off the top rope but is instead caught by Sin Cara Azul's C4 off the top rope.
Winners: Los Dos Sin Caras
Randy Orton is surely a lock to qualify for the World Heavyweight Championship match at Vengeance but he will have to go through Jinder Mahal first.
Mahal really takes Orton to the limit in this match that goes ten minutes and it is probably the most impressive display we have seen on WWE TV from the former FCW talent.
Orton eventually gets the job done with an RKO but he was able to help get Mahal over in this match and both men look stronger as a result.
Winner: Randy Orton
CM Punk: "The last time I was here on Smackdown, I took part in a contract signing to make the No Holds Barred match between myself and Triple H official.
How things have changed since then? I am now the WWE Champion!
But on the corporate side of things, Triple H is still exposing himself as a below-par COO and John Laurinaitis is still lurking in the background sending suspicious text messages left, right and centre!
Now I agree with Triple H on some counts, I believe that disputes should be settled in the ring and I have no problem with the "unsafe working environment" that he is said to have created.
Christian and his cronies have absolutely no reason to complain that they keep being pitted against tough opposition. If they do not thrive on competition then they are in the wrong business!
However it is one thing to sustain an accidental injury in a fair fight, it is quite another to have your livelihood threatened by a cowardly sneak attack.
Daniel Bryan and Ted Dibiase are still recovering from the beating that they took at the hands of Miz and Truth and even Triple H is in the hospital recovering from that chair shot.
Now I have had my fair share of interactions with hooded strangers and it is quite obvious to me that that man was either Miz, Truth or some corporate stooge sent by the man that is clearly behind all this, John Laurinaitis!
Triple H, you need to get some brains in you and realise this before the entire company comes crashing down around you!
Laurinaitis is working with Miz and Truth, Laurinaitis keeps letting them into the arenas and into the backstage area and Laurinaitis called for them to attack my tag team partners this past Monday.
Why you might ask?
Because he does not want to see me as the WWE Champion. His motives for this are not clear to me at this moment in time, but I promise you, Johnny, I will get to the bottom of this!
Christian's music interrupts and "Captain Charisma" is looking grim and determined to put one over on the WWE Champion.
There are 25 minutes left in the show which means that these two should be able to tear the house down with a classic main event contest.
Two of the best workers in the company go into a collar and elbow tie-up and this match definitely has a big fight feel.
The two go into a series of chain counters and they trade Armdrag takedowns before Christian ends any semblance of fair technical match by slapping Punk in the face.
The WWE Champion comes back strong and he puts his "educated feet" to good use, enabling him to gain the upper hand.
Double Underhook Backbreaker earns a two count and Punk looks to put his opponent to sleep but Christian counters with a Tornado DDT for two and a half.
Punk and Christian exchange near falls after Christian hits a picture-perfect Sunset Flip from the apron and this match is hotting up.
Killswitch is countered into a Bridging German Suplex from Punk for another near fall.
Punk misses with the Shining Wizard in the corner and Christian connects with a boot to the head, he then makes a heavy spill from the top rope as Punk dodges the Diving Headbutt.
Muay Thai Kick to the skull looks to have got the job done but Christian is able to grab hold of the ropes.
Punk then tries for the Anaconda Vise but Christian rolls him up for yet another two count.
Christian goes for the Spear but eats the ring post which allows Punk to connect with a Shining Wizard to the back of the skull.
This is followed up by the Macho Man Elbow Drop from the top and now CM Punk is signalling for the end of the match.
GTS coming but Christian slips out and there is the Spear! 1...2.....NO!
Punk kicked out and now Christian looks at a loss as to how to put his opponent away.
Now Christian is signalling for the GTS and he is looking to beat Punk with his own finishing move, the ultimate act of disrespect.
But Punk rolls up Christian and twists him into the Anaconda Vise, and Christian is helpless and... he taps out!
The crowd go crazy as CM Punk shows off his brand new WWE Championship title in his victory celebrations.
Winner: CM Punk